It was 4am and I was set to start my Inca Trail hike in exactly four hours. Instead of sleeping peacefully in my bed in Ollantaytambo, I was heaving over the toilet for what felt like the 100th time.
This was not due to nerves.
Somehow, I'd managed to successfully contract food poisoning the day before I left to attempt the hardest physical challenge of my life. Gulp.
I'd always wanted to visit Machu Picchu but given my travel style – foodie adventures and city walks – it never occurred to me to volunteer for a 4-day hike. I'm definitely a take-the-train kind of gal; my first camping trip ever was just two years ago. But when the opportunity to hike the Inca Trail on Intrepid Travel's 7-day Inca Trail Express trip came my way, I immediately said yes. After all, tens of thousand of people hike the trail every year, so I figured some quality time with the StairMaster and a few visits to the sports shops for the right gear would be all I needed.
But don't get me wrong: I spent much of the month before the trail freaking out and Googling survival tips. I felt slightly better at our welcome meeting, where our local leader Victor broke each day down for us. Though it never occurred to me that I'd be hiking in less-than-perfect health.
Back to the toilet heaving. Well, four hours after it. I stood in front of the Kilometer 82 sign – the official start of the Inca Trail – and vowed that I would finish, no matter what. One of my better traits – or worst, depending on whom you ask – is my stubbornness. And it was truly sheer willpower that led me to gawk at Machu Picchu four days later.
BROWSE ALL OF INTREPID TRAVEL'S MACHU PICCHU TOURS
So what's it really like to hike the Inca Trail?
To put it bluntly: it's hard. I consider myself to be moderately fit but as someone who has spent her entire life living at sea level in Los Angeles, the altitude is no joke. The trail itself is filled with plenty of large and uneven rocks making it difficult to assess whether it's harder to ascend or descend on the trail.
Despite all of this, the hike is worth it.
The first day of the trail is meant to be an introduction. The path is relatively flat and there are plenty of breaks, where you'll stop to see impressive ruins that, for some reason, nobody talks about. The trail is filled with remnants of the Incas, all of which are only accessible by those hiking the Inca Trail. They're amazing.
7 ANCIENT RUINS YOU'LL SEE IF YOU HIKE THE INCA TRAIL
What is arguably even more amazing and impressive is the porters. You'll be huffing and puffing your way up the trail at a tortoise's pace and they'll fly past you, carrying a pack that's triple the size of the one on your back. Not only did they start hiking after we did, but they managed to beat us to the lunch sites, cook and prepare amazing three-course meals, then do it again for dinner. That's not all. At each campsite, they had hot water waiting for us upon arrival and tea and snacks before dinner. They're the real MVPs.
By the time I'd enjoyed my delicious three-course lunch on the first day, I felt confident that the trail wouldn't be as bad as I thought. But by the time I made it to camp three hours later, I wasn't so sure. The trail had suddenly gotten a lot steeper and we'd already been warned that day 2 is the hardest. What had I gotten myself into?
Day 2 is, in a nutshell, grueling. It's around 12 hours of hiking including climbing to the highest peak of the trail: Dead Woman's Pass at 13,828 feet. To date, I can't decide if it was that difficult or if it's because I desperately needed to use a bathroom for an hour before we got to the top (my food poisoning symptoms continued throughout the hike).

In theory, going downhill should have been easier but the slippery rocks and my natural clumsiness meant I was moving even slower than I was climbing up. Watching the porters and other hikers pass me with quick agility was disheartening but all I could do was give myself a pep talk and carry on until my well-earned lunch stop.
READ ABOUT THE FOOD YOU'LL EAT ON THE INCA TRAIL
It started raining as we embarked on the final leg of the trek for that day and the weather fueled me to move faster. I was especially concerned by the prospect of hiking after dark, considering my pace. Luckily, I made it to camp around dusk. The hardest part was over and there was no turning back.
Despite knowing that day 3 would be just 6 hours of hiking, the first uphill climb the next day left me on the verge of tears. I was dehydrated and sore and still suffering from a queasy stomach. One of my hiking mates could tell I was having a hard time and offered me some rehydration salts. Victor gave me a pep talk and told me to go at my own pace. And several others told me they were more exhausted than they were letting on.
I was really thankful to have such a supportive group with me. Nobody made me feel bad about my glacial pace; instead, they cheered me on when I was struggling.
WHAT IT'S LIKE TREKKING THE INCA TRAIL, IN 24 PHOTOS
Shout out to the amazing travelers who helped me survive the hike: Sam, the nurse from the UK who talked me through my health struggles; Rudolph and Jackie, the South African couple who distracted me with entertaining conversations; Gary, the 60-year-old British man who was fulfilling his dream of 30 years to see Machu Picchu; Andrew, the Brit who was so experienced, he hiked parts of the trail twice; Brodie, the Aussie who told impressive tales of hikes from around the world, and last but not least Ryan, the Canadian who photographed our entire group and made us all look good.
CHECK OUT ALL OF INTREPID TRAVEL'S SMALL GROUP TOURS IN PERU
I also want to thank Victor – Intrepid's brilliant guide whose tales of inspiring Inca Trail hikers ultimately motivated me to finish.
AN INSPIRING HIKER STORY: "THE ROAD TO MACHU PICCHU STARTS AT 385 LBS"
I wish I could say that the third day was easy, but it wasn't. It involved hours of downhill climbing on uneven and slippery rocks. My stomach was constantly warring with the rest of my body. But once we'd made it to our campsite for lunch, I immediately relaxed. I knew we'd be venturing out to see the mind-blowing Wiñaywayna Ruins after lunch but besides that, we were essentially done. To celebrate our achievement, the porters made us a cake (with camping equipment…how?!).
So much of the Inca Trail consistently blew me away and the porters definitely contributed to that.
We woke up at 2am for the final day of hiking – this time to Machu Picchu. The last leg was a blur: crossing the final check point, waiting at the Sun Gate for the fog to clear (unfortunately, it didn't), and climbing the final steps to the highlight we'd all been waiting for: Machu Picchu.
Truly, nothing can describe how it felt to put my walking poles and just stare in awe at the fog-obscured mountain. I was overwhelmed with emotion. I'd just completed the hardest physical challenge of my life.
The fog cleared just as I clamored to the viewpoint for my photo. My legs were shaking and I was tired and smelly. But I'd made it and, frankly, I couldn't believe it.
It was worth it.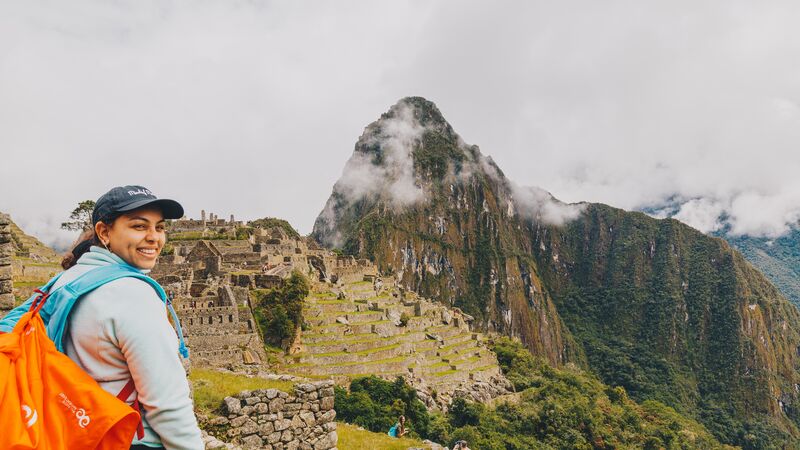 I know it's cliché to say that it's more about the journey than the destination but this was the case for hiking the Inca Trail. Machu Picchu was magical but what made it more special was the four grueling days it took to get there. Trudging through the rain, taking bathroom breaks in bushes, and forcing myself to put one leg in front of the other, even when I thought I couldn't take one step further – that's what made it worthwhile.
If you're on the fence about hiking the Inca Trail, book it.
I found it harder than most people make it out to be. But if someone like me who has never dealt with high altitudes, rarely hikes or uses a StairMaster and is "moderately fit" at best can do it while being sick then all I've got to say is: your mental stamina is 80% of the battle.
And the reward for all your troubles? Much sweeter than taking the train.
Ready to embark on the adventure of a lifetime? Visit Machu Picchu with Intrepid Travel.
—
(All images taken on Intrepid Travel's Inca Trail Express trip.)
Feeling inspired?