Hop off the train onto the platform in Machu Picchu town (AKA Aguas Calientes) and you'll find yourself surrounded by a forest of clouds. The scenery looks like something out of Jurassic Park and, even better, it takes just 90 minutes to get there.
When I read that on my 9-day Classic Peru tour we were taking the train to Machu Picchu I breathed a sigh of both relief and excitement. Relief in knowing that I had other options besides the painstakingly long and arduous Inca Trail trek (or the equivalent offered by Intrepid, the Quarry Trail). Excitement about the stunning scenery I was going to see on my way to this iconic UNESCO site.
Here's what it was like, why I believe it's such a great option for travelers, and what you need to know before embarking:
Why take the train over the hike?
If you prefer a more laid-back approach to travel or are just pressed for time, the hour-and-a-half train ride from Ollantaytambo to Machu Picchu Town is the way to go. Sitting back and looking out the window is a great way to see how people really live in between the big cities tourists visit.
Also, as an American, having just two-weeks vacation per year means choosing my time off wisely. Pair that with my distaste for hiking and physical activity in general and hopping on the train was a no-brainer.
INSPIRATIONAL READ: THE ROAD TO MACHU PICCHU STARTS AT 385 LBS
I also wanted to have enough energy to actually enjoy Machu Picchu. Seeing this Incan treasure was one of the main reasons I wanted to do the Classic Peru Tour in the first place. I had heard from some friends that once you get off the Inca Trail you're so exhausted you don't even want to explore Machu Picchu's ruins. I certainly didn't want that to be the case for my special trip.
TAKE THE TRAIN TO MACHU PICCHU ON THIS SMALL GROUP ADVENTURE WITH INTREPID TRAVEL
How to get to Machu Picchu by train
As the most popular way to get there, PeruRail and Inca Rail both have trains leaving constantly throughout the day from multiple cities. You can either depart from Ollantaytambo or from Cusco. Our Intrepid tour leader Daniel Ramos told us that there is no real difference between PeruRail and Inca Rail. Both get you there and give you similar service.
Our tour favored the Ollantaytambo route and I'm glad it did. We spent the morning perusing a local market in Pisac then made our way through the Sacred Valley. For lunch, we stopped and had a traditional meal with an Amaru community of women who showed us how they weave. After that, we spent the afternoon climbing historical Inca ruins and chowing down on local pizza in Ollantaytambo. This charming little town is the last living Inca town in Peru so for me, it was a can't-miss.
After dinner, our Intrepid leader Daniel walked us to the train station. All of our tickets and assigned seats were pre-arranged for us. If you're going sans tour, it will cost between $45 and $55 USD. Be sure to book ahead of time, especially during peak season.
This price gets you executive class seats which include a drink and a snack. There are several signature drinks to choose from including the famous coca tea. I chose the Andean Cocktail, sadly, it had no alcohol, just delicious fruit juices.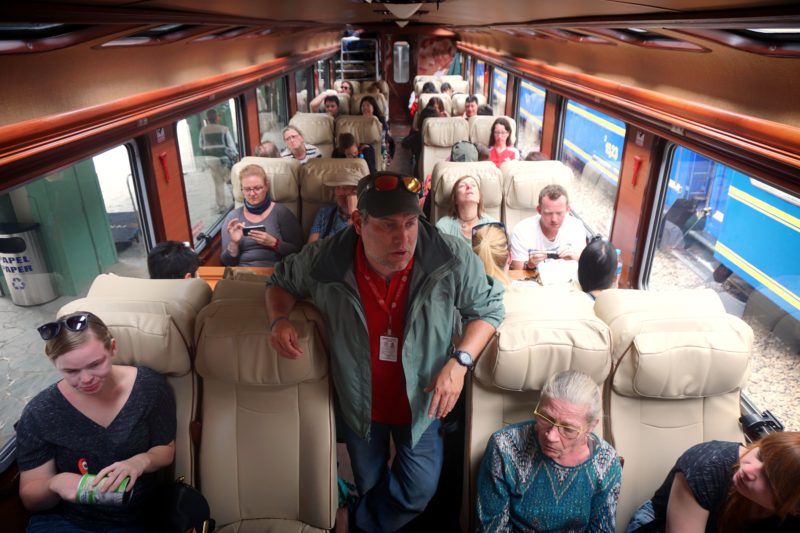 VISIT MACHU PICCHU ON ONE OF INTREPID'S MANY TOURS
Here's what you need to know before boarding
If you spent too much time wandering the alleyways of Ollantaytambo or Cusco, the complimentary cookie and beverage served on board probably won't tide you over. Be sure to stop for some chips, a sandwich or beer and wine as you walk into the train station, there are dozens of options.
The train snakes its way along the Urubamba river slowly, but that doesn't mean the ride can't be bumpy. Try to find the train station bathroom before you get on the train because things get a lot trickier when the car is rocking back and forth.
Bring your camera! You'll see stunning mountain vistas, snowy peaks and small communities along this rushing river and you'll want to capture these moments before they're literally out of sight. During the journey, our Intrepid guide pointed out various Inca sites as well as Veronica peak, the second highest mountain in the area.
After a long day of walking up and down Machu Picchu, the train may rock you to sleep. Try to get all your photos and videos on the way there or order a cup of tea to keep you awake. Again, you won't want to miss out on the views.
Don't be alarmed if somewhere on the way from Aguas Calientes to Ollantayambo the train grinds to a stop and you see the conductor jump off the side. I almost had a heart attack when I saw it, but when I kept watching he was just physically performing a switchback on the tracks to adjust for the change in elevation. Don't worry, he got right back in.
Getting to the magical ruins of Machu Picchu was much easier than I expected. The relaxing train ride was a welcome change of pace as I watched Peru whiz by my window. And the ruins themselves? Even better than I'd imagined they might be.
Ready to embark on the adventure of a lifetime? Take on Machu Picchu with Intrepid Travel.
—
(Image credits from top bottom: Intrepid Travel, Katie Lockhart, Intrepid Travel, Katie Lockhart x2, Intrepid Travel.)
Feeling inspired?