On the 25th of April 2015, our Nepali Intrepid Leader, Prem, shielded his two small children under each arm and bunkered down in his home while their world shook violently around them. Less than a minute later he knew already what the world was just discovering: a 7.8 magnitude monster had ruptured the earth, claiming thousands of victims and reducing buildings, temples, and whole villages across the country to dust.
Despite this, we arrived into the bewildering chaos of Tribhuvan airport as night fell in late February this year. Carefully picking our way through the tangled mess of bags, trolleys, and people, we were full of hope for a trip that rivalled the Nepal Mark had visited in 2013.
He'd returned home then with colourful stories of epic natural beauty and friendly hosts. It was, he'd said, a place that changes you, and he doesn't use self-help quotes. Ever.
Ready to trek the Annapurna circuit and explore Nepal's spiritual side, we also felt prepared to encounter any scars that the earthquake had left behind. It turns out that damaged buildings and listening to stories of survival is the easy part. In those first few days, it would be what we couldn't see that broke our hearts.
Thamel, the thriving tourist area that Mark had known a few years ago was a shell. After fear drove the tourists away last April, the politically-rooted five-month fuel crisis that followed meant they simply hadn't come back.
The pinch was obvious: roller doors remained fastened, restaurants served only a few meals per day, by 8pm the nightlife was at rest. "People just haven't come back again," shrugs our waiter helplessly one night. We're the only ones in the restaurant.
Ironically though, while news crews had beamed images of destroyed Durbar squares into our living rooms, much of the tourist infrastructure in Kathmandu had actually emerged unscathed and was now sitting vacant, as if to mock the locals who depend on tourist dollars to support their families.
Days later, in the early stages of our Annapurna trek, Prem tells us that the lack of tourists has been like a second earthquake rolling across his country.
"It's very bad," he says, worry flashing across his normally jovial round face. "Normally, I take between nine and twelve tours a year. This year, maybe six?".
In fact, our group of eleven is his first tour for the year. Slowly winding our way through quaint villages we're making our way up to the 5416m Thorong La Pass over the next 16 days.
Around us dramatic peaks surge upwards from ice-blue glacial rivers, and the last days of winter have favoured us with clear views to soaring snow-capped peaks that pepper the skyline above the valleys.
"Annapurna is my favourite," Prem tells us as we stir cups of hot lemon ginger at a cosy teahouse, "people who come here, maybe they want to understand Nepal too – not just see the tallest mountain in the world".
Rhododendrons have begun to bloom in the tropical lower region, terraced rice paddies step down hillsides, snowflakes dance in the afternoons after 3500m. Pink-cheeked children dance around us, collapsing into fits of giggles when one squeaks out "Namaste!". Kind smiles beam from the faces of the hardy souls we pass as we trudge from village to village.
From the Hindu villages of the foothills to the Tibetan culture in Manang, every day you spot evidence of Nepal's spiritual side. There are tika blessings on our foreheads one day, prayer wheels spun for good luck in each village. Prayer flags flutter messages of love and fortune through the valleys.
As our group passes safely over the Thorong La Pass the celebrations are plentiful; we hug, cheer and sing with our porters and guides – our new mountain family.
It's not hard to see why this is one of Nepal's main trekking highways when times are good. But times aren't good here right now, and we have the route almost to ourselves each day except for a handful of brave solo trekkers marching past with earphones in.
We can't help thinking what a waste it is. Save for a few nearly imperceptible track alterations, there's been barely any evidence of the quake. Cradled by a quiet mountain existence and sweet locals, we've felt so incredibly safe here.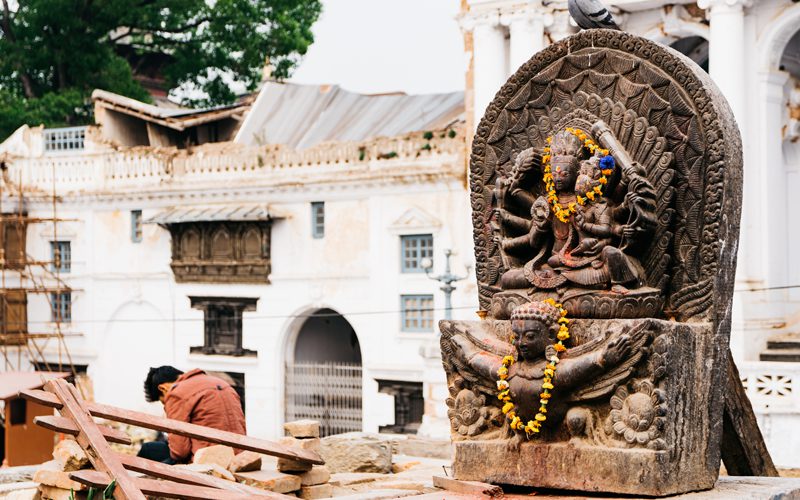 Back at the Kathmandu Guest House we start saying our goodbyes to Prem, wishing him well for the year ahead.
He replies with passionate belief, "2072 [Nepal's current calendar year] was very bad. But 2073 begins soon, and I think it's going to be our year".
"Please, maybe you can tell your friends now? Nepal is safe, they should come here again". It's the message we heard over and over during our six weeks in Nepal. Different faces in different places, but always with the same impassioned eyes.
We hug him and promise to try.
Stepping through the gates into Kathmandu, we're taken by surprise by the signs of a city transforming. There's a buzz, a vibrancy in the air. Tourists spill out of Thamel doorways to a constant soundtrack of haggling over hiking gear prices. The lilt of foreign accents drift over one another as people compete with bikes and taxis for space on the narrow streets. The smile on Mark's face says it all – the country he remembers is coming alive again.
Nepal's message is loud and clear; it's open, it's safe, it's beautiful, and it's as welcoming as ever. The only thing missing is you.
The Common Wanderer travelled on Intrepid's Annapurna Explorer. As part of our Namaste Nepal campaign, Intrepid will be donating all profits from our 2015/16 trekking seasons to relief efforts on the ground.
Images and words by the lovely team at The Common Wanderer. Check out their Instagram feed for some serious wanderlust inspo.

Feeling inspired?