Rain, hail, or shine, these are the top drinking spots to crack a cold one.
While Atlanta might be known as one of America's most historically significant cities, it's also getting a reputation for its beer thanks to the many craft breweries popping up all over the place. With over 30 breweries to choose from, it can be hard to narrow down exactly which places you should visit when you're in need of a foamy beverage.
Luckily for you, we've done the grunt work, and when it comes to deciding which Atlanta breweries are the best of the best, all you have to do is drink your way down this list. From the experimental flavors of Monday Night Brewing to the historical setting of Wrecking Bar Brewpub, stop in for a beer (or seven) at these top drinking spots.
Now get can-crackin'.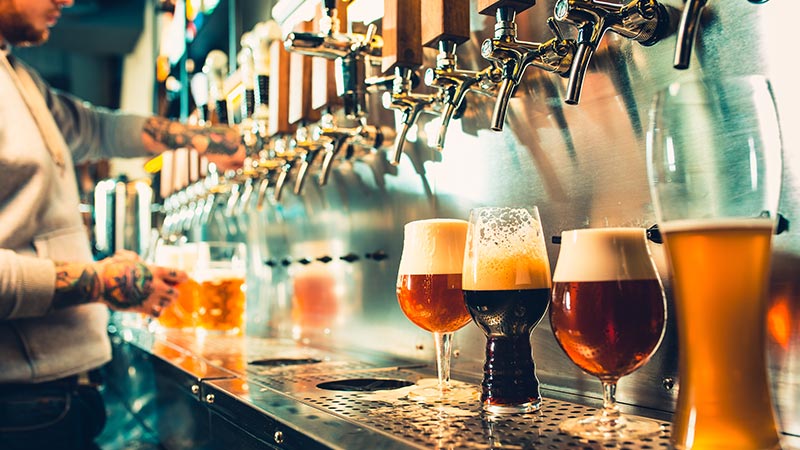 Leaving his corporate office job in the Big Apple to pursue his love for craft beer, founder of Scofflaw Brewing Company, Matt Shirah, concocted up the idea for his brewery in his mother-in-law's basement in 2015. Since then, Scofflaw Brewing Company has gone from strength to strength, becoming nationally acclaimed for their big, bold, and flavorful beers.
With brews like 'Tropical Staycation', a fruity kettle sour beer made with pineapple, strawberry, and mango, and 'Double Jeopardy', an India Pale Ale with bittersweet, citrusy flavors, this brewery is bound to have a cold one for everyone.
Who says great craft beer needs to be complicated? Definitely not these guys. Originally formed out of a mutual love for tasty beer, founders Nathan, Haley, and Geoffrey started up Eventide Brewing with the idea of showing fellow Georgians just how brewtastic 'craft' beer can be.
Their large number of awards suggest they nailed it. With more craft beer options than months in a year, Eventide Brewing is one of the best Atlanta breweries goin' round.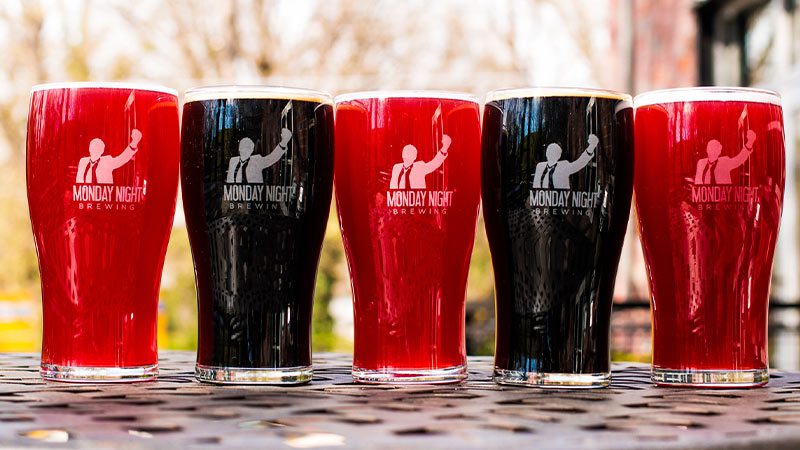 It turns out weekends aren't the only acceptable days to let your hair down and with that idea, Monday Night Brewing was born. Celebrating the fact that drinking beer can happen on any day of the week, this funky brewery has taken craft beer to another level. With two Atlanta locations to choose from, one in West Midtown and the other in southwest Atlanta, dive headfirst into hoppy batches, barrel-aged sour beers, or experimental brews for a flavor that won't hesitate to smack you in the face.
While hearing the words 'here for a good time, not a long time' might instantly make you think of cringey bios on various dating apps, SweetWater Brewery's attitude towards drinking is changing the game. Started in 1997 by a couple of boys more into enjoying beer than reading books, this brewery not only promises you a tasty, lip-smackin' beverage but also delivers big time on a laidback and friendly atmosphere. Honestly, what more could you want?
It can be hard to find an atmospheric beer garden and a delightfully tasty, old barrel-brew to sip in it, but Orpheus Brewing offers the best of both. With the idea of catching laughter-filled afternoons or loved-up moments and turning them into a beer you can drink with your nearest and dearest, this premium craft brewery was born in 2014 and has quickly become one of the go-to spots in Atlanta.
Orpheus Brewing offers beer you can both drink and feel with IPA's, sours, and barrel-aged stouts among their most popular. Also featuring the perfect beer garden to get your drink on, you simply can't go past this eclectic watering hole, especially in the summer.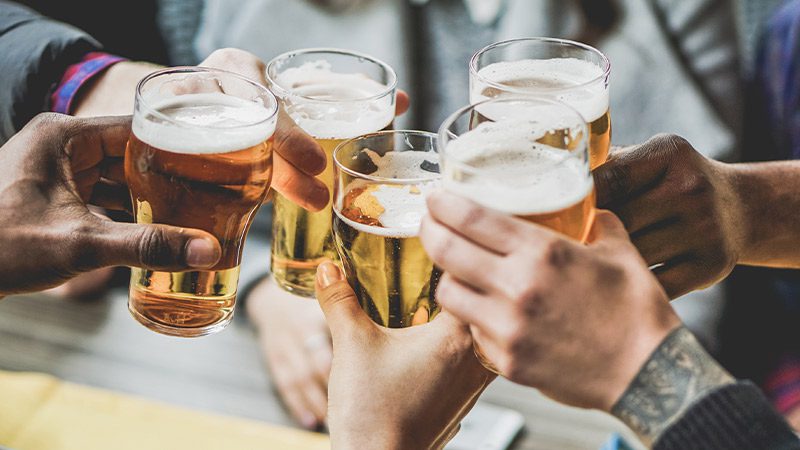 Another brewery with the intent of fulfilling a dream, Second Self Beer Co places its focus on delivering high-quality craft beer with a side order of motivation and emotional support. Encouraging everyone to dive headfirst into becoming who they've always wanted to be (just like founders and friends Chris and Jason did when they first started to brew beer and dream big), Second Self Beer Company not only offers some of Atlanta's best brews but also the best place to relax and unwind.
We don't know about you, but all that self-discovery sounds like thirsty work and with hazy IPA's like 'Game Night' and Caribbean lagers such as 'La Fria', you'll find yourself coming back to Second Self Beer Co again and again and again.
Craft beer is as much a part of Atlanta now as history has always been, so it only makes sense for the Wrecking Bar Brewpub to combine the two. Operating out of the Victor H. Kreigshaber House, named after its commissioner who was integral to Atlanta's economic and cultural development at the start of the 1900s, the Wrecking Bar Brewpub has cemented itself as a welcoming community space to be enjoyed by all.
Whether you feel like crackin' a can alone or drinking with friends, this restaurant/bar/brewery does it all. From offering a comfortable yet spirited atmosphere to serving up experimental 'milkshake IPAs' and the more classic barrel-aged strong beer, you just might never want to leave.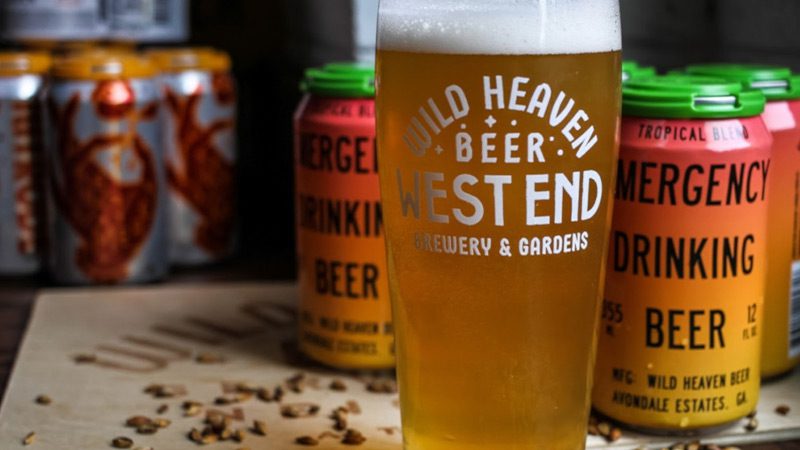 It turns out (beer) heaven is a place on earth. This brewery not only creates and serves beer that celebrates American innovation but also prefers to draw on European flavors and traditions for brews you'll definitely want to write home about. From their 'Emergency Beer', a zesty, Portuguese sea-salty Pils-style session ale, to their 'White Blackbird', a Belgian-style Saison with pink peppercorns and earthy notes, Wild Heaven Beer has a cold one for everyone.
TRY OUT THESE ATLANTA BREWERIES ON OUR ATLANTA TOURS AND VACATIONS
Feeling inspired?