From the mountainous wilds of Alaska and British Columbia to the sprawling deserts of New Mexico and Utah, North America's most wow-worthy landscapes leave travellers in total awe. But meet the traditional owners of these lands and you'll soon gain a greater appreciation for the history, traditions and spiritual connections that have shaped these special places.
Here are some of the best ways to experience indigenous culture with Intrepid in the United States and Canada.
1. Experience Monument Valley with a Navajo guide in Utah, USA
Monument Valley rocks. And not just because of the literal sandstone monoliths and mesas that make this cinematic landscape a silver screen regular (think Forrest Gump, Back to the Future Part 3, National Lampoon's Vacation and countless westerns).
The valley is part of the vast Navajo Nation reservation, spanning Utah, Arizona and New Mexico. On our Vegas to LA: Grand National Parks and Utah Parks Circuit trips you'll hop in a jeep to explore the valley with a Navajo guide, who'll show you the coolest formations and share insights into why this remarkable desertscape is sacred to Navajo communities. During the latter, you'll even get to stay overnight in a hogan, a traditional Navajo dwelling crafted from timber and clad in ochre coloured mud.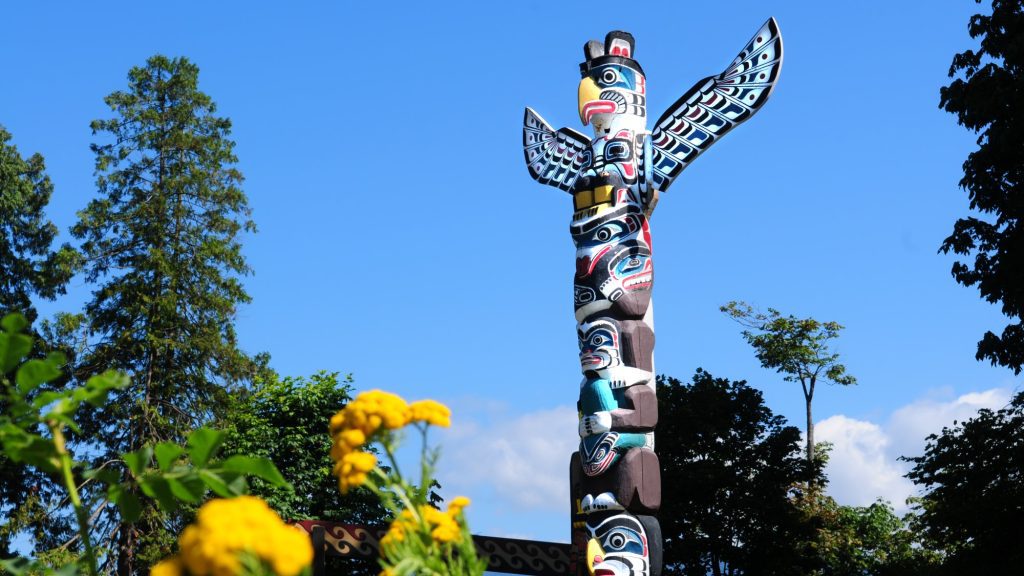 2. Learn about Squamish and Lil'wat cultures in British Columbia, Canada
Kick off your Grand Canadian Rockies trip with a masterclass in local First Nations culture. You'll check out the towering totem poles at Stanley Park in Vancouver, before travelling to Whistler, where you'll swing by the Squamish Lil'wat Cultural Centre.
Indigenous cultural ambassadors will welcome you with traditional song, share their personal stories with you and reveal the meaning and history behind some of the centre's most eye-catching displays. Afterwards, you'll dig into traditional First Nations cuisine with a modern twist – such as salmon chowder and venison chilli – at the onsite café.
3. Immerse yourself in living history in Alaska, USA
On the outskirts of Anchorage, dotted around the shores of a small, serene lake, lies Alaska Native Heritage Center, which offers the most comprehensive introduction to all of the state's First Nations cultures, including those of the Athabascan, Haida and Yup'ik peoples.
Intrepid travellers on Best of Alaska will join a tour of the immersive living museum, hearing directly from local indigenous people and learning about 10,000 years of history through mediums such as dance, film, art and interactive exhibitions. Don't miss a walk around the grounds, where you'll discover six different village sites that help bring to life the traditional architecture and livelihoods of First Nations communities. 
4. Get a taste of local tribal heritage in the Pacific Northwest, USA
Intrepid travellers heading south on the Portland to San Francisco Discovery will have the chance to share a very special meal in Warm Springs, Oregon.
Local Native American woman Brigette Mcconville and the Confederated Tribes of Warm Springs run a river-to-table experience that celebrates all things salmon. You'll hear all about the important role this fish has played in tribal history and inter-tribe relations and gain an understanding of traditional fishing and cooking techniques while sampling some of the finest local produce.
5. Visit a UNESCO-listed Native American pueblo in New Mexico, USA
Ready to discover over 1000 years of Native American history? New Mexico offers some of the best indigenous experiences in the US.
On our New Mexico Discovery trip, you'll tour the UNESCO-listed Taos pueblo with an indigenous guide, who'll teach you about the 150-strong community's well-preserved traditional adobe architecture and ancient cultural heritage.
The Intrepid Foundation – supporting indigenous communities in Canada
Our not-for-profit, The Intrepid Foundation, recently welcomed a new partner: Water First, who work with indigenous communities across Canada to safeguard and improve access to safe, clean water and train the next generation of First Nations water scientists.
Intrepid supports the important work of Water First and other partners by making a donation to the foundation on behalf of every traveller who books a multi-day Intrepid trip with us.
Check out Intrepid's range of small group adventures across North America and start planning your next trip.
Feeling inspired?