Take a walk on the wild side on an African safari.
The word "safari" means "journey" in Swahili. And a safari in Africa is all about the journey. While seeing a leopard munch on a freshly caught gazelle or spying a curious lion cub venture away from its mother's protective embrace will be highlights of your trip, you'll discover the journey is as much a part of your trip as the destination.
The road-trip games you play with your new travel mates, the feeling of the wind (and maybe a little dust) in your hair when you're travelling down long, winding roads, and the young Maasai boy who waved at you as you passed him along the road will stay with you long after you return.
Our African safari tours
Africa safari h
ighlights
Popular safari destinations
Region comparisons
Reviews
Where we stay on safari
On our safari trips you'll stay in billion-star accommodation. That's our way of saying you're sleeping under the night sky, camping in the great outdoors. On our Basix and sections of Original trips, you'll stay in two-person canvas tents that our crew will help you set up. And on our Comfort trips, you'll be staying in permanent tented camps and lodges (think glamping instead of camping).
Campsite facilities can sometimes be basic, but wherever possible, we make sure there are Western-style toilets and warm water available. But you'll find it's worth sacrificing a warm shower or two when you're waking up to sunrise over the Masai Mara.
How we get around
On our safari trips, your main mode of transport is an overland truck, a purpose-built vehicle made for driving through Africa's winding, and sometimes bumpy, country roads. While the trucks don't have air conditioning, they do have sliding windows which let in the breeze and make it even easier to take spectacular snaps of the local wildlife. The trucks are also equipped with power outlets to charge your camera, phone and other devices on the go.
For more info on our overland trucks, see our Africa overland page.
African safari FAQs
Responsible travel
Our stance on Animal Welfare
This world and the animals that call it home are precious, and we believe it's our responsibility to help preserve them. We do not include or condone any activities that exploit animals on our safari trips, including hunting, feeding or interacting with animals in any way. We believe that wild animals should be observed in the wild, from a respectful distance. 
Some tips for being a wildlife-friendly traveller include never buying animal products, not participating in activities that include contact with the animals, and not including location tags on social media posts (some poachers have gone high-tech and use social media to track rare animals' locations).
Read more about our Animal Welfare Policy here. 
Read more about African safaris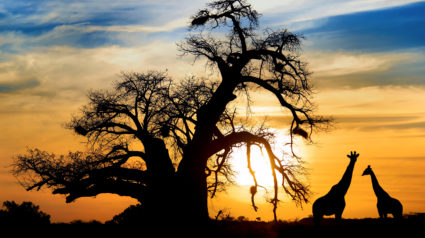 May 03, 2022
---
You'll probably want to pack your bags as soon as you start imaging the African...
May 31, 2023
---
Don't eenie, meenie, miny, mo it - read this blog instead.