It's time to find out which national park is really the king of the jungle vast plains…
So, you've answered the call of the wild and decided on an African safari for your next trip (great choice), but the hard decisions aren't over yet. Africa is huge and there are plenty of countries and iconic national parks to explore such as Tanzania's Serengeti National Park and Kenya's prized Masai Mara National Reserve. They might be sitting right next to each other, but which one's better to visit?
To help you come to a conclusion (and avoid flipping a coin), we've compiled a complete guide comparing both national parks' wildlife, landscape, weather and cuisine to determine which one comes out on top. I'd get reading if I were you; the wild awaits.
Wildlife
Arguably the biggest drawcard to Serengeti National Park is the chance to glimpse the Big Five – the lion, the leopard, the black rhino, the bush elephant, and the buffalo – and with good reason. If you're lucky, you can tick seeing all of them off your bucket list in a single day. But plenty of other animals call the Serengeti home, including giraffes, hippos, cheetahs, zebras and wildebeests.
As if the Serengeti National Park could get any cooler, it's also the backdrop of the Great Migration, where two million wildebeests (with a few herds of zebras and antelopes mixed in for good measure) travel across the plains in search of water. In case it wasn't already obvious, to witness this is a once-in-a-lifetime type thing you simply won't get anywhere else. So, you really can't go wrong with a game drive (or two) in the Serengeti.
If we're talking about premier wildlife destinations, it doesn't get much better than the Masai Mara National Reserve. Game drives across the Savannah promise a glimpse of all the usual animals you've never seen in the wild (lions, cheetahs, elephants, zebras, hippos, gazelles and crocodiles just to name a few), so be prepared to fill up your camera's memory card.
In case you thought the Serengeti and the Masai Mara couldn't get any similar, the MMNR* is also the stomping ground of millions of thirsty wildebeest between July and September, so as far as wildlife experiences go, you can't go wrong with either national park.
*Masai Mara National Reserve. This abbreviation isn't actually a thing, but it should be.
SPOT THE WILDLIFE ON OUR GORILLAS AND GAME PARKS TOUR
Landscape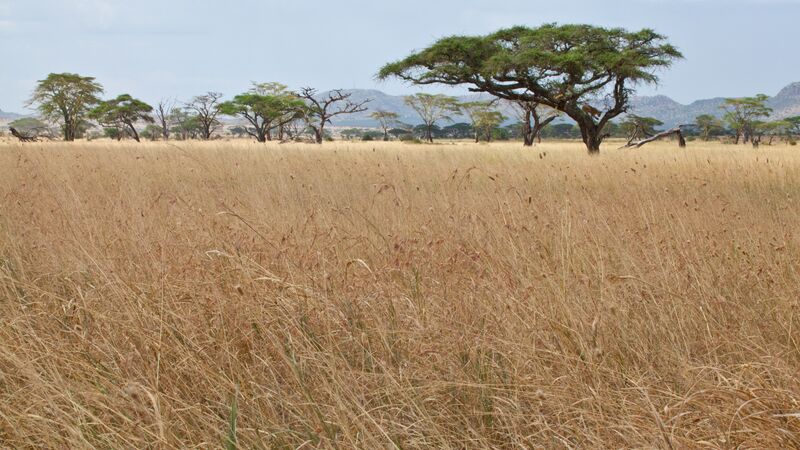 The name 'serengeti' comes from the Maasai word 'siringet', meaning 'the place where the land runs on forever' and once you head out on an open roof 4WD, it's easy to think that's true. The Serengeti is big – 18,000 square miles big – and includes a range of different terrain from rocky outcrops and sprawling grasslands to acacia woodlands and forests full of flora and fauna.
The park is divided into three distinct sections: the Serengeti plains (known as a tree-less grassland), the western corridor (featuring rivers and small mountain ranges) and the northern Serengeti (a remote woodland). Extreme weather conditions over the years are to blame for the park's diverse geography, with the landscape believed to have been shaped by volcanic activity, creating Serengeti's iconic craters.
CHECK OUT THE LANDSCAPES ON OUR SERENGETI & KILIMANJARO SMALL GROUP ADVENTURE
The Masai Mara National Reserve might be smaller (amounting to only 580 square miles), but it's no less spectacular than the Serengeti, with stretches of open grassland and seasonal rivulets. If you explore the southeast region, you'll come across clumps of acacia trees whose umbrella-domed appearance has become synonymous with the Kenyan landscape. Read: a must-see.
Its terrain is also broken up by three major rivers – the Sand, the Talek River and the Mara River – where hippos often drink from the water's edge and crocodiles float along the current. So, it's no surprise to see Masai Mara's name on Kenya's list of UNESCO World Heritage-listed sites.
Weather
While the Serengeti's extreme temperatures may have helped mold the landscape centuries ago, the climate experienced in this national park is more moderate nowadays, with average max temperatures of 27°C and average lows of 15°C throughout the year. Temps do tend to drop at nighttime though, so as much as I'm sure you'd love to leave your woolly jumpers and thick cardigans at home, you can't.
Instead of the typical four seasons, the Serengeti adheres to three distinct ones: a dry period from June to October and two wet periods (a shorter one from November to December and a longer one from March to May). But before you book your Tanzanian safari for July, you can still have a fantastic time year-round with rains during the wet seasons not lasting all day.
JUMP ON OUR SERENGETI & NGORONGORO SAFARI TOUR
As they're pretty much side by side, there's not much difference between the weather patterns in the Serengeti and the ones in Masai Mara with the latter also experiencing a relatively moderate climate. The only real difference is that MMNR* enjoys slightly cooler temperatures than that of its Tanzanian counterpart with average highs of 26°C and average lows of 12°C.
This doesn't mean you can leave your sunscreen at home though, as the sun's UV rays in Kenya can reach an almost instant sunburn-producing 12. If you don't know what that means, it's extreme. Anything over 11 and you should take as many precautions as necessary to protect yourself from burning to a red crisp no amount of aloe vera will fix.
*again with the abbreviation no one's using but me.
ENJOY THE WEATHER ON OUR PREMIUM KENYA TOUR
Cuisine
Okay, I know this category technically doesn't have anything to do with the national parks themselves, but the Serengeti sits in a different country to Masai Mara, and the different countries have different cuisines to consider. And food is extremely important.
There's no doubt that after each morning game drive you'll be starving (waking up at the crack of dawn will do that to you) and luckily, most lodges within Serengeti National Park have on-site restaurants you can chow down in. Sure, you could stick to the dishes your tastebuds are already familiar with but since you're in Tanzania, you may as well try some traditional oness.
From fried bread that can be eaten as a snack or to accompany a bigger meal and African-style pancakes (made out of coconut, yeast and rice flour) to plantain soup and curried fish, Tanzanian cuisine has been heavily influenced by its past and its geography with flavours adopted from India and neighbouring East African countries. Is your mouth watering too?
TRY TANZANIAN CUISINE ON OUR ROAD TO ZANZIBAR TOUR
Molded to the different lifestyles in Kenya, traditional cuisine is often inexpensive to make and incredibly filling with ingredients such as maize, potatoes and beans a staple in most dishes. And you'll no doubt come across a bowl of ugali during your travels – a cornmealy, starchy and spongy side dish used to mop up stews and soups.
On the sweet side of things, you must try some mandazi – a fried doughnut infused with coconut and cardamom and perfectly shaped in a bite-sized samosa style. Before you ask, yes they're appropriate to eat for breakfast and yes, you can have more than one.
EAT ALL THE KENYAN FOODS ON OUR MASAI HEARTLANDS SMALL GROUP ADVENTURE
The verdict
This one's tough and I knew it would be, but Serengeti National Park and the Masai Mara National Reserve are so similar once you write it all down. So, which park's safari scene actually reigns supreme? Much to your frustration, we can't answer that. They're both too good.
Whether you want to munch on a crispy plantain or 12 (they're so addictive) in the middle of the Serengeti or marvel at the fern-like leaves and impressive stature of Masai Mara's acacia trees, you simply can't go wrong. And let's be honest, if you're heading OOF on an African adventure you're already winning, regardless of which national park you choose to visit.
VISIT BOTH THE SERENGETI & MASAI MARA NATIONAL RESERVE ON OUR PREMIUM KENYA & TANZANIA TOUR
Feeling inspired?