Which national park's scene will reign supreme?
Whether it's watching a pride of lions stalking impala against the setting sun, a baby elephant splashing around a watering hole, or a striped Zebra grazing on the open plains as it watches warily for signs of trouble – an African safari is one of the most exceptional wildlife encounters you'll ever enjoy. Throw in some nights spent under the starry skies, swapping tales with your new friends around a campfire and you've got yourself a truly epic life experience.
Botswana is the hub of all things good when it comes to quality African safaris. From wetlands to desert plains, woodland forest to life-giving rivers, over 17% of the country is devoted to protected wildlife reserves. It's little wonder then that two of the world's heavyweight safari spots, Chobe National Park and the Okavango Delta thrive within its borders
If you're visiting this part of Africa, the only problem you'll have is knowing which of the two to choose for your next holiday! This is exactly why we've put these two parks head to head in an epic 'safari battle'.
Are you ready to rumble…?
The lay of the land
Chobe National Park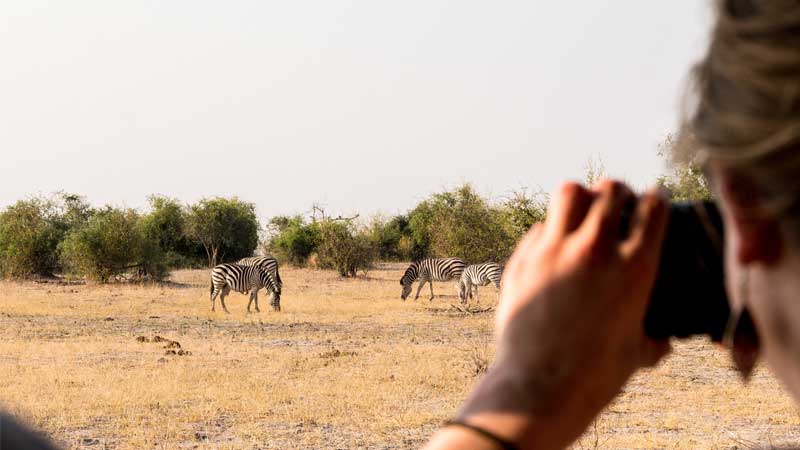 First set aside as a wildlife reserve in 1930, Chobe National Park, which sits to the north east of the country, officially became Botswana's first national park in 1968.
It's been a pretty popular safari spot ever since; even Hollywood royalty Elizabeth Taylor and Richard Burton chose the park for their Honeymoon in 1975.
Today, Chobe encompasses four diverse wildlife regions that all carry the promise of an action-packed safari: the lush Chobe Riverfront (the most concentrated and popular area), the grassland and clay Ngwezumba pans, remote Savute channel area, and the Linyanti Marshes, similar to the Okavango Delta.
EXPLORE THIS NATIONAL PARK ON OUR CHOBE NATIONAL PARK SHORT BREAK
Okavango Delta
If you've ever wondered what happens when a river meets a desert, the Okavango Delta is your answer. After coursing its way through Namibia and Botswana from Angola, it's here that the Okavango River reaches the semi-arid sands of the Kalahari desert, spilling life-giving arteries through the flat floodplains.
It's the world's only inland delta and the result is an ever-changing tapestry of exceptional natural beauty and natural abundance. The World Heritage-listed area is an ecological hotspot, with its network of reed-lined waterways and channels, flooded woodlands, palm-fringed islands providing vital habitat for some of Africa's most celebrated flora and fauna.
GET LOST ON OUR OKAVANGO EXPERIENCE SMALL GROUP ADVENTURE
The Wildlife
Chobe National Park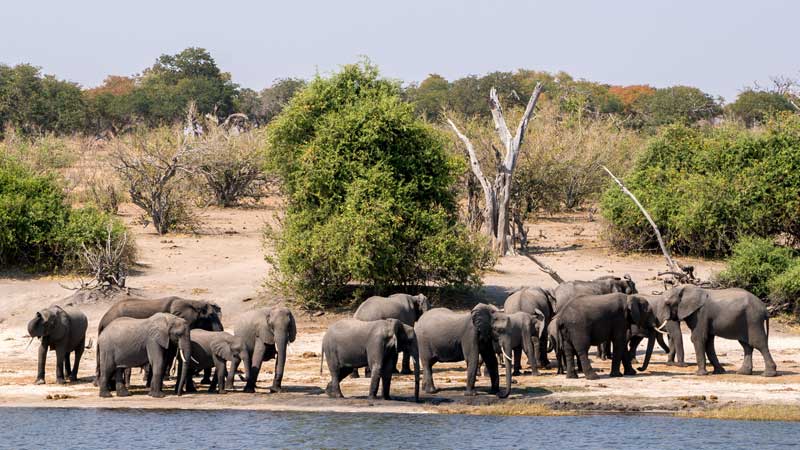 Chobe National Park is home to an incredible abundance of wildlife; hippos, giraffes, zebra, kudu, impala, antelopes, monkeys, baboons, birds – you name it, it's there. It's also one of the only places in Botswana where the Puku and Chobe Bushbuck species of Antelope can be found, which is pretty neat.
But Chobe is an African safari highlight because of its huge elephant population. Thanks to exceptional conservation efforts, the elephant population here has swelled to an estimated 120,000  – thought to be the world's highest concentration of African elephants.
We tend to agree, as during our two days in the park we witnessed literally hundreds traverse the floodplains to the Chobe River to drink. Another afternoon, we watched three large elephant families share bath time in a waterhole less than 10 metres away. If it's a Pachyderm parade you're after (and let's face it, who doesn't want a real life Babar encounter?!), Chobe is definitely your ele-heaven.
The park is also one of the best places in Africa to see big cats, with lion, leopard, and cheetah numbers on the rise. By day, we saw prides of roaming lions and a leopard chilling up a tree with a fresh antelope kill. By night, we fell asleep in our tent to the sounds of big cats calling to each other in the dark.
ROAM CHOBE NATIONAL PARK ON OUR PREMIUM SOUTH AFRICA TOUR
Okavango Delta
As the Delta's expanse floods and transforms into fertile wetland plains, an incredible amount of wildlife migrates from all over the Kalahari region to enjoy this African eden.
Most large African animals can be seen during the winter months (June – October); elephants, hippos, wildebeest, giraffe, nile crocodile, leopards, game animals, zebra, warthog, and baboons to name a few. Great populations of the Brown and Spotted Hyenas are also present here, and the endangered African Wild Dog still thrives in the area.
One of the biggest reasons to visit the Okavango Delta is the bird watching opportunities. With over 400 species recorded, the region transforms into a bird-watcher's paradise in the rainy months!
JOIN OUR 'EXPLORE SOUTH AFRICA' TOUR
When to visit 
Chobe National Park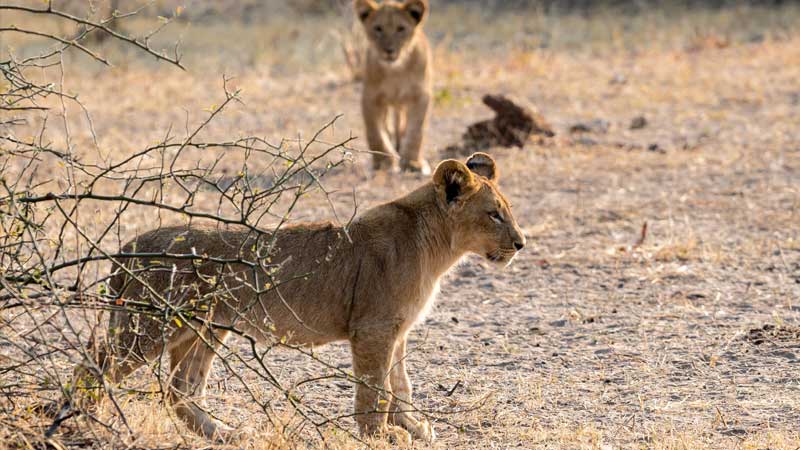 The best time to visit Chobe National Park is during the dry season (April to October). As the heat begins to parch water sources in other areas, thousands of animals make their way to the Chobe River to drink.
If you can stand the intense heat of the day, game viewing peaks in August – October, when more water-dependent animals remain near the river. Beware, as days out on the plains can become quite hot, while the temperature can drop to around zero degrees in the evening.
For those who prefer watching birds of a feather flock together, make plans to visit Chobe during the rainy summer months (December to March). Bird-watching conditions are prime during these months as most migratory birds have returned to Botswana. If you're lucky, you may also glimpse new life during the Impala birthing season!
TRAVEL TO CHOBE NATIONAL PARK ON OUR PREMIUM BOTSWANA TOUR
Okavango Delta
Ironically, during Botswana's dry winter months (May – October), the Okavango Delta's waters swell to more than three times their normal levels. The sudden abundance of live-saving water and food beckons animals from far and wide, creating one of Africa's greatest concentrations of wildlife in one region (and your best safari experience ever).
As with Chobe, bird-watching is best for newborn animals and migratory birds during the second rainy season (November – April).
HOP ON OUR VIC FALLS TO CAPE TOWN SMALL GROUP ADVENTURE
What to do
Chobe National Park
If it's safaris you're after, it's safaris you shall have in Chobe.
Book yourself on a morning game drive and watch as the beautiful landscapes come alive, as the sun rises. Enjoy a relaxing sundowner from the deck of your sunset Chobe River safari as wallowing hippos call to each other and herds of elephants cross. Then, enjoy all the trimmings of a luxurious safari lodge, or for the really adventurous, fall asleep inside the park while listening to lions calling to each other outside your tent. Some companies also run special photography and bird-watching tours, so keep an eye out for them.
Whether it's a 4×4 safari, a boat cruise, or a game lodge experience, be prepared and book your trip ahead of time. The park can get extremely busy, and there's nothing worse than turning up and watching from the sidelines because they're booked out.
SPOT ALL OF THE ANIMALS ON OUR PREMIUM BOTSWANA & NAMIBIA TOUR
Okavango Delta
In short: the Okavango Delta offers some of the most unique safari options in the world.
For a start, it's one of very few places where you can enjoy a safari from river height, and it's all thanks to a traditional dug-out canoe called a Mokoro. Traditionally carved from tree trunks, the boats are long and narrow, poled along like a gondolier by a local guide (who likely learnt how to master this very delicate art as a pre-teen!).
Travelling by Mokoro is slow by nature, which means there's plenty of time to relax and take in the surrounds; the whoosh as you glide over thick river reeds, the distant grunts of hippos calling to each other, and the chirp of a Kingfisher on a branch above the waterways.
This unique safari takes you deep into the inner Delta (mostly inaccessible unless you charter a plane), traversing the rich maze of waterways and lagoons teeming with wildlife. Keep your hands inside the boat though – there are Nile crocodiles and hippos aplenty!
If the Mokoro ride doesn't tickle you enough, spend a night camping under the stars on one of the Delta's islands, and rise early next morning to go on a walking safari with your local guide. There's something so intensely intimate and primal about walking through an African plain and being entirely surrounded by the sights and sounds of the wild (and potentially a predator or two – but we survived!). The local guides are exceptionally well-trained here, which means you'll be an expert in wildlife tracking and dung reading before the morning is over.
GO WILD ON OUR BOTSWANA HIGHLIGHTS TOUR
Park Accessibility
Chobe National Park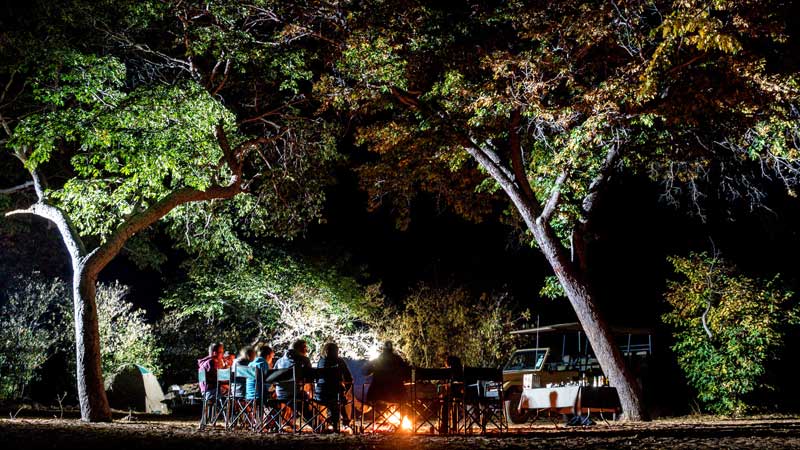 Chobe's unique position at the border of four countries (Zambia, Zimbabwe, Namibia, and Botswana) makes it extremely accessible from all sides, particularly when travelling by car, bus, local van, or taxi. Only 4x4s will make it through the extremely sandy terrain once in the park though, so while you can self-drive, make sure you've got an appropriate mode of transport!
It is also possible to fly into nearby Kasane airport, a good base for before and after your safari. The land crossing at Kasane is a pretty popular one with travellers coming and going from Zambia's Victoria Falls, and most safari companies will collect you from Kasane for your safari and take you into the national park.
Okavango Delta
Whether you're flying into a luxury safari lodge or planning to self-drive your way through the national park, every one of your Okavango Delta experiences begins and ends about an hour away in Maun.
This dusty tourist town exists as the gateway to the Delta, and while it does have an international airport, only a few bus routes and local vans run along the three main roads connecting the town to the rest of the country.
The verdict
The points have been tallied, the results are in, and the winner is….  Botswana!
Wait, what?!
So we know Chobe National Park is technically the winner right here, but having seen both with our own eyes, it's too hard for us to call. Both parks are exceptional in their own right, and yet, so vastly different it's hard to believe they call the same country home.
If you're poor on time or resources and have to make the choice, we recommend looking at it the following way:
If you're after an action-packed animal adventure in lush surrounds, Chobe's your place
If you're after a true wilderness experience in one of Africa's last Eden's, make the time to explore the Okavango Delta
Of course, if time, money and access is no concern, then why not choose both…?
EXPLORE BOTH NATIONAL PARKS ON OUR BOTSWANA ADVENTURE SMALL GROUP TOUR
Feeling inspired?