Behind every tour is a lot of people running the show. And for our tours, it takes a village. But while we have teams for operations, product, finance and more, we were missing one very important team for our latest project: vegans.
After noticing a lack of foodie travel options for vegan travellers, we decided to develop a range of Vegan Food Adventures. Of course, all our existing Real Food Adventures and regular tours accommodate all diets, but these tours would be different. These trips are catered to the vegan traveller, complete with vegan-friendly cooking classes, all-vegan street food crawls, and all the other culturally immersive activities you'd expect from an Intrepid trip.
The catch? Here at Intrepid, we're not vegan (well, not all of us).
That's why we enlisted the help of six vegan influencers. From May 18-25, they were in India piloting our first ever Vegan Food Adventure, helping us fine-tune it (alongside our local team there) and ensuring we were on the right track for our other Vegan Food Adventures. They also shared the "behind-the-scenes" on their Instagram channels, naturally.
So without further ado, meet the vegan influencers:
Erin Ireland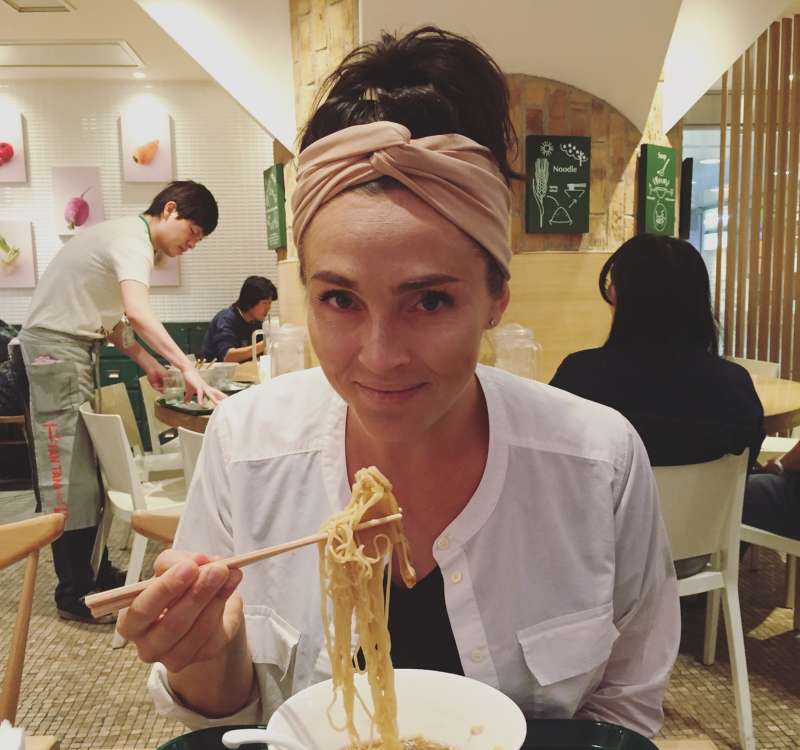 Erin Ireland is a passionate food reporter on a mission to prove that plant-based eating is just as delicious and convenient as traditional alternatives. Through her social media outlets, food photography and website, itstodiefor.ca, this Vancouver native showcases restaurants and businesses who value and prioritize vegan eating. She also shares daily cooking tips to her following of 150,000.
Erin is also a TEDx speaker, the owner of seven-year-old plant-based bakery To Die For Fine Foods and was named one of Canada's top vegan influencer by Impact Magazine. Since reading the book Shantaram, India has been at the top of Erin's 'dream travel destination' list. Up until now, favourite trips of Erin's include Australia (for the beautiful and abundant vegan cuisine), Japan (for its uniqueness and people) and Italy (for its focus on amazing ingredients and general vibe).
Follow Erin on Instagram at @erinireland
Andrea Brown
From Perth but currently based in Sydney, Australia, Andrea (Andy) is a health and lifestyle blogger with a strong focus on vegan food and food as medicine. Her love affair with food only really started after she became vegan in 2015 and found herself experimenting with different flavours, eating cuisines she had never touched before and understanding the nutritional value of different ingredients.
Andy started her career in law but moved into the marketing world once she discovered her passion for social media and communications, through her own blog, Eat With Andy, and Instagram. She now works as a Digital Strategist and helps her clients to form and implement a creative strategy to achieve their goals. Her travel bucket list includes Morocco and Central America and her top travel destination for amazing vegan food "would probably have to be Bali, although her favourite travel destination is New York City."
Follow Andy on Instagram at @eatwithandy
Zach Berman
Zach Berman is from Steveston, BC and now calls Vancouver, BC home. Inspired by the local health foods and juices he experienced on a year long backpacking trip through Nepal, India and Sri Lanka, Zach founded The Juice Truck in Vancouver in 2011, Canada's first Cold Pressed Juice Bar. The Juice Truck has since grown to multiple locations and has evolved into a plant based lifestyle cafe. In June 2017, Zach released a best-selling cook book with Penguin Random House about juicing, smoothies, and living a plant based life, aptly titled, The Juice Truck.
Zach went vegetarian in 2006 after taking an environmental and animal ethics class in university and eventually went vegan after launching his business. His travel experience was trekking through the Himalayas in Nepal and a few spots on his bucket list: K2 Base Camp in Pakistan, Mongolia, Japan, Norway, and Haida Gwaii in Northern BC.
Follow Zach on Instagram at @juicetruck 
Elisa Rossi
Italian-born Elisa has a passion for healthy food, cooking and living. After struggling with hormonal acne after moving to London in 2008, she began a mission to redefine her skin through a holistic approach by changing her diet and lifestyle. On her blog, Happy Skin Kitchen, she has been sharing her everyday journey towards better skin and all-round health. After food, travelling is what fills her heart and soul with joy and gratitude.
She is always dreaming of new adventures, next exotic destinations and incredible places to see. Travelling to different countries has inspired Elisa incredibly to widen her cooking horizons and to try new cuisines, flavour combinations and new ingredients. According to Elisa, "Bali by far has been by far the country which has impressed me the most when it comes to incredible fresh produce and exotic fruit."
Follow Elisa on Instagram at @happyskinkitchen
Steph Yu
Stephanie Yu is a vegan blogger, podcaster and writer based out of Vancouver, BC. Her passion for health and holistic well-being spurred her transition into a vegan diet in 2013. During her time travelling in Thailand and Australia on a gap year (that just never ended), she began to put more time and care into photography and her blog, and also started her YouTube channel. From there she never looked back.
She's always eager to connect and have authentic conversations with others, and has a zeal for leveraging her social media to start conversations around mental health, spirituality, and self love, such as through her podcast, A Beautiful Mess on Apple podcast and her website, Steph Yu. Her favourite travel experience was definitely doing the Everest Base Camp trek in the Himalayas, and some spots she's dying to hit are: Japan, Italy and Peru.
Follow Steph on Instagram at @happyandhealthy96
Khadi Ishtar Wolf-Brooke
Khadi is a travel enthusiast, lifelong vegan, former dancer and now avid yogi and yoga teacher from the east coast of Australia. She grew up on five acres of land in the bush and has carried on a love for fresh fruit and veggies, healthy living, wholesome cooking, nature, exploring the beautiful unknown and immersing herself in culture for personal growth and gaining wonderful new experiences. She is very passionate about her vegan lifestyle which has been a part of her since birth.
Khadi shares her journey and adventures of cruelty-free living, delicious food/recipes, travel, health and wellness on her Instagram, YouTube channel, Facebook and website to show people just how easy eco, vegan living and travel can be. Her favourite travel destination (so far) has been Chiang Mai, Thailand, which she has visited three times and lived in for 5 months, and her most exciting trip was Egypt. Khadi has visited many other amazing travel spots through her former years of Ballet/dance training and performing. Next up on her wish list: South America!
Follow Khadi on Instagram at @khadiishtar
—
Want to travel on a vegan food adventure yourself? Check out NEW range of Vegan Food Adventures.
—
(Image credits from top to bottom: Intrepid Travel, Erin Ireland, Andrea Brown, Zach Berman, Elisa Rossi, Steph Yu and Khadi Ishtar Wolf-Brooke)
Feeling inspired?