Eating is a national pastime in Macedonia. Locals gather around kitchen tables and in cosy 'kafeanas' (taverns) to feast on fragrant stews, pastries and salads, often washed down with a glass of wine from the Tikves Valley.
Drawing heavily on Balkan and Mediterranean influences and packed full of garlicky, herby flavour, Macedonian cuisine may be slow to cook, but it's sure quick to go down. Basically, if you like food (and who doesn't), you should visit, stat. Plus, the countryside is rather beautiful. Have a read of this list of traditional Macedonian dishes and just try to stay away (warning: may induce drooling).
Must try Macedonia Food
Tavche Gravche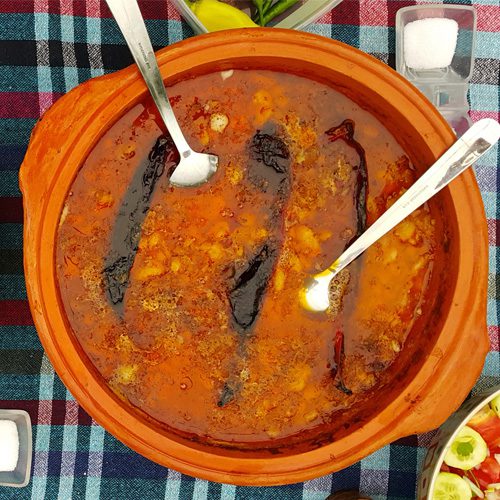 Widely considered Macedonia's national dish, Tavche Gravche is the country's answer to baked beans, and let me tell you, it's a lot tastier than the usual canned business. Fresh beans are boiled, combined with onion, peppers, tomato, oil, flour and spices, and then baked slowly in an earthenware pot. Traditionally the meal was served in family homes on Fridays, when Orthodox Christians abstained from eating meat, but today it appears on dinner tables any given day of the week. Hearty, creamy, beany goodness.
Ajvar
This Macedonian staple is so much more than a relish. Made primarily from red bell peppers, eggplant, garlic and chilli, Ajvar is commonly used in sandwiches and as a side salad. Don't let the almost nuclear orange tinge put you off – sometimes spicy, sometimes sweet, always delicious – this is the stuff of gods.
Although it originated in Macedonia, today Ajvar is eaten all over the Balkans. Traditionally, the condiment is prepared in autumn, when bell peppers are most abundant. If you become addicted, however, you can always purchase pots of Ajvar at the supermarket to take home as gifts for your 'friends' (aka yourself).
Kachamak
Similar in texture to Italian polenta, Kachamak is made from cornmeal, potato and quite often, cheese. The ingredients are slow boiled and then mashed together over an open flame. The magic happens when various toppings are stirred through – anything from yogurt to sour cream, bacon to chopped pork ribs. Down a bowl of Kachamak and you'll have enough energy to skip backwards up Mount Korab.
Pastrmajlija
Step aside, Pizza Hut: the real Meat Lovers' Special is found in Macedonia. Derived from the word 'pastrma', meaning 'salted and dried meat', Pastrmajlija is a long, oval-shaped pizza topped with diced pork (or lamb), and often fried egg. Every region in Macedonia believes it makes the best Pastrmajlija, but the true die-hards can be found in Stip, where the dish is celebrated with the annual 'Pastramalijada' festival.
Grilled meat
The Balkan nations are famous for their love of meat, and Macedonia is no exception. Hole up in a tavern with a plate of 'kjebapchinya' (grilled meat and onions) or 'pleskavica' (meat patties) and you'll feel just like a local. Wash it down with a strong glass of 'rakija', a typical Macedonian fruit brandy, and you'll be laughing (figuratively and literally).
Despite all the meat, vegetarians need not despair. Macedonia's warm climate provides a great environment for growing produce, so expect to encounter lots of fresh veggie salads, herbs and stone fruit. Delicious.
Just tried to eat your computer while reading this? Jump on Intrepid's Macedonia and Montenegro Real Food Adventure and taste all of the above for real.
Feature image c/o Marjan Lazarevski, Flickr
Feeling inspired?