This country is full of enchanting landscapes and mesmerising, medieval architecture but did you also know it's full of mouthwatering restaurants to eat your way through?
One of the best ways to recharge and refuel after a long day spent exploring one of Europe's smallest but most commanding countries is by sitting down to enjoy a hearty meal. And luckily, Luxembourg is full of restaurants where you can do exactly that.
From sophisticated French cuisine to munching your way through Mexican delicacies, and from the flavours of Japan to the wide range of traditional Luxembourgian food, these Luxembourg restaurants will have you coming back for seconds….and then thirds.
1. Le Sud, 8 Rives de Clausen, Luxembourg City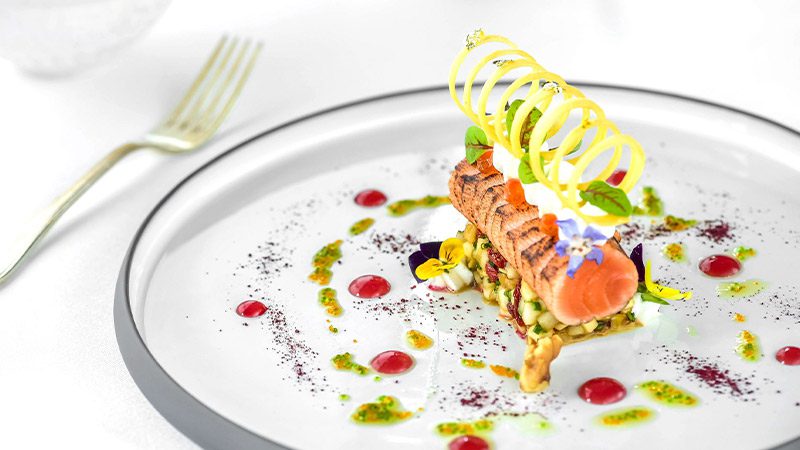 If you're looking to eat at a restaurant that's steeped in history, then Le Sud on the banks of the Alzette and Pétrusse rivers is the one for you. With over 500 years of brewing history soaked into its walls, this multi-story establishment has quickly risen through the culinary ranks to dominate the field, making it a must-stop-at place for both locals and travellers passing through.
Not only is the interior styled to French perfection but there's also a rooftop terrace so you can survey the bustling and vibrant suburb of Clausen with a glass of champagne in hand. Boasting a chef that hails from Versailles and a menu featuring art-like dishes, this restaurant promises an unforgettable, gastronomical night.
EAT AT THIS RESTAURANT ON OUR BARCELONA TO BERLIN TOUR
2. Kamakura, 4 Rue Munster, Luxembourg City
Japanese food might not instantly come to mind when thinking about Luxembourg cuisine but not dining at local-favourite, Kamakura, on your trip would be a mistake. Heralded as the first Japanese restaurant in the city of Luxembourg, this gastronomic destination blends food with the seasons to create a menu that's simply delectable 365 days of the year.
With a focus on sharing Japanese culture through unveiling traditional culinary secrets, Kamakura offers dishes that are made to be shared, enjoyed, eaten, and appreciated among friends and loved ones. From the salty flavour of miso soup to the fresh, raw fish and tempura dishes available, you certainly won't leave this beloved restaurant hungry.
EAT AT THIS RESTAURANT ON OUR EUROPE EXPLORER TOUR
3. Le Bouquet Garni, 32 Rue de l'Eau, Luxembourg City
Located in the heart of the medieval district and opposite the Grand Ducal Palace in the city of Luxembourg lies Le Bouquet Garni, a restaurant that marries both French classicism and creativity together to produce a menu that's fit for the Grand Duke himself. Housed in a breathtaking, 18th-century house, there's so much to love about this restaurant from its soft-lit and exposed stone interior to its cozy and refined atmosphere.
Whether you fancy sampling the crispy crab cakes from the restaurant's gourmet menu or you prefer to dine on creamy risotto with asparagus and mushrooms, this menu won't leave you disappointed (or hungry), especially with warm chocolate pie or bourbon-infused vanilla profiteroles for dessert.
4. ELA Greek Cuisine, 37b Av JF Kennedy, Luxembourg City
There's nothing like eating a little bit of Greek food in Luxembourg and ELA's is the best place to do it. Priding themselves on offering traditional, family-style recipes with a contemporary twist, this casual but ultra-refined restaurant boasts a menu of cold mezze plates such as Graviera cheese and dolmades, salads and raw plates filled with yellowfin tuna and octopus carpaccio, and hot mezze plates such as baked eggplant and spanakopita.
But food is the only thing you'll enjoy at this Luxembourg establishment. The drink selection is also something you'll want to write home about with cocktails such as 'Aegean Dream' (gin, green apple liqueur, St. Germain, cucumber syrup, lime, and sugar) and 'Mykonos' (rum, peach passoa, ginger beer, and cherry syrup) on the menu.
5. La Cristallerie, 18 Place d'Armes, Luxembourg City
Come for a culinary experience and leave satisfied from the gourmet excellence at La Cristallerie. Described as 'gastronomic Haute couture', this restaurant invites you on a mouthwatering journey through the seasons, making the most of Luxembourg flavours and fresh ingredients.
With a stunning atmosphere cultivated by an opulent, golden interior and fantastic service, feast on a menu that changes daily (think velvety vegetables and perfectly cooked poultry) and sip on wines not only from the best vineyards in Luxembourg but also in the world.
EAT AT THIS RESTAURANT ON OUR BARCELONA TO VENICE TOUR
6. Mosconi, 13 Rue Munster, Luxembourg City
Another delightful restaurant that looks over the Alzette River is Mosconi, an Italian restaurant headed up by world-renowned Italian chef, Illario Mosconi. Gaining a Michelin star in 2014 (the first Italian restaurant outside of Italy to earn the achievement) for its heavenly eight-course set menu of tastebud-tingling pasta dishes, this sophisticated restaurant is a place you'll want to keep coming back to.
With dishes bursting with a firework of flavours such as the tuna ice cream (more delicious than it sounds) and the Tuscan beef pasta (exactly as delicious as it sounds), these delectable creations will stay in your mind long after you've dined on the last bite and drained the last drop. In short, this culinary establishment might be last on the list but it's one of the best Luxembourg restaurants to eat at.
DINE AT THESE LUXEMBOURG RESTAURANTS ON OUR LUXEMBOURG TOURS
Feeling inspired?