Last summer I decided to explore a part of Europe I had never been to before: Northern Spain and Portugal.
My foodie side was looking to learn more about Mediterranean cuisine, and so I signed up for Intrepid Travel's 8-day Portugal Real Food Adventure, featuring Galicia.
This tour covered Northern Spain and the Western coast of Portugal. The itinerary ticked all of the boxes for me: wine tours, cooking classes, local markets, and food tours in each region we traveled to.
I loved the local markets. Fresh seafood and produce is easily accessible each day, everywhere you go in Spain and Portugal, sourced from local farms and fishermen. For me, this is ideal in truly supporting a local economy and knowing where your food is coming from.
Galicia cooking class
In the Galicia region, we had a local chef guide us through a few local dishes in an interactive cooking class. I grew up with Mediterranean-style cooking, and the class was a nice reminder of the approach to meals and the importance of fresh vegetables. The approach we learned was not complex, and covered the fundamentals of Mediterranean cuisine that you can easily apply in your everyday meal preparation routines.
SUBSCRIBE TO INTREPID'S NEWSLETTER FOR DEALS, GIVEAWAYS, TRAVEL TIPS & STORIES
Our chef guided us through preparing mussels (sourced locally, of course), our main dish of baked fish and the grand finale of almond cake, a surprisingly easy dessert, even for the baking challenged like me.
It was the best cooking class I have ever been to. Think lots of garlic, a stupendous amount of olive oil, fresh and local ingredients, gracious hosts and lots of delicious and local wine. 
EXPERIENCE PORTUGAL'S AMAZING CUISINE ON THIS 8-DAY FOOD ADVENTURE
The Beauty of Porto
Once we crossed into Portugal, we landed in Porto, a city I will definitely come back to.
Some highlights in this historic city were touring different foodie hotspots in the city, including bakeries, cheese shops and eating at one of our Intrepid leader's favourite restaurants in the city. I really can't say enough good things about our Intrepid guide Isabel; she loves her culture and it really comes through during the tour.
READ MORE: WHY PORTO IS PORTUGAL'S NEW HOTTEST DESTINATION
The local food tour included tasting a Portuguese specialty – custard tarts – as well as local coffee. We then moved on to locally-sourced cheese, cured meats and port wine, before ending with a restaurant with a spectacular view.
Douro Valley
We also did a day trip to the Douro valley, just outside of Porto, the region most known for port wine. This area has been producing wine since about 20,000 years ago. During the 13th century, wine production began to pick up in the region, and transported to Porto along the Douro river. This region has a micro climate, so the temperature is vastly different than Porto, and generally sees much more rain, making it perfect for wine-making.
READ MORE: 6 (OTHER) HOT FOODIE DESTINATIONS IN EUROPE
We had a lovely day touring regional wineries and learning about signature wines throughout the region.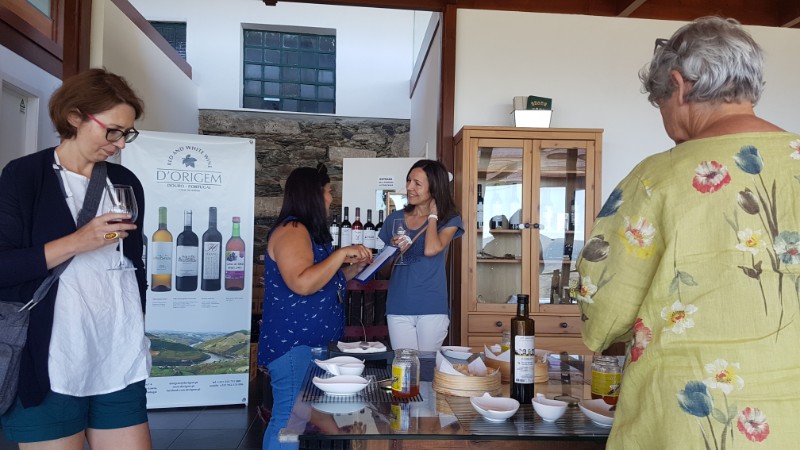 READ MORE: THE ULTIMATE GUIDE TO 7 DAYS IN PORTUGAL
Our farmstay
During the tour, we traveled south to a farm stay outside of Lisbon to Alentejo. I felt like we could have stayed here for more than one night, as there were so many aspects of the farm and the local food to learn about. The farm we stayed with provided cheese, eggs, meat, and all of our meals were prepared with local products.
Learning about local food, how to prepare it and learning simple and healthy ways to eat well were the key takeaways for me on this trip.
I continued traveling in Portugal after the trip ended in Lisbon, and every town I went to, I visited the local market and shopped locally. I found it much easier in the region to source food locally than in my native city, Toronto.
I will definitely come back to the region to explore more. It's a must for foodies!
Ready to eat your way through Portugal? Check out Intrepid's drool-worthy Portugal Real Food Adventure.
—
(All images courtesy of Liz Oke, and taken on Intrepid's Portugal Real Food Adventure.)
Feeling inspired?