When the Intrepid Foundation was established 20 years ago, there were very few travel companies giving back to local communities. Since then, the Foundation has worked with over 62,000 individual donors to raise more than AUD $12 million for 136 community partners around the world. And as far Intrepid co-founder, Geoff Manchester, is concerned, they're just getting started.
Over the course of 20 years, the Intrepid Foundation has raised more than $12 million for 136 community projects around the world, creating positive impact through the joy of travel, community and connection.
And it all started on a road trip through Africa in 1988.
We'd modified an ex-council truck, and the plan was to drive it across the continent with some friends. Darrell [Wade, Intrepid's co-founder], his wife Anna and I started talking about the concept of Intrepid, what it might become, and we thought: if we're going to make a living out of taking people to developing countries, we should be giving back to those countries.
Pretty soon, Intrepid Travel was born. In those first three years, we started financially supporting some small projects in South East Asia. This was before the company was making a profit. Darrell and I weren't even getting paid yet!
In 2002 we created a separate not-for-profit, the Intrepid Foundation, partly to help our travellers donate, but also so that Intrepid could start supporting these projects in a much bigger way.
"I think this is one of the real powers of travel: connecting us to people and communities around the world."
It might not sound too revolutionary now, but I'm 99 per cent sure there wasn't any other travel company doing anything like this 20 years ago. It was a totally different model of philanthropy. The Intrepid approach was based on travellers, not wealthy benefactors. The income was coming from ordinary people. It was constant and, in theory, perpetual. A brand new way of giving back.
Measuring our impact
For a long time, we measured success purely in dollars and the number of organisations we could support. That's still a good way to look at things, but over the years we've refined our process.
We want to make sure the organisations we're supporting are making a real difference on the ground. Partly this comes down to finding worthy partners – every organisation is chosen and carefully vetted by our local destination teams – but we've also become more rigorous on reporting. Every one of our partners delivers annual statements, so we can measure not just the Foundation's outcomes, but also its impact.
There's an important difference there, between outcomes and impact. It's not just what your donations do, it's what they represent. A good outcome might be training 100 disadvantaged women in a new skill, but the impact could be much greater: better job security, a more prosperous community, a living wage, healthier children, more equal gender equality, higher living standards, and so on.
A new world of travel
The future of travel is changing right now, every single day, and the Foundation is a big part of that. There's still a lot we want to accomplish. We want to broaden the scope of our partners, and engage with the issues that mean most to them, along with our local teams. The Foundation has been doing great work for 20 years, but we want the next 20 to be even better.
"Our internal research shows that travellers really value this. They want to make a contribution, and feel more connected the places they visit."
For that reason, we'd love to eventually have a partner linked to every single Intrepid trip. That's the ultimate goal. That obviously means supporting partners whose work covers every region we travel, which is a big task. It takes a lot of time to find these partners, assess them, create the relationships, get the story out there and start raising money. To put it in some perspective, Intrepid runs over 900 different trips!
We also want to build on the success of the last 20 years by stepping up the Foundation's disaster response work. This is something we've been doing since the Boxing Day tsunami in 2004, but we'd love to do even more. Over the years our travellers have raised money for the Nepal earthquake, the Australian bushfires, vaccine equity, and now the Red Cross in Ukraine.
This is one of the real powers of travel: connecting us to people and communities around the world, and empowering us to support those communities. Our internal research shows that travellers really value this. They want to make a contribution and feel more connected to the places they visit. They want their adventures to mean something.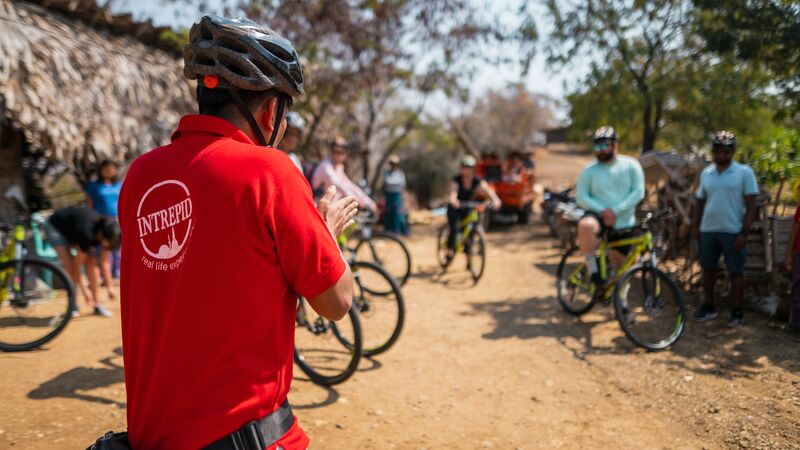 We see Intrepid and The Intrepid Foundation as being intertwined. They're separate organisations, but working towards the same mission. When you book an Intrepid trip, you should be able to see, feel and read about its direct impact. You become part of a community of conscious travellers, ready to create change. You meet people and learn about local issues, and part of you stays connected to those destinations, long after you've arrived back home.
I'm proud that the Intrepid Foundation has been able to support so many meaningful partners over the last 20 years. But mostly, I'm looking ahead for ways we can increase that impact in years to come. And as travellers continue to push for travel experiences that matter, I know the future of travel is in good hands.
Feeling inspired?