So you've settled on Central America…now what?
It's a jungle out there…especially in Central America. Where else can you hop from cloud-shrouded jungles that spill right onto the beach to concrete jungles with delicious bites on every corner. Costa Rica and Mexico both have all the ingredients for a perfect holiday: picture-perfect beaches, culturally significant cities and world famous eats… but how are you supposed to choose between the two?
We've broken down the highlights of these two tropical destinations so you can stop overthinking and start practising your Spanish. Ready? Vamanos!
Landscapes
Costa Rica is one of the world's greenest countries — both in colour and sustainability. Over 25% of the country is protected land comprised of national parks and conservation areas, and it's a postcard-worthy, jungle-lover's paradise. Costa Rica is celebrated for its ecotourism, and you can do your part by choosing a sustainable tour company (ahem, Intrepid Travel) to explore canopied jungles, misty forests (both rain and cloud), and palm-lined beaches.
Popular destinations for nature enthusiasts to check out are Arenal Volcano National Park, the hot springs of La Fortuna and the world-famous Monteverde Cloud Forest Biological Reserve, while active adventurers can easily fill the days with hiking, biking and rafting. Keep your eyes peeled for exotic wildlife like howler monkeys, tapirs and even jaguars, and make sure you have room on your phone for the hundreds of photos you'll be snapping along the way.
With the word "coast" in the name, it should come as no surprise that Costa Rica's got a lot of beaches…over 1200 kilometeres worth, in fact. And the beaches are truly unmatched. With lush jungles that spill right out to the ocean and secluded swimming coves, you'll feel like you've been stranded on a remote island…in the best way, of course. Although technically it's one of the country's smaller national parks, Manuel Antonio is stacked with rainforests, coral reefs and wildlife. Hike on one of the surrounding trails to look for three-toed sloths, white-faced monkeys, anteaters and iguanas.
EXPLORE BEACHES, JUNGLES AND HOT SPRINGS ON A CLASSIC COSTA RICA TRIP
Mexico is a prime destination for a coastal getaway, and its loooooong, sugar-white sand beaches are a little bit flashier than its neighbour to the south. Popular spots like Cancun, Playa del Carmen and Tulum are much more developed, making them fantastic options if you're looking for entertainment over solitude. The beaches are often lined with restaurants, clubs, shops and resorts, so you'll find plenty of on-shore activities (and definitely a frozen drink or two) if you've had your fill of sunbathing. Warm Caribbean currents and clear, shallow waters make Mexican beaches ideal for snorkelling and turtle-watching.
TREAT THE KIDDOS TO A TROPICAL GETAWAY ON A MEXICO FAMILY HOLIDAY
Cities
San José is the capital city and cultural hub of Costa Rica, making it a great starting point for any beach, rainforest or volcano adventure. The city centre is packed with bustling markets featuring artisan goods and local food stalls, and you'd be remiss if you passed up a refresco (fresh fruit smoothie) or cup of iconic Costa Rican coffee as you wander the avenidas.
Downtown San José is gloriously compact — a huge plus if you've only got a day or two to explore the city. The centrally located Plaza de la Cultura is flanked by the ornate National Theater of Costa Rica and the Pre-Columbian Gold Museum, an impressive underground exhibit of indigenous gold artefacts, jewellery and coins. If you're museum-ed out, you can always grab a coffee and partake in my favorite activity… good old-fashioned people-watching.
ENJOY A DAY IN SAN JOSE ON AN URBAN ADVENTURES CITY TOUR
Mexico's complex and sprawling capital city is the perfect starting point to explore the highlights of Central America's largest country and beyond. In vast contrast to Costa Rica's petite capital, Mexico City is enormous… to put it lightly. As the biggest city in Mexico and the third largest in the Americas, Mexico City has A LOT to take in, so if you've got the time, you'll definitely want to spend a few days exploring the various neighbourhoods here. The benefit of visiting such a massive city is that you can tailor your activities to your needs, so whether you're into museum hopping and history or salsa clubs and tequila tasting, you'll definitely find your groove here.
The Zócalo (the city's huge central square), is one of the city's most recognisable places, featuring a mix of colonial architecture and Aztec ruins. This large, open space is the perfect place to soak up local culture; it's usually crowded with a mix of locals and tourists, and you can spend free time strolling around the various vendor stalls, listening to live music, watching street performers and enjoying the city's famously dynamic food scene. Present-day Mexico City was built on top of Tenochtitlán, the capital of the Aztec Empire, and you can visit the ruins of the ancient city centre at the Museum of the Templo Mayor. The site sits just outside the Zócalo, across from the Metropolitan Cathedral.
A trip to the city is incomplete without a visit to the Frida Kahlo Museum, located in her brilliantly blue former home. The museum features collections of her work, photographs and personal items. Across town, the Palacio Nacional and the Palacio de Bellas Artes both house some controversial albeit impressive murals from painter Diego Rivera, former husband of Frida.
MAKE THE MOST OF MEXICO CITY WITH A SHORT BREAK ADVENTURE
Cuisine
While not typically considered a foodie location, Costa Rica is renowned for its coffee culture, and the beans are considered some of the best in the world. Many regions exclusively grow Arabica beans, which are more challenging to nurture but produce richer, fuller-bodied flavours. Cafes and street carts are abundant, and locals love drinking coffee all day, so consider it a goal to strike up a conversation and order in Spanish! Repeat after me…café con leche.
When thinking of Costa Rican cuisine, it's natural to picture rice and beans… it comprises the ubiquitous national dish, Gallo Pinto, after all! But Gallo Pinto is so much more than plain rice and beans; it usually features onions, peppers, cilantro and plantains and can be topped with cheese or a fried egg. Although typically served at breakfast, you can find it on menus all day long.
RELATED: 5 MUST TRY DISHES IN COSTA RICA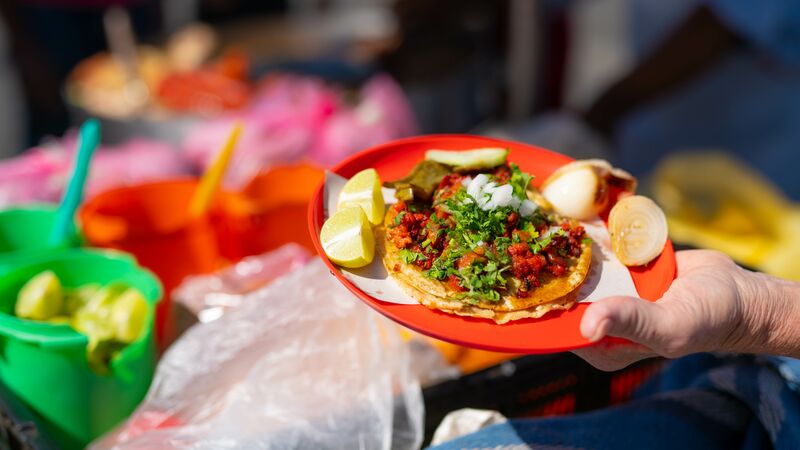 Going to Mexico? Go hungry. Mexican cuisine is a feast for the senses and is famous for good reason. It's bold, it's varied and above all, it's deliciosa. If I can, I always try to hop on a food tour to familiarize myself with the local delicacies. Exploring Mexico's culinary regions and specialities is very hungry work, but luckily, there's plenty of flavour to fuel the exploration.
Mexico City is a utopia of street food, known for al pastor tacos, churro carts and late-night bites, while Oaxaca, nicknamed the 'land of the seven moles', is a haven for sauce lovers. Middle-eastern-inspired tacos árabes are the speciality in Puebla, home to one of Mexico's largest Lebanese communities, while tamales are sold on nearly every street corner in Mérida. Corn is highlighted in many meals, a nod to Mexico's indigenous roots. Aside from the staples, like the ever-present baskets of fresh corn tortillas, don't miss tejate (a chilled corn, cinnamon and chocolate drink), huitlacoche (corn fungus) quesadillas, and road-side elotes and esquites (grilled corn on the cob or corn kernels slathered in mayo, chilli and lime). Is anyone else's mouth watering?
If you're tempted to wash down your meals with a tasty adult beverage, why not give mezcal a try? To make mezcal, the core of the agave plant is cooked in a wood-fired still, which leads to the intensely smoky signature flavour mezcal is known for. Visit a mezcaleria and go back in time by sipping on one of the oldest spirits in the world.
JOIN A MEXICO REAL FOOD ADVENTURE
Verdict
Although both destinations have incredible beaches, Mexico offers a more well-rounded holiday; city-slickers and foodies will enjoy the metropolitan cities, while history buffs can geek out over impressive Aztec ruins. If you've got an appetite for adventure travel and want to feel like you've gone off the grid, slow down and embrace the Pura Vida lifestyle in Costa Rica. Better yet? Combine the two on a Best of Mexico and Costa Rica tour or go all out and join our epic 47-day Central American Explorer trip through Mexico, Belize, Guatemala, Honduras, Nicaragua and Costa Rica for an experience you'll never forget.
Check out Intrepid's small group tours in Costa Rica and Mexico
Feeling inspired?