Before you book your adventurous expedition cruise, it's important to get all the facts.
There's no place on Earth more remote (or more breathtaking, literally) than Antarctica. So, if you're considering a trip there, I don't blame you. But wanting to journey to the 7th continent is a big decision that should be properly thought about.
Like how are you supposed to pick the right cruise for you? How many people will be on the ship? When should you go? The questions are endless, but that's what this blog is for. Your Antarctica expedition doesn't start as soon as you get on the ship or even on the flight to Argentina. It starts right now. And to make sure your voyage is smooth, these are the 10 questions to ask before you begin the booking process.
Discover our Antarctica cruises
1. How many people are there on an Antarctica ship?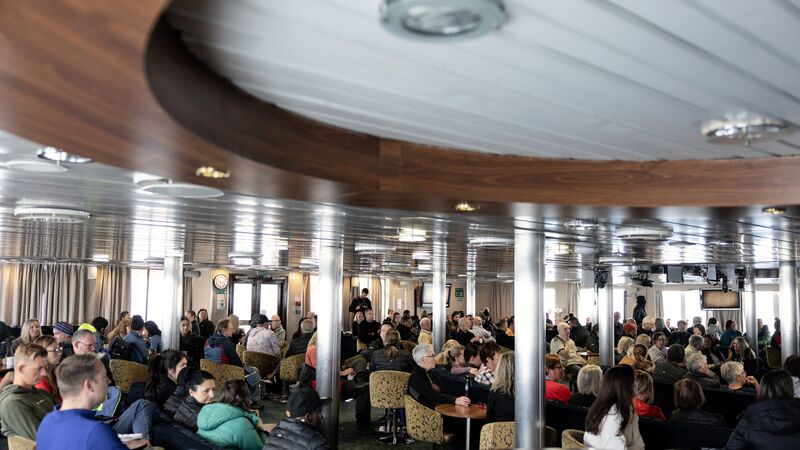 The International Association of Antarctic Tour Operators (or IAATO) has put in place several strict governing rules to help protect Antarctica's pristine environment, so there's actually a cap on activities expedition ships can participate in depending on how many passengers they're carrying.
Ships with over 500 passengers are not permitted to make shore landings, making them cruise-only adventures without the opportunity to explore by zodiac or set foot on the Antarctic Peninsula. However, ships carrying fewer passengers than that, still have a cap on how many can actually partake in shore landings at once. Only 100 people are permitted to be on shore at the one time, so ships with more passengers have to alternate shore outings.
If you want to maximize your time in Antarctica fully, opt for a ship that has 200 passengers or less. While this might make your cruise more expensive, your journey will be a more personal experience and you'll have more flexibility with activities.
Related: Why you should visit Antarctica
2. When should I travel to Antarctica?
Antarctica's peak season (and best time to travel) falls between November and March when temperatures are at their warmest and days are at their longest, resulting in enough melted sea ice to enable access for cruise ships. Due to Antarctica's remote location deep in the Southern Hemisphere, travelling outside these months is pretty much impossible.
But, in terms of the best month, there really isn't one. Each of the five months promises spectacular scenery and fascinating wildlife, so you can't really go wrong. To help you decide which month you should travel in, consider the type of wildlife that will be more active and what activities you're most looking forward to.
3. Does the ship I'm on help protect the environment?
I can't speak for Antarctica cruises run by other tour operators, but at Intrepid, we're deeply committed to being a responsible business and have a great understanding of the impact we have on the places we visit. Our Antarctica cruises onboard the Ocean Endeavour are no exception. Every Intrepid trip is 100% carbon neutral, but Antarctica's fragile ecosystem calls for extra help.
So, we're further focusing on inspiring travellers, supporting science and protecting the environment. This means we want to educate every passenger on the environmental dangers facing Antarctica and inspire them to care about the natural world around them. We're supporting Antarctica researchers and experts by partnering with WWF (World Wildlife Foundation) and abiding by IAATO guidelines. We're also committed to minimizing our environmental impact and promoting conservation in Antarctica.
And we're only getting started. There's plenty more for us to learn and do, including investing in a new energy-efficient ship, building stronger partnerships and improving our supply chain. In other words, watch this space.
Related: How can a responsible tour operator run trips in Antarctica?
4. How many shore landings can I expect?
Making the journey across the Drake Passage might be half the fun, but the real question is, once you're in Antarctica, how many times can you actually leave the ship? Different cruise operators have different restrictions but onboard the Ocean Endeavour, we offer not one but two daily excursions on land and at sea (via zodiacs).
While this is dependent on permitting weather conditions, we don't call our Antarctica cruises 'hands-on, feet-on adventures' for nothing. We want you to see as much of the icy white continent as possible, including trying your hand at sea kayaking, participating in naturalist-led walks and even going snow-camping (yes, you read that right).
5. What makes cruises cheaper/more expensive?
The pricing of Antarctica cruises can differ a lot depending on the time of year, the number of days, the ship size and its included amenities. Ships that carry up to 500 passengers are generally cheaper because you cannot participate in shore landings. However, if you're opting for a smaller ship with less passengers, expect the cruise cost to be higher.
Like I mentioned before, every Intrepid cruise to Antarctica aims to have passengers complete two excursions per day, which factors into the cruise's overall cost. The Ocean Endeavour also has plenty of premium amenities for passengers to use while crossing the Drake Passage or if the weather affects planned activities.
These amenities include a gym, a polar library, a bar staffed by professional bartenders, spa treatments, yoga & stretching classes, his & hers saunas and a heated saltwater pool. And that's just the tip of the iceberg. While Antarctica cruises aren't cheap, it's best to spend a bit extra in order to maximize your once-in-a-lifetime adventure.
6. How many zodiac boats does the ship have?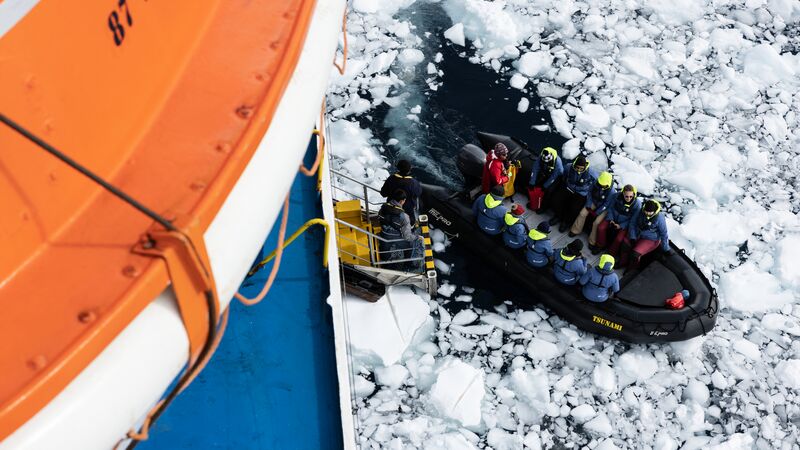 It's a bit hard to navigate large expedition ships close to the Antarctic Peninsula (read: impossible), that's where the zodiacs come in. Zodiacs are inflatable, motorized boats that transport passengers to and from the ship for sea excursions and shore landings. So, you want to ensure your ship has plenty of zodiac boats to go 'round to make moving passengers as easy and time efficient as possible.
Luckily, the Ocean Endeavour has 22 zodiacs, multiple loading ports and a sizeable mudroom for taking on and off your polar gear. We know which Antarctic expedition ship we'd choose.
7. What is the crew-to-passenger ratio onboard?
The higher the crew-to-passenger ratio onboard an Antarctica ship the better and the Ocean Endeavour has a ratio of 1:8. Yep, one crew member for every 8 passengers. That's pretty much as good as it gets. This means you'll enjoy a more informative, personal and comfortable journey with polar experts and experienced crew members ready to answer your every question, conduct fascinating seminars, help you on and off zodiacs, accompany you on shore landings and every other little thing in between.
Related: Meet Martin, our Antarctica expedition guide 
8. Do I need to be fit to go on an Antarctica cruise?
While there aren't any fitness requirements for Antarctica, you still need to possess a decent level of fitness to enjoy your time as zodiac excursions, shore landings and even walking around the ship during rough conditions can be tricky to navigate. Overall good health, great core strength and an ability to move around freely are three must-haves you need to consider before booking your expedition.
However, all of our Antarctica cruises have a physical rating of 2 and don't include anything overly strenuous. And, if you haven't got your sea legs yet or if you do need a helping hand, handrails are fitted around the ship, so navigation is easy and comfortable. The ship is also fitted with a lift, but it doesn't grant access to all decks and can be closed for maintenance on some departures, so being able to climb stairs is necessary.
In short, putting in some extra time at the gym before you leave, or even ramping up your daily walks, can help improve your overall Antarctic enjoyment.
9. Can I travel solo to Antarctica?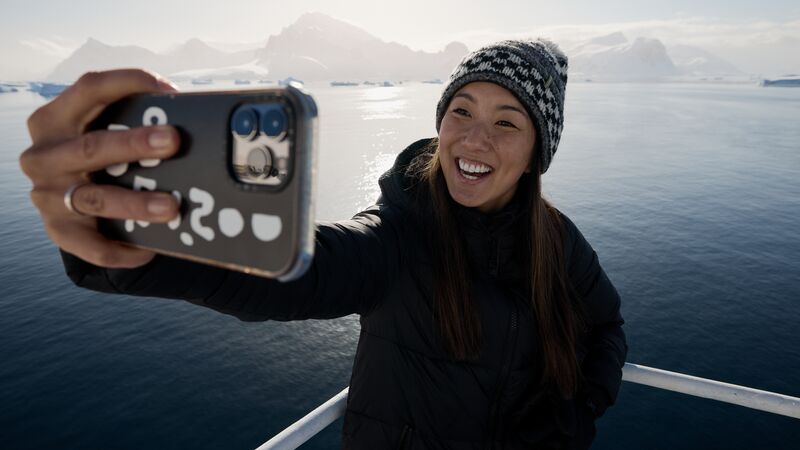 Travelling to Antarctica completely on your own isn't really possible. There are no hotels on the Antarctic Peninsula, and you can't organize your own flight or private ship to get there, but you can travel as a solo passenger on an expedition ship. We've already established that you won't be alone onboard the Ocean Endeavour with a crew-to-passenger ratio of 1:8 and a maximum of 200 passengers just as eager as you to explore the great, white continent.
We also provide flexible rooming arrangements including twin share cabins and single supplements. However, on some departures and for selected cabin categories, solo travellers won't have to pay for a single supplement if they want their own room, but not the hefty price tag that comes with it.
Related: What's it like as a solo passenger in Antarctica?
10. What's included in the cost of the cruise?
Cruises to Antarctica aren't cheap, so it's only natural to want to know exactly what you're spending your money on. There are a number of inclusions that drive the price of your cruise higher. These are often:
All meals onboard (including 24/7 tea and coffee)
Cabin type
Excursions and shore landings
Onboard activities such as lectures and seminars from polar experts
Expedition team to guide you on your journey
Intrepid also includes one night of pre-cruise accommodation in the departure location and the Ocean Endeavour also has premium amenities that you can use for the duration of your cruise including WIFI and onboard laundry service for those that wish to pay for a few creature comforts from home.
Interested in Antarctica?