Rachelle Berke had travelled to more than 60 countries before deciding to visit Antarctica with Intrepid in early 2020. She shares her experience exploring the seventh continent on the eve of a global pandemic.
Going to Antarctica was a big thing for me. I've travelled a lot – 62 countries, so far – but Antarctica was my first big trip on my own. After trying unsuccessfully to rally friends to come with me, in the end I just booked it. And I'm so glad I did – not only is Antarctica one of my favourite places in the world, it was the last trip I'd take before the pandemic changed the face of travel. There was talk of COVID when we set off from Ushuaia in late February, but no one really had any idea of the magnitude of what was coming.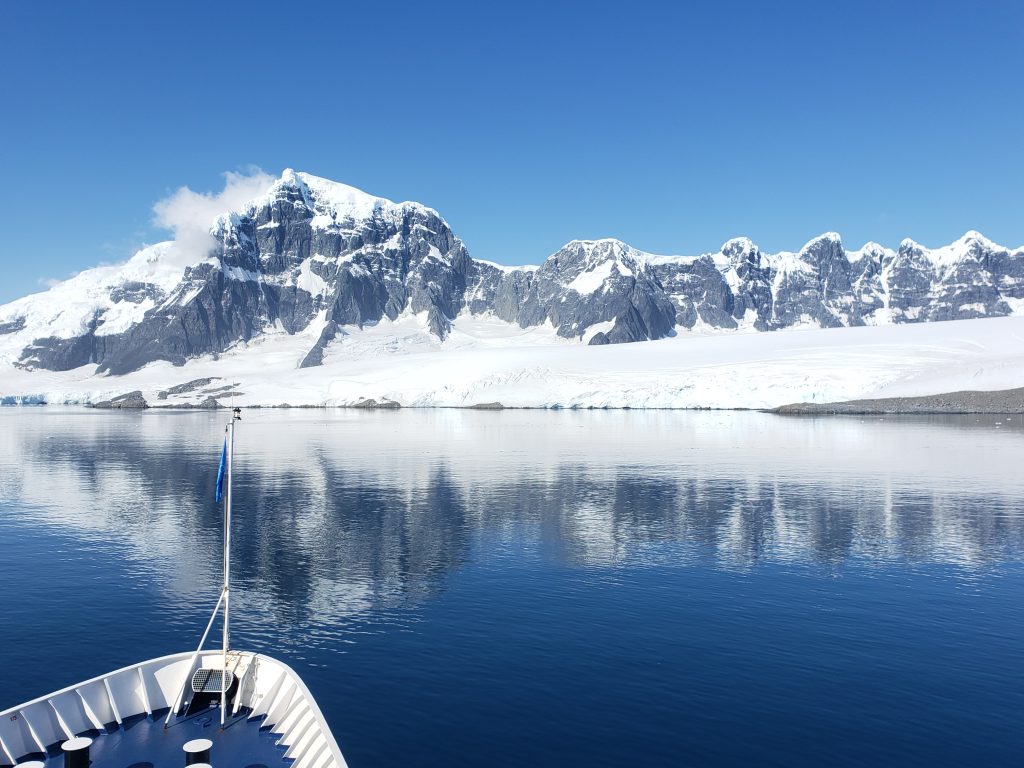 We had two sea days on the way there, which involved lots of talks and educational sessions as we crossed the Drake Passage. The guides and on-board experts were all telling us how rare it is to have a beautiful day in Antarctica (they call them 'unicorn days'). Well, when we arrived on the Antarctic Peninsula, I went up on deck and it was so calm, with clear skies and no wind. It was absolutely beautiful. I remember thinking "How are we even here?" It was magical – a real 'pinch me' moment.
Our group was fortunate enough to have eight shore landings. It's crazy when you're there; these little penguins just come right up to you. They're not scared of you at all. They're like, "This is our territory, get out of my way!" We had some amazing experiences on the Zodiacs (inflatable motorised dinghies) too, seeing orcas and humpback whales, as well as playful seals chasing each other around the boat.
I'd heard about the polar plunge – where participants are tethered to a harness and jump into the icy waters – and I was game, but I knew I'd probably chicken out if I saw too many people do it before me. I asked if I could go first. I attached the hoop and rope around my waist and jumped off the ship into the sea. And wow, it was cold! I'm from Canada so I'm used to cold weather, but this was very different. But being in the water, surrounded by icebergs, was just incredible. So was the shot of tequila I had when I hopped out. It's an experience I'll never forget (not to mention, it's a great party story).
The whole time we were on the ship, we didn't have much of an idea of what was happening in the rest of the world. There were whispers about a flu-like illness going around, but being in a location as isolated as Antarctica meant we were pretty removed from it all. It's so wild to think that if my trip had been a week later, I probably wouldn't have been able to go.
Once our group got back to Argentina in early March, we became immediately aware of how quickly COVID was moving across the world, and how serious it was. At airports, going through security, everyone was asking how we were feeling, and if we had headaches or fevers. I got home to Saskatchewan and wasn't allowed to go back to work until I'd been tested. At that stage, the tests were new and took a long time to process. Then, the whole world shut down.
I felt pretty wary about travelling after that. Everything's quite different now. Things can take longer and feel harder, especially if you're going overseas. So much has changed over the last few years, but – with everything that's happened – I feel incredibly lucky to have visited Antarctica right before COVID kicked in. Who knows when I would have had an opportunity like that again. That said, over two years into the pandemic, things are definitely calming down now. You've just got to remember to factor in a bit more time, and to be patient and kind, especially when airlines and hotels are short-staffed.
The trip and its aftermath really put things into perspective – it made me realise change is the only constant, and that life is unpredictable and short. There are so many amazing things to see and do in the world, and we need to take advantage of the opportunities that come up, because we can't control what's around the corner. My plan from here is to say yes as often as possible to any adventures that come my way.
Feeling inspired?