Because group travel is so much more than the inside of a bus…
Whether you're exploring your home country or taking an international adventure, the idea of booking a tour can be overwhelming… especially if you're torn between a coach tour and small group travel. The main difference between the two styles comes down to the size of the group; coach tours use huge motor coaches that hold up to 60 people, while small groups are (plot twist)… small, averaging about 10 travellers per group and often utilising custom vans and local means of transportation.
Over the past 30 years, Intrepid has figured out what travellers really want on a group tour; ease and peace of mind of travelling with others and a mix of local secrets and authentic experiences so you can experience the pulse of a destination… and not just see it. Just because you've handed over the planning and logistics to a tour company shouldn't mean you need to sacrifice on comfort or settle for mediocre experiences.
We've weighed up the biggest factors to consider when booking a trip, so whether you're in your 20s and embarking on your first trip to Europe, or you're a senior who's always dreamed of seeing the Grand Canyon, you'll be able to decide which style of travel is right for you. We may be biased, but the winner is pretty clear…
Group size
Ok, so you've made all the important decisions, like where you want to travel and when. But when you're daydreaming about your perfect trip, how many people are travelling alongside you? Do you picture blending in with a crowd of 50 from your home country? Or getting to know an intimate group of travellers from all over the world?
If your answer leans more toward the latter, small group travel is definitely for you. While group size can vary depending on the destination and type of trip, Intrepid averages about 10 people per tour — the perfect number to hop on a local bus, squeeze into a hole-in-the-wall restaurant and get to know people on a deeper level.
Intrepid travellers are folks of all ages and backgrounds, so you could spend your time with a combo of solo singles in their 20s, couples in their 40s, seniors, retirees and beyond. If travelling en masse and zoning out with a prerecorded headset is how you envision your holiday, a coach tour might be more your vibe, but for those looking for a unique adventure, more isn't always merrier.
Transport
As the name implies, coach tours are just that: tours that utilize massive coach buses for long-distance travel. All fun and games until you're filing off to grab lunch, right? Getting off a coach bus takes much longer than you'd think (especially if you do it multiple times a day), and don't even get us started on the headache of choosing seats.
The benefit of travelling with small groups is you can explore like the locals do; think small 4WDs on a South African safari, tuk-tuks in Thailand and overnight trains in India. Travelling with a tight-knit crew will give you all the benefits and authentic experiences you'll get if you go solo, minus all the stressful logistics and safety concerns.
Guides
We realised pretty quickly that when exploring a new destination, you need more than a guide… you need a local. Intrepid's leaders aren't just tour guides; they're teachers and friends who know their country inside and out. They'll be by your side for the major highlights, of course, but they'll also happily provide recommendations for the best street food, help you learn the local language and steer you away from any experiences that don't feel so… Intrepid. Unfortunately, not all coach tours can say the same, so it's essential to work with a company that supports local economies, respects local cultures and protects the places we love to visit.
The small group sizes of Intrepid Tours provide the perfect guide-to-traveller ratios, and you'll never have to worry about not getting 1-1 time. Have a question about a local custom or want to chat about a football rivalry over dinner? Not so easy with a group of 50, but all part of the experience when your travel crew is small.
Itineraries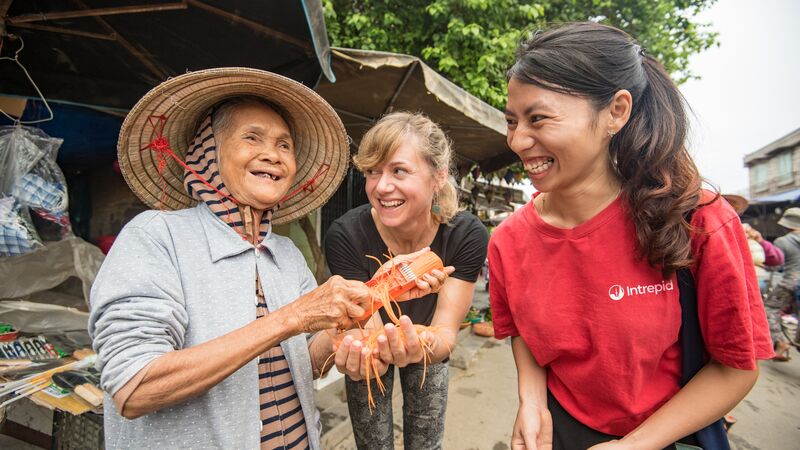 We've all been there… you're stressing about needing a bathroom or a snack break but don't want to be that person making the entire group stop. When you travel on a small group tour, bathroom breaks, snack stops, and photo ops can be as frequent you'd like. Plus, with fewer people to keep track of, you'll never have to worry about your driver leaving you behind (does everyone have this recurring nightmare or is it just me?). Strict timelines and feeling like you're being herded around just aren't our speed.
Our speed is more like this: hitting the major highlights like the Acropolis, the Great Wall of China and Machu Picchu while also including some out-of-the-ordinary experiences in unexpected places. Think: sampling your way through a family-owned Greek pistachio farm, learning the art of Chinese cuisine at a homestay in Beijing, and sipping pisco sours with Peruvian locals. We speak from experience when we say these moments, the ones you never even knew existed, leave the longest-lasting memories.
Although most Intrepid tours have a base itinerary, there's always time set aside for your own exploration or downtime. When dealing with a smaller group of people, itineraries can be reasonably customisable, allowing your guide to make appropriate, impromptu changes based on the group's preference. For example, if you're on a small group tour in Italy and half of your group is feeling museum-ed out… no problem! With guidance and tips from your expert local leaders, you'll have the freedom to embark on a tour de pizza or a gelato crawl instead.
Accommodation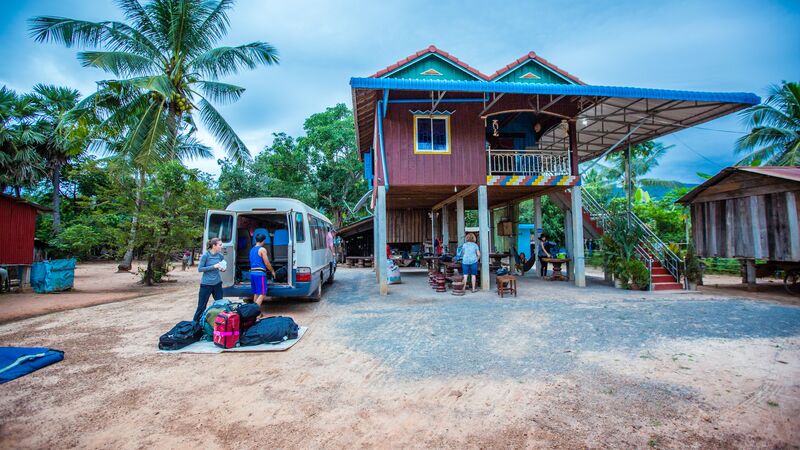 At Intrepid, one of our favourite ways to get to know a place is through its people… which is why we employ local guides, eat at family-run restaurants and incorporate community homestays into most trips. On coach tours, hotels usually have to accommodate 50+ people at once, so you could end up at a chain hotel that feels far from the centre of the action.
That might be cool if you simply want to scratch the surface, but Intrepid does things a little differently. A community-based tourism approach allows you to get to know a place through a local's lens and ensures that you'll be travelling in a way that positively impacts the communities you visit.
Some of our favourite Intrepid experiences are the ones that won't show up on Google Maps or get reviewed on Tripadvisor; we're talking about playing volleyball with indigenous locals on an overnight in Lake Titicaca, sharing a homecooked meal with a family during a rural Cambodian homestay, or getting a lesson on local traditions on a Varanasi homestay in India. Imagine trying to organise this with 50 people? Impossible.
Verdict
The choice seems pretty clear. Small group travel is not only more comfortable and enjoyable, but it's just an all-around better way to see the world. As the world's largest travel B Corporation, Intrepid wants to change the way we all see the world by creating positive change through the joy of travel. We want you to leave your trip with more cultural understanding and the knowledge that your trip benefits local people, communities and the planet.
With a range of trip styles and themes catering to a diverse group of travellers, we're confident there's a small group adventure for you. Feeling inspired? Let's go!
Explore top small group trips