Australia has a fascinating culinary history, and if you haven't tasted First Nations bush foods before, you're missing out on some of the country's best, most interesting flavours. Here are some of our favourite ingredients from around Australia.
This blog was brought to you in partnership with Welcome to Country, a not-for-profit marketplace for Australian Indigenous experiences.
We're starting to see native bush foods pop up in restaurants and cafes around Australia, which is great. But nothing beats exploring Country alongside an Indigenous guide, trying native herbs, nuts, seeds and berries, and hearing local stories firsthand. Luckily, there are plenty of great Indigenous food tours and food products out there, along with organisations like Warndu and IndigiGrow, who are making bush foods more accessible for your average at-home cook.
"We're seeking to deliver positive cultural and environmental projects by growing and reviving local endangered native plants and native edibles," says IndigiGrow CEO, Peter Cooley. "Through the passing down of traditional knowledge to our young Indigenous staff and providing opportunities for the wider community to engage and learn, we're educating people about the wide-ranging benefits of native plants."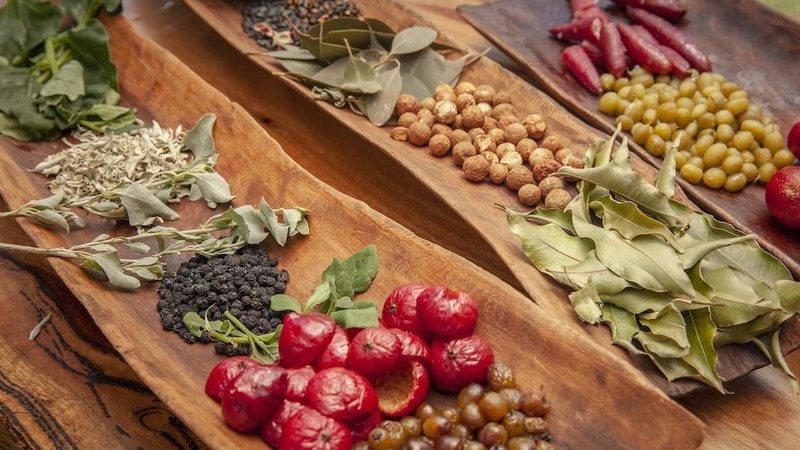 If you're looking to buy native ingredients online, remember to look for Indigenous-owned farms and retailers; that way you're supporting local industries, and helping to give back to First Nations communities.
Here are just a few ingredients you should try on your next First Nations cultural experience.
Wattle Seeds
Wattle seeds have a smooth, nutty, chocolate-y flavour. They're harvested from wattle trees, which mostly grow in the Flinders Ranges region of South Australia. You'll see them on plenty of menus around the country, packed with protein, potassium, iron and zinc. Wattle seeds mature in January, February and March. They can be roasted, ground or eaten whole. The wattle flowers can also be used in pancakes, scones and scrambled eggs. A super versatile addition to the spice rack.
Try it in:
Ground Wattle Seeds from Mabu Mabu
Wild Chai Latte from Warndu
Wattle Seed Hot Chocolate from Mabu Mabu
Wattle Seed Sprinkle from Warndu
Finger Lime
Zesty, sweet finger limes are grown in northern New South Wales and south eastern Queensland. Each one is roughly the size of your little finger, and ranges in colour from green to ruby red. The flavour is sort of like a western lime, but sweeter and lighter, with tiny little 'caviar pearls' that pop in your mouth. You can use these on top of ceviche, or in ice cream, or sprinkled in salads and cocktails, which is why finger limes are now prized by chefs all over the world.
Try it in:
Dried Finger Lime from Warndu
Finger Lime Dark Chocolate by Jala Jala Treats
Finger Lime and Native Mint Tea by Warndu
Dark Chocolate and Rainforest Lime by Chocolate on Purpose
Davidson Plum
Davidson Plum is a variety of Australian native plum, with dark purple skin and sweet, juicy pulp. There's a little citrus kick at the end, too. Imagine the flavour of stewed rhubarb and you're not far off. Davidson plums have become hugely popular in jams, desserts and sauces around Australia. They're usually harvested wild, or farmed in the rainforests of northern New South Wales and southern Queensland. You can even grab them freeze dried.
Try it in:
Dried Davidson Plum by Warndu
Davidson Plum and Lemon Myrtle Tea by Warndu
Davidson Plum Chocolate by Chocolate on Purpose
Davidson Plum White Chocolate by Jala Jala Treats
Pepperberry
Pepperberries are basically Australia's answer to pepper. They have that signature spice and heat, but also a fruity sweetness. This makes them a perfect pepper substitute, especially for meats like pork and duck. Pepperberries grow mostly in the alpine regions of Tasmania, as well as the south eastern mainland. The fruit ripens between March and late June, but it keeps well, and you can find pepper berries basically year-round.
Try it in:
Wild Chai Latte from Warndu
Dried Whole Pepper Berry from Warndu
Dark Chocolate with Wild Rosella & Mountain Pepperberry by Chocolate on Purpose
Dried Pepper Berries from Mabu Mabu
Salt Bush
We've covered pepperberry. Now for the salt. Saltbush makes an amazing addition to your spice rack. It's a wild Australian herb that grows all over the mainland, and it's rich in protein, antioxidants and minerals (not to mention, it's got 20 per cent less sodium than table salt). Saltbush makes a great flavour enhancer, and you can chuck it in everything from pies and casseroles to bread and cakes. Try a straight swap to dip your toe into native bush foods: pepperberry for pepper, and saltbush for salt.
Try it in:
Dried Salt Bush from Mabu Mabu
Salt & Pepper (Murray River Pink Salt, Native Pepper and Saltbush) by Warndu
Dried and Ground Salt Bush from Warndu
Quandong
Fun to say, and even better to eat, Quandongs (or wild peaches) are found all over central and southern Australia. Like cumquats and citrus, the glossy pink shell of the Quandong hides a sour, tart fruit. It's hard to describe until you've tried one, but imagine a peach mixed with aniseed. Sort of a sweet and sour combination. You can add Quandong to salads or roast veggies, and it makes a surprising flavour bomb in cakes and muffins, too.
Try it in:
Quandong and Milk Chocolate covered Macadamias by Indigiearth
Dried Quandong by Warndu
Quandong and Anis Myrtle Tea by Warndu
Quandong and Macadamia Chocolate by
Chocolate on Purpose or Quandong and Black Tea by Warndu
Feeling hungry yet? Welcome to Country has a bunch of amazing Indigenous food tours to check out, and Intrepid includes bush food tasting on many of our First Nations experiences.
Feeling inspired?