UPDATED: This article was originally published in April 2018
As someone who plans their holidays (and life) around their next meal, I could go on and on, listing amazing cuisines I have enjoyed while overseas – a simple slice of pizza in Italy, a spicy rice and curry in Sri Lanka or mouthwatering BBQ ribs in the USA. But one place I hadn't really considered as a food destination was Jordan.
Before I left for Intrepid's 8-day Jordan Discovery trip, I was looking forward to exploring the historic archaeological sites like Petra and Jerash, camping with the Bedouin in Wadi Rum and floating in the Dead Sea, but I really hadn't thought much about what we would be eating. Which is why I was pleasantly surprised to find that Jordanian food is, to put it simply, amazing. Fresh, full of flavour and plenty of choices for carnivores and vegetarians alike; there were many dishes I grew accustomed to in Jordan that you should try when you visit.
READ MORE: DESERT ESSENTIALS: OUR DEFINITIVE JORDAN PACKING GUIDE
1. Falafel
You might be thinking, 'I eat falafel all the time at home – why would I eat it when I'm travelling?'. But trust me: falafel in Jordan is incredible. To start with, it's made with more fresh herbs than you're probably used to, making it bright green in colour. The flavours are much more intense, but somehow the consistency is fluffier and lighter – which leads to a perfectly crispy outside. Coupled with the insanely good hummus for dipping (more on that later), you've got yourself a winner. If you're in Amman, I recommend a pit stop at the iconic Hashem. The falafel is served with all the trimmings, but will only set you back about AUD5. What a dream!
SUBSCRIBE TO INTREPID'S NEWSLETTER FOR TRAVEL TIPS, COMPETITIONS, GIVEAWAYS & MORE
2. Shish kebab
Shish kebabs are Jordan's answer to a meatball – if a meatball was deliciously spiced and skewered, then served with dips, flatbreads and salads. In some places, shish kebab comes in the form of cubes of grilled meat and vegetable on a skewer, but the variety we had was made with minced lamb. You'll find shish kebabs as part of a mixed grill platter, or as a popular street food.
3. Zarb (Bedouin barbecue)
Zarb is a traditional barbecue, where hot coals, meat and vegetables are buried in a hole in the sand for a few hours to cook, before being dug up and shared. We tried zarb when we stayed in a Desert Camp in Wadi Rum with the Bedouin. We were lucky to arrive at the camp around dinnertime, to find that our hosts had been cooking the chicken and vegetables all afternoon. So, we simply got to watch them uncover the feast and then enjoy it together in our dining tent.
4. Mansef
Mansef is the national dish of Jordan. While other Arabic countries do have their own versions, Jordan is the place to try a truly authentic rendition. Essentially it's slow-cooked lamb with rice, served with a secret ingredient: Jameed, a hard fermented yoghurt, made from sheep or goat milk. Jordanians make this yoghurt by gradually adding more salt to the milk over a series of days to help it solidify, before rolling it into balls, where it can be stored without refrigeration (which was crucial for Bedouin living in the desert). To make the Mansef, the lamb pieces are cooked in a Jameed sauce, for a tart but rich stew.
5. Shawarma
Greece has souvlakis, Turkey has kebabs, but in Jordan, it's all about the shawarma. There are many varieties but the most common includes chicken and lamb and you're best to buy them from street-side takeaway stands or casual cafes. One of our favourites was from Reem in Amman – they're cheap and not too big, so I recommend grabbing a couple if you're hungry.
READ MORE: JORDAN IN ONE WEEK: THE ULTIMATE GUIDE
6. Shorbat adas (lentil soup)
Lentil soup doesn't sound overly inspiring, but this Arabic rendition is simple and delicious. Normally made with red lentils, a variety of spices and vegetables, the soup is served as an entree and is a warming accompaniment to the compulsory flatbread you'll enjoy with every meal.
7. Mezze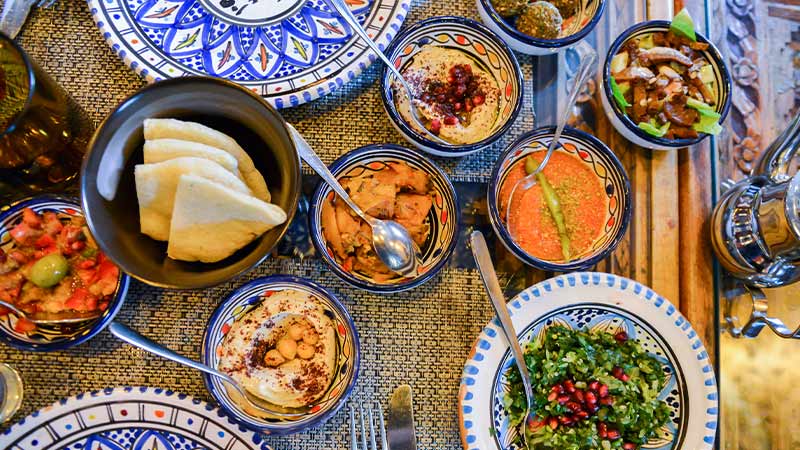 A selection of salad and dips that come out as a starter at most meals, Mezze is THE BEST thing about Jordanian food. Just imagine, you sit down at a café and order falafel or a mixed grill and – lo and behold – tiny plates of hummus, Arab Salad (a tomato and onion-based salad), Babaganoush (eggplant dip), Fattoush salad, olives and pickled vegetables just appear in front of you? Nibbling on these treats is the best way to pass the time while you wait for the main event, although you will risk inadvertently filling up on Mezze. You have been warned.
8. Hummus
Hummus: the dip of all dips. You can't go to Jordan and not eat hummus. This creamy dip is made with chickpea (also known as garbanzo bean), tahini, lemon juice, olive oil, salt, and maybe a few extra spices and toppings depending on where in Jordan you're eating it. It's on the dinner table in every home and on every restaurant menu, and after eating Jordanian hummus you'll never want to look at the store-bought stuff again. Scoop a big dollop of it with a warm pita, slather it over fresh veggies or simply dig into a bowl of it with a spoon.
There's also Jordanian fattet hummus. It's like regular hummus, except it's also made with bread that has been soaked in broth to give the dish some extra texture. It's extra fluffy, extra creamy, and extra delicious.
9. Maqluba
Maqluba, meaning "upside down" in Arabic, is another Jordanian classic. It looks super fancy with its elaborate presentation, but this is comfort food at its best. It's made in a big pot over a low fire with meat, potatoes and veggies at the bottom, and rice at the top (and a whole bunch of delicious spices). Once everything is cooked and all the flavours merge together, the pot is flipped onto a big plate so that the rice is at the bottom. The maqluba is then garnished with nuts, fresh herbs and lemon wedges.
10.  Kunafa
Last but not least, we have kunafa. In Jordan, you'll always find room for dessert. Especially when you get a whiff of a fresh batch of kunafa coming out of the oven. This popular sweet treat is the perfect combination of sweet and salty, crispy and creamy. It's made with layers of crispy pastry tendrils which are covered in a layer of cheese and doused with sugar syrup. Seeing the gooey, melted cheese stretch as a tray of kunafa is cut up into slices is almost as satisfying (OK, not quite) as taking your first bite.
Want to eat your way around Jordan? You can on our Jordan Real Food Adventure.
Feature image by Amy Foyster.
Feeling inspired?