Reading Time:
6
minutes
I never even thought about the driver.
I thought that the guide on my Cape Town to Zanzibar trip and the driver would be one and the same. But on day 1, our guide, Florence, introduced us to the rest of the team that was going to usher us across the continent over the next 40 days. Before us stood Erellah (a guide that was along for the ride to familiarize himself with the route), our cook Henly, and our driver, Ben; all of them Kenyans.
I have to admit, I was trying to 'sneak-attack' interview Ben for the entire trip. At first glint, he seemed like he was all business and not in the mood to entertain us tourist types. Or, it could be because he knew, more than all of us, that his pristine truck that greeted us day 1 was going to be a sand-filled frat house by day 40.
His truck was named "Murasta". Clearly an appendage of himself, who was also a 'Rasta'. Weeks into the trip, I was walking down the beach in Malawi when one of the villagers approached me. He had seen the Intrepid truck come into the village. "You are with Rasta?", he asked. I said yes and he greeted me like I was a long-lost friend. It felt like one of those 'who-you-know' moments. I knew Ben, therefore, I was welcome.
Ben has been driving for Intrepid for 15 years. I found this out during one of my sneak-attack parking lot interviews in Namibia.
"15 years! WHAT? Seriously? Holy crap, that's a long time," I said, "So, you like driving. Have you tried other companies, or routes, or, seriously…wow?"
Ben was cool as a cucumber. He chewed on his ubiquitous toothpick and looked at me like I was asking the dumbest question on the planet.
"I like my job," he said, "I don't understand why people always have to change jobs. When you find something you like, good."
Okay then. He's so right though. I come from a culture that teaches us that having a job you like isn't necessarily good enough. Sometimes we sacrifice our happiness for money, status, benefits, or expectations. I'm old enough to know, that if we have to work, we might as well be doing something we like. Ben's figured that out.
"But why Intrepid?", I asked. By this point we had camped next to numerous other overland trucks, some even had air conditioning. (Swoon.)
He was quick on the reply, "We work together like brothers and sisters. They are my family."
Cue the waterworks.
I totally understood what he was saying, and it took me under 40 days to feel that. I had stepped onto the truck in Cape Town, not knowing a soul. And, by the end of my trip, Ben and crew had become family. Bonds form quickly in unfamiliar situations. I had to seek the advice and support of all of these people at some point during my trip. In Victoria Falls, all it took was one wave to Ben from outside the camp gates to make the swarm of souvenir hucksters disperse in 3 seconds flat. That's big brother power, right there.
READ MORE ABOUT CARLA'S AFRICA ADVENTURE: "I'VE EXPLORED 34 COUNTRIES SOLO; HERE'S WHY"
I thought it had to be hard though. Ben drove the Nairobi to Cape Town/ Cape Town to Nairobi route back-to-back. It meant that he was gone from home for 96 to 100 days at a time; 48 days each direction. He has 2 sons at home, ages 1.5 and 4, so every time he returns home, his children have changed so much. But, with modern technology, he gets to communicate with his family almost everyday, so he never feels too far out of the loop.
READ MORE ABOUT INTREPID'S INCREDIBLE LOCAL LEADERS
We had 3 days to play in Swakopmund, Namibia. Most days were truck days, but here, we got to set up home for a few days to explore. This gave us all a break from the rough and dusty roads. However, Ben had to go save another Intrepid group in Soussevlei, and get them to their next camp so that they could wait for a new truck to come up from Johannesburg. It meant that Ben did not get a break. I think it is here that I realized that Ben was a machine.
We had early starts; some days at 4am. The roads were rough and dust billowed into the truck. It was hot, the sun was biting as it streamed through the windows, and there were animals coming from all directions that had to be negotiated around.
When we hit the cities, Ben maneuvered our gigantic truck through narrow lanes and around tight corners.
On the Tanzanian stretch of the tour, we had 13-to-15-hour truck days, long stretches, peppered with construction and detours. While Ben was focused and alert in the front of the truck, we were all sprawled out all over each other in the back, napping – having totally obliterated any boundaries we had somewhere around Botswana. This says a lot about how much we trusted the captain of our ship. We felt safe.
READ MORE ABOUT CARLA'S ADVENTURES IN BOTSWANA'S OKAVANGO DELTA
"The man's got skills," I said to a fellow traveller. "He just backed that behemoth onto a tiny ferry like it was a smart car. I think we've probably scored the best driver ever, and we don't even know it." We let out a cheer, and Ben cracked a wee smile. Aha, our adoration was mutual.
Ben and I had the same heart in terms of our favourite part of the journey. Namibia absolutely enraptured me, and turned out to be Ben's favourite stretch. Perhaps it's because there was nothing in his way, desert and wide-open vistas. It was rare to run into any other vehicles as we made our way toward the unfrequented corners of the country.
This wouldn't be a good place to break down, I thought.
"Hey Ben, what's the worst breakdown you've ever had?" I figured that, over 15 years, there must have been some sort of epic story to be had.
"I've never broken down," he said.
"Never? In 15 years? You haven't even got a flat tire?" I was incredulous.
"Flat tires are just pee breaks," he said, without even a pause, "No problem."
I laughed so much when he said this. I love this attitude. Here there is the mantra 'this is Africa'. People say it when things don't go quite a smoothly as planned. One person's bad day is another person's pee break.
On our last night together, a few of us were sitting outside the truck in the sweltering heat of Dar es Salaam. Ben was walking by and I decided it was now or never, I had to ask the question that had been nagging all of us for weeks, "Hey Ben, whose teddy bear is that?"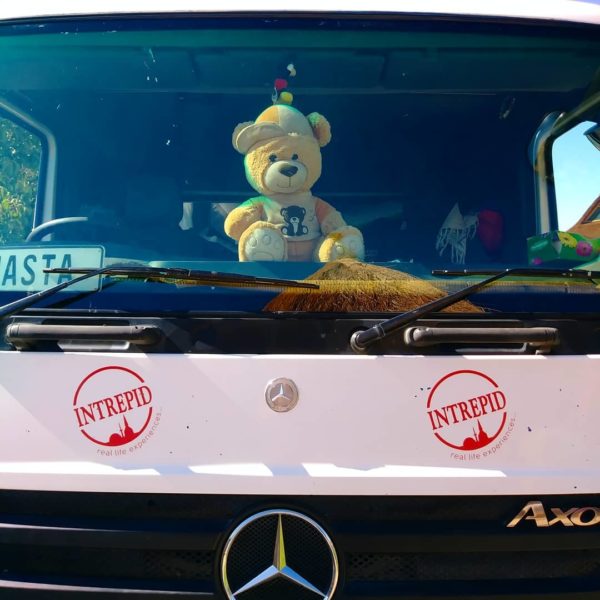 In the truck, there was a big, fluffy teddy bear, that took up a prime spot right in the middle of the front dash. Ben got all illusive and fidgety. And, after hearing that the bear came from the market in Cape Town, and that's where you buy bears, and why wouldn't someone buy a bear. I said, "Ben, did you buy that teddy bear for your truck?"
At this, he slowly backed away, muttering something about bears and trucks and markets and disappeared around the corner of the truck.
Ah, we knew it. There's a big ol' heart in there, Rasta. And we all have nothing but love for you.
Safe journeys, Ben. May other Intrepid travellers be lucky enough to have you at the helm.
Ready to meet inspiring locals on the adventure of a lifetime? Check out Intrepid's small group tours in Africa.
—
(Image credits from top to bottom: Silvia Danliser, Carla Powell x2, Silvia Danliser, Carla Powell x3.)
Feeling inspired?