In Jaipur, India, women are breaking into the country's male-dominated rickshaw industry thanks to the Pink City Rickshaw Company. The non-profit empowers low-income women with training and jobs – and provides visitors with a unique opportunity to see Rajasthan's Pink City up close while supporting local women.
As a visitor to Jaipur, the bustling capital of Rajasthan in Northern India, you will see plenty that makes your eyes widen in wonder. The romantic rose-coloured architecture that gives this UNESCO World Heritage site its nickname, "the pink city". A palace that appears to float on a lake. Street vendors hawking everything from fresh flowers to fireworks, mere inches from the whirlwind of traffic that jostles and honks in a ballet of bedlam.

Amid all these classic sights, something new is drawing attention: the women of Pink City Rickshaw Company.
"Do you see how they are looking at her?" my tour leaders asks, referring to our rickshaw driver, Renu Sharma, who is navigating the busy Jaipur streets without a care for the stares.
I have indeed noticed how locals turn their necks as we pass – and for once not to look at us, the foreign travellers. In India, public transportation is the domain of men. On our eight-day India Women's Expedition trip, we encounter only men driving the taxis, buses and ubiquitous rickshaws, those small open-air vehicles that help move millions in tight spaces in this country. But here in Jaipur, things are changing.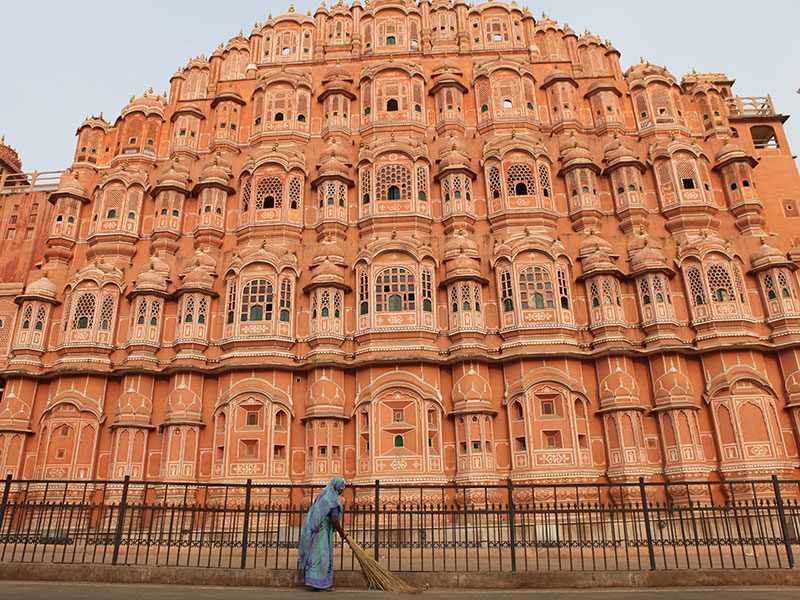 Pink City Rickshaw Company uses only women drivers. It's an initiative of ACCESS Development Services, a non-profit organisation which aims to provide employment opportunities for women in low-income households. Since launching in 2017, they've hired and trained more than 200 women to drive their custom-built electric rickshaws. However, according to Gopesh Joshi, sales and marketing specialist with ACCESS, when they first put ads in the newspapers, they weren't exactly deluged with applicants.

"In places like Rajasthan, women are not free to work on their own. They have a lot of restrictions," he explains. "So, it was difficult to get them to join this movement, because they hardly drove, and they were not comfortable. But after some time, a few women agreed. They were having financial problems and just looking for something to save their lives. That was the turning point. One after another, more women kept joining."
Renu was one of the first women to sign up. I meet her on our first morning in Jaipur, when three bright pink rickshaws pull up outside our hotel to take us on a tour through the city. The women drivers are all dressed in uniform – baby blue pants and tunic, dark pink vests with embroidered flowers – that reminds me of more formal days of travel past. But make no mistake: they are modern women working in a future-minded business.
At a pit stop for chai, we have the chance to chat with our drivers, who are keen to practise their basic but growing English skills. I ask Renu what attracted her to such a male-dominated job. Through a translator, she explains how she already knew how to drive a scooter and was familiar with the winding streets of Jaipur's markets. That was the easy part. She still had to convince her family.
"They were not at all ready," she admits. "Because it's not a respected job. So they objected to it. But I told them instead of working for someone else, this is something I can learn on my own and I can choose my hours. I used to have to work from the morning to evening, for a very, very small amount of money. It was not at all easy to manage family and work. With this job, I get my assignments online, I get a good salary, and the hours are flexible."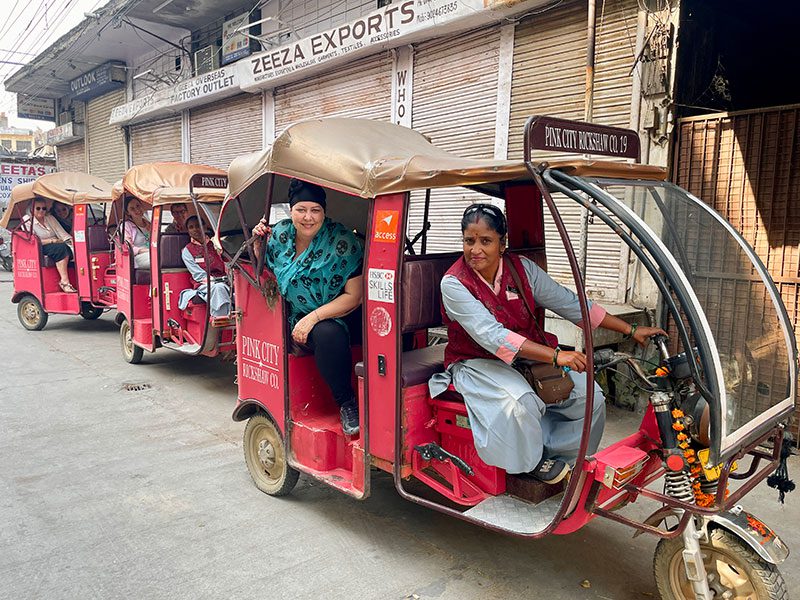 A job with Pink City Rickshaws can be life-changing. From a purely financial standpoint, according to Joshi drivers can earn around 500 or 600 rupees per day giving half-day tours – more than three times the country's minimum daily wage. (The organisation is currently expanding to delivery services, to create more full-time hours for the women.)
As Renu mentioned, flexibility over their shifts also allows women to balance work and family. Joshi tells me about a driver who left her job in nursing – the night shifts had her struggling to secure dependable childcare – and now makes more money, with less stress. Pink City drivers also receive training in mechanical repairs. Many have gone on to purchase their own rickshaws and now run their own independent businesses.
"That's the best part, when they become entrepreneurs," says Joshi. "They're still contributing to the company, because we often need to hire their rickshaws as well. We've never said, 'you have to work for Pink City Rickshaw. You can't go anywhere.' We always think about their growth. That's the biggest success for us."
A ride with Pink City Rickshaw is an excellent way to the see the city up close, while supporting local women. Intrepid has been using Pink City since its beginnings in 2017, and it was a perfect fit for our Women's Expedition. I felt very safe driving in their rickshaws, and proud to contribute to the project.
At the end of the tour, our group is dropped off at a textile collective, where we exchange heartfelt thanks to our drivers for the experience. While we didn't necessarily speak the same language, we managed to communicate our appreciation for the ride and respect for their work. Before she hops back into the driver's seat, I ask Renu if her family is happy she took this job now. "Oh yes," she laughs, throwing a peace sign and heading back out into the busy streets.
Liisa travelled as a guest of Intrepid on the India Women's Expedition. Our range of Women's Expeditions create immersive local experiences for women that are ordinarily off limits on our regular group departures.
Feeling inspired?