It's day eight of the first-ever Uncharted Expedition and I'm hiking to the Blue Lake (2,840 metres) in the Altai Mountains in a remote pocket of southern Siberia, Russia.
On paper, this 12-kilometre trek from Aktru Base Camp should take about six hours to complete, up and back. But I'm not making good time – in fact, none of us are. And it's not the altitude and thinning air that's slowing us down; at least, it isn't for me.
Instead, I'm repeatedly lured, dare I say, compelled, to stop and attempt to capture these incredible glacial vistas through the viewfinder of my camera. So it's two steps forwards, one step back as I frame and zoom and turn and click my shutter, again and again and again. Of course, it's never really possible to fully capture such dynamic beauty in a two-dimensional image, but I'm getting mighty hopeful that at least one of these shots will do the Aktru glacier justice.
Although considered the most accessible launching point to explore the Altai Mountains, getting to the Aktru Base Camp was anything but easy. We're talking about a 24-hour train ride from Karaganda, Kazakhstan to Barnaul, Russia, 635-kilometres of driving in a van via the Seminsky Pass, and then a bone-crunching ride up muddy mountain roads and through raging rivers in a three-and-a-half tonne, ex-Soviet military truck, otherwise known as a ZIL-131. We jumped into this 6×6 off-road beast after plates of Russian dumplings in the tiny village of Kuray, Russia, that has, according to Wikipedia, six streets and a population of 427 as of 2016. Our intrepid group of travellers and guides boosted that figure to a healthy 441 – I'm sure the mayor was happy that day.
EXPLORE OUR FULL RANGE OF ADVENTURES IN RUSSIA HERE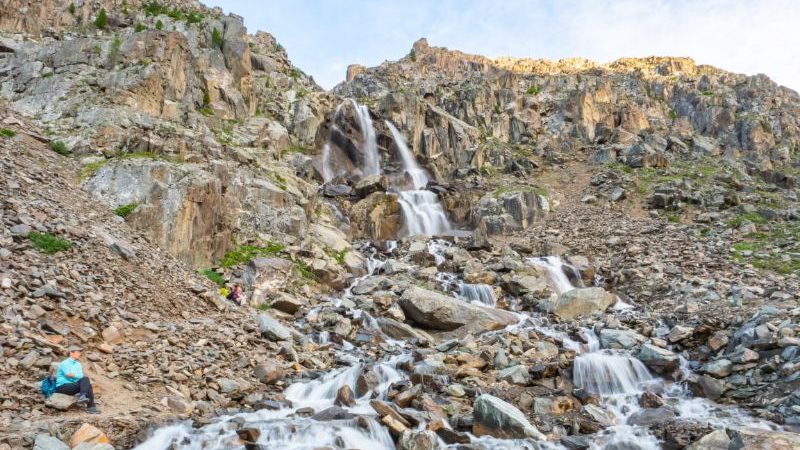 Situated in one of the most remote parts of the planet, hiking to the Blue Lake from Aktru Base Camp is our first real chance to stretch our legs on this Uncharted Expedition. It's also a litmus test to gauge our fitness levels for a much longer, 38-kilometre overnight trek that's still to come in Mongolia. But at its core, hiking here is an opportunity to connect with nature and the mountains – minus the crowds.
CHECK OUT OUR RANGE OF ADVENTURES IN MONGOLIA HERE
Indeed, in contrast to other well-known (and over saturated) treks around the world, Aktru sees only a trickle of travellers each year. "This trek feels as if it's just us out here," Kim, my new friend from Canberra, chuckles. She's nearly right: apart from our group of 11, there are only about 10 or so small groups here, 99 per cent Russian.
Fast-forward to the time I notice that I'm severely behind schedule, and we've already walked through small cedar forests and crossed multiple rivers. It's been pretty easy by this point, to be honest, and I'm just barely breaking a sweat. But this next section screams a challenge. Up ahead, the route tracks its way up a gravelly mountain slope­ – looking like the result of a landslide – before disappearing behind wispy cloud. After only a few minutes and near tumbles, it's apparent that we'll need to use all four limbs to keep our balance and stop ourselves from rolling down the mountain. It's like a real-life version of snakes and ladders, and you can feel it in every muscle.
Eventually, I make it to the top and join the rest of the group sitting on a rocky outcrop. After the slog, it's time for a well-deserved break. We pose for photos against the mountainous backdrop and the Small and Big Aktru glaciers. And then it hits me like a fallen icicle: this whole landscape is glacial, and much of the permafrost is hidden under mounds of rocks from dramatic landslides. It's like a layered cake, with gravelly icing.
TRAVEL ON A NEW KIND OF ADVENTURE ON AN INTREPID EXPEDITION. MORE INFO HERE
It's not all rock and ice, however. Sparingly, scrubs of vegetation peek out between rocks and skirt the sides of rivers, such as kuril (used in a tea to treat high blood pressure), and badan (often used to treat colds and headaches). There are over 2,700 species of plants in the Altai Mountains, we're told by Ksenia, our local guide from Barnaul, and many are endemic to the area. These medicinal plants are used not just locally, but throughout Russia and exported around the world. Anton, our trip leader that's been with us since the start of this adventure in Nur Sultan, Kazakhstan, collects some tea for later, waxing lyrical on their numerous health benefits.
RELATED: LEARNINGS FROM A MOROCCAN MOUNTAIN EXPEDITION
Before pressing on and continuing to the Blue Lake, we fill our water bottles at a small turquoise pond. The water is freezing cold and absolutely clean. We pass a pile of snow on our left as we ascend the small hill, and then the broad mouth of Big Aktru reveals itself across the horizon – a monochromatic behemoth of solid ice, its profile smoothly contoured, its surface scarred by cracks like wrinkles on an old face. Some of these cracks overflow with milky-white meltwater joining the rivers and streams below. In the distance, a pair of moving red and black dots can be seen; mountaineers climbing the beast with crampons and courage. I get my camera out and another 10 minutes pass like the wind.
Only a hundred metres left to go. The clouds have parted now, painting the moraines and glacier in a gorgeous gilded light as we finally arrive at the Blue Lake, which is actually more turquoise than blue ­– the result of mineral sediments on its floor. Scattered around the lake are congregations of hikers huddled around boiling stoves and basking in the toasty sunlight. A lonely wooden hut, yellow and weathered, along with a single drop toilet are the only man-made structures here. These facilities have served teams of glaciologists, geomorphologists, hydrologists and botanists from Tomsk State University since the 1950s. They've been studying this natural wonder and keeping an eye on its size ever since. Unfortunately, most recent data indicate that the glacier is shrinking by about 15 cubic metres every year.
I join the rest of my group in the sun and collapse onto a rock. Anton has already made friends with a neighbouring Russian family; they offer to boil our group some hot water for tea to go with our picnic lunch, and we accept. Surprisingly, Russian hospitality can be found in the most unlikely of places, even at the top of a mountain in an otherwise inhospitable terrain. And unsurprisingly, we're in no hurry to head back to camp: views like this deserved to be savoured, especially with a nice cup of tea.
Hike through the Altai Mountains on our 18-day Altai Mountains Expedition. 
All images by Shaun Busuttil. 
Feeling inspired?