Vegetarians who travel are often asked, "But what on earth did you eat!?". This question is most especially thrown around when said vegetarian travels throughout Asia, the home of exotic meats, poultry-on-a-rope and seafood smorgasbords.
Our carnivorous counterparts seem to believe that being a vegetarian in these countries is a form of self-imposed starvation, where our only option is to order bowl after bowl of plain steamed rice.
While normally this attitude would be met with an eye roll and a giant slurp of my delicious veggie pho, I must admit: Beijing, the capital of China, had me worried.
I knew that vegetarian food is common and readily available in China, thanks to their Buddhist population and the fact that tofu, vegetables, nuts and mushrooms are key ingredients in many traditional Chinese recipes; however, I'd heard many a horror story about the accidental consumption of pork while tucking into a "vegan" san choy bao (we vegetarians love telling each other these stories — "I tell you, I was driving the porcelain express for days afterwards!!").
Another worry was that vegetarian food in China is big on mock meats, which is great if you are a newbie veggo and need that slow transition. But I gave up meat at the tender age of 12, after watching that tragic opening scene of Babe. At 30, I have long forgotten what meat tastes like, and prefer my food to maintain its meatless flavour.
So I'm sure it's no surprise when I tell you: I struggled in Beijing.
BUT! I do have a few key lessons that got me through — and even led me to have some truly delicious food in one of the most interesting cities in the world.
READ MORE: CHENGDU – CHINA'S HOTTEST DESTINATION
Lesson 1: Learn your phrases
The language barrier is the main reason there are so many vegetarian horror stories out there. But this can be overcome by doing a bit of research.
"I'm a vegetarian" is quite simple to say in Mandarin Chinese, but it may help to have someone write it down for you as well.
It is "Wǒ chīsù" and it's pronounced (if you have an Australian accent):
"Wor" – as if you're starting to say, "water".
"Chi" – as if you're starting to say, "cheese".
"Su" – as if you're starting to say, "soup".
Water cheese soup. You see? Very simple (albeit unappetising). Using this phrase at the start of each order will prevent you from boring others with stories of that time you spent three days on the toilet in China.
READ MORE: THE BEST DESTINATIONS FOR VEGETARIAN TRAVELLERS
Lesson 2: Don't avoid street foods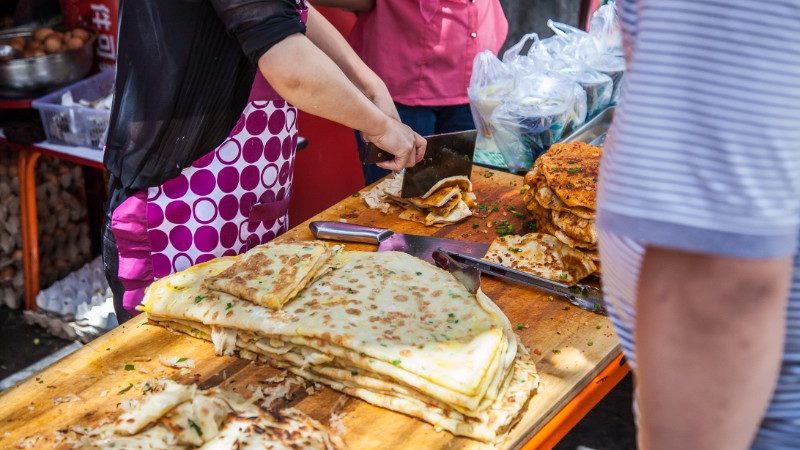 Yeah sure, you're going to have to walk past the roasted sea horses, the deep-fried spiders and the duck head platter before you stumble upon the rare and beautiful veggie option. While it may be upsetting, it's also part of being in China, so remember to always be respectful. If you can stomach it, there are some delicious vegetarian treats to be found in Beijing's bustling food markets.
You may see a stall making what resembles a massive pancake, doused with oil and sprinkled with green onion — make a beeline towards it friend, for this is cong you bing, a scallion pancake. It tastes more like a roti than a pancake, and is the perfect thing to munch on as you see the sights.
Then there's the mouth-watering baozi, those fluffy little steamed buns that look as good as they taste. While baozi are traditionally stuffed with meat, most street stalls selling these will have vegetarian options as well. My favourites are the mushroom and carrot, and the egg and chives. Be warned: these suckers are filling.
READ MORE: YOUR GUIDE TO TRADITIONAL CHINESE STREET FOOD
Lesson 3: Have fun with the menus
One of the biggest blessings of eating at a restaurant in China is that most of their menu items are complemented with a photograph, so you can see what you're ordering.
Of course, tofu can look a lot like chicken so perhaps it's not a GREAT help but again, if you have your phraseology down pat, this can quickly be resolved. It helps that tofu in Mandarin is "dòufu".
Which leads me to my next point: the translations. Oh, what fun my table had trying to figure out what white water sheep's head meat or bitty melon fungus could be. Don't get me started on grandma fragrance bone or coke slipped balls.
Now, before we laugh too hard, I'd like to see you and I try to translate something into Mandarin (especially when we need to chant "water cheese soup" just to remember a simple phrase). But truly, the menu translations are a joy to behold. Relish them.
Lesson 4: Go global
I know, I know: it's a bit of a cop-out to eat international foods rather than the cuisine of the country you are frequenting. But Beijing has some absolutely KILLER Indian, Tibetan and Japanese restaurants, all with delicious vegetarian options for when you need a break from tofu. Of course, when in doubt, visit the travelling vegetarian's best friend: happycow.net.
Inspired to eat your way around China? Why not start with a Real Food Adventure from Chengdu to Shanghai? Start exploring now. 
Feeling inspired?