A couple of years ago, our Serengeti safari guide pulled up suddenly beside a patch of long grass, cut the engine on our jeep and gestured with glee towards 2 o'clock. "There! There", he shouted, "you see?!".
The jeep's roof popped up and we scrambled to take a corner and scan the plains before us. Eyes straining against the harsh midday Tanzanian sun, eventually Mark was first to spot a nearly imperceptible pride of tawny lions. We were so absorbed by the sight of these apex predators creeping stealthily towards dinner – a plump herd of Zebra grazing nearby – that we didn't take any notice of Joseph on the radio. No notice, that is, until 15 beige jeeps screamed to a halt alongside us, full of khaki-clad Nigel Thornberry-esque tourists waving selfie poles and zoom lenses in the air and shouting to each other like they really didn't care. Startled by the commotion, the animals made a hasty escape and we were left feeling pretty unsatisfied by our Serengeti experience.
Going on safari is super cool. What's decidedly uncool is having to deal with the armies of jeeps and hordes of tourists in the big parks that sometimes make it feel more like a theme park with little care for the wildlife you're there to see. Luckily, we know a place off the beaten tourist track, without the camo-crowds, where you can still see Africa like Attenborough – and we know you'll love it as much as we did.
Introducing, Zambia's South Luangwa National Park.
Where is South Luangwa?
The jewel of Zambia, South Luangwa National Park is about six hours from the capital Lusaka. It's not the easiest destination to get to, generally involving a bus from Lusaka to Chipata then taxi to Mfuwe Gate (And until recently much of that way was unsealed roads!).
But nothing good ever came easily, right? We really believe that the difficult journey absolutely works to the park's advantage in keeping things authentic.

What to see
We have to preface this with the fact that we came to Africa with a vital mission: to see as many Leopards in the wild as we possibly could. We only discovered later that the area is named 'Valley of the Leopard' – and we saw 14 during our time there. Mission very happily accomplished!
Beyond leopards, there's a huge variety of animals. The park is probably half the size of other parks like Kruger but it has way more animal density and is world-renowned as a wildlife haven. Expect to see many of the aforementioned leopards, along with every kind of game, lions, elephants, the rare Thornicroft giraffe, hippos, vervet monkeys, crocodiles, and buffaloes.
What to do
It's all about the safari life here! The best time to see animals is morning or evening, which means you'll also have the fortune of witnessing a classic African sunrise or sunset. Honestly, you've not lived till you've seen that crimson ball of fire rise above the plains! The best part? You'll barely come across other tourists or jeeps during your time in the park, and you don't need to pay over the odds for the pleasure. In fact, our South Luangwa safari was the cheapest we've ever experienced, and was absolutely the best value for money of them all.
South Luangwa is also one of the only parks in Africa which allows walking safaris. Real 'walking through the wild savannah where lions and leopards roam in the morning light' style safaris! This is a once in a lifetime kind of experience, and definitely one of the best things we did on our year-long world trip.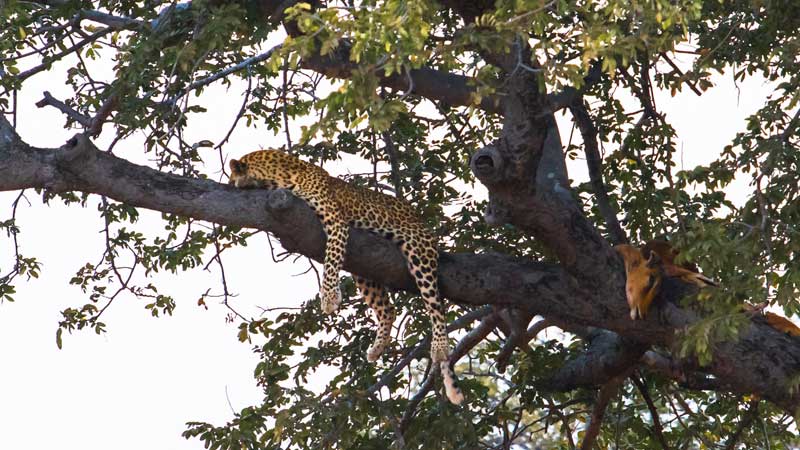 South Luangwa's tour guides are known to be the best in Africa, so as you head deep into the park, you'll learn a tonne about African eco-systems (just ask us anything about animal tracks or dung now!). While you're not actually likely to come across an apex predator on your walk, it's still extremely humbling to see the wild animals congregating on the banks of the beautiful Luangwa river nearby as the day begins.
Evenings in Luangwa are best enjoyed with a sundowner and chats with new friends whilst listening to the sounds of hippos grunting as the sun sets over the Luangwa River. Travel dreams are made of this.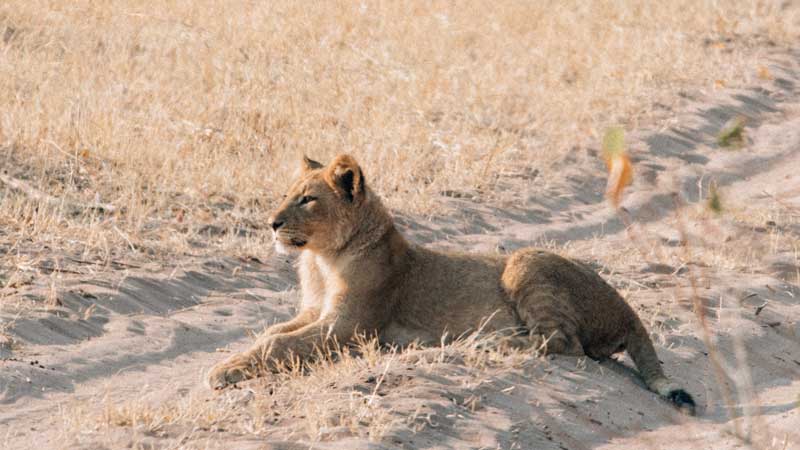 Where to stay
There is a tonne of accommodation to choose from in the region, from camping on the Luangwa River to luxury tents with air-con, or self-contained chalets to 5-star luxury lodges. The best part is everything is so close to the park that you can be picked up from your accommodation and whisked into the park on safari in less than 10mins.
Given the proximity to the park, don't be surprised to see a herd of elephants wandering slowly through the grounds of your hotel, or some cheeky monkeys attempting to steal the food from your campsite. Even your accommodation is the perfect spot for up-close wild African animal experiences!
When to visit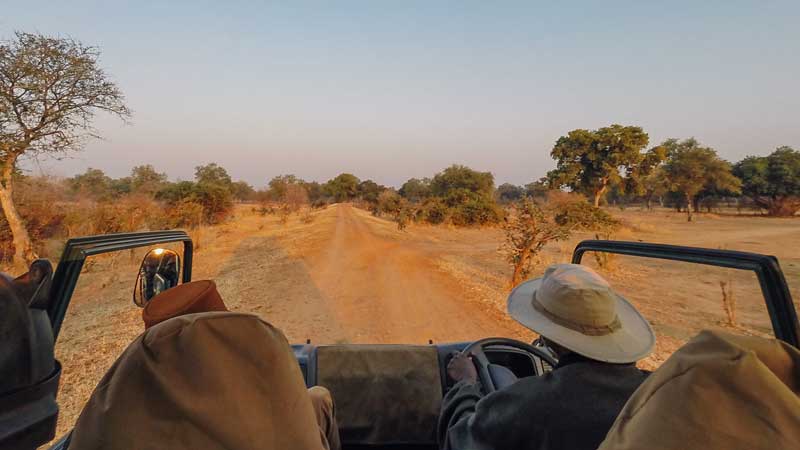 Dry season runs from April to October (the hottest, and most concentrated animal viewing time!). Sunny days but cold nights are the order of the day during winter from May to August, so be sure to pack some warm jackets! It might be a little off the standard tourist route, but we promise a South Luangwa safari is up there with the very best African wildlife experiences – and there's barely a selfie pole in sight.
Want to check out South Luangwa for yourself? Explore our small group safaris in Zambia.
Images c/o The Common Wanderer.

Feeling inspired?