The distinction between man and wild feels vague as we roll through the Namibian desert. Ahead, the horizon that never seems to get any closer to dips and wavers in the afternoon heat. Sand settles in the cracked potholes on the road – tarred, a rare occurrence – lying in wait for a lone passing car to whip them up into a frenzy again. The group's been on the road about 7 hours so far, rolling on and on through pastel sands and rocky outcrops en route to the iconic orange sand dunes of Sossusvlei. Desolate yet beautiful,  there's an immense sense of wilderness and possibility in this open road.
We arrive at the Sossusvlei National Park with two hours spare before the gates shut and leave us to the mercy of the freezing desert for the night. We slide ourselves into a shuttle jeep, and soon we're bouncing and drifting through calf-height sands on our way to Deadvlei, the white clay pan that has become an iconic Namibian image. A crucial lesson here: desert sand dunes always look smaller, easier to climb, and nowhere near as scalding hot than they really are. It could just be exhaustion and dust, but as we finally look out from the lip of the last dune at the pan below for the first time, we're struck by a sense of overwhelming breathlessness.
Where a river artery once flowed hundreds of years ago, Deadvlei, a large clay pan filled in by drought and blowing sand from the dunes now stands. Most famous for the haunting 900 year old fossils of long-dead Acacia trees that stand in the basin, it's a forest frozen in time forever. The white clay, blackened trees, tangerine sands, and bright blue skies make for the most vivid contrast – like we've rolled off a sand dune straight into a Van Gogh painting. It's hard not to feel a sense of reverence as you walk amongst the towering carcasses; after all, they've stood defiant against the searing elements for centuries. It's surreal, weird and achingly beautiful.
How do you convey the true scale of the perfectly sculpted sand mountains of Sossusvlei? By climbing them! After successfully making it out of the national park the night prior, we're back early the next morning to make the most of our time exploring. This means we're the first to arrive at the popular Dune 45 and we waste no time in starting the trek up the ridge. With each step the soft sand gives way under our feet, sliding us halfway back again. Mark is the tiny speck you see on the dune ridge here, less than a quarter of the way up, and more than twenty minutes after starting his climb.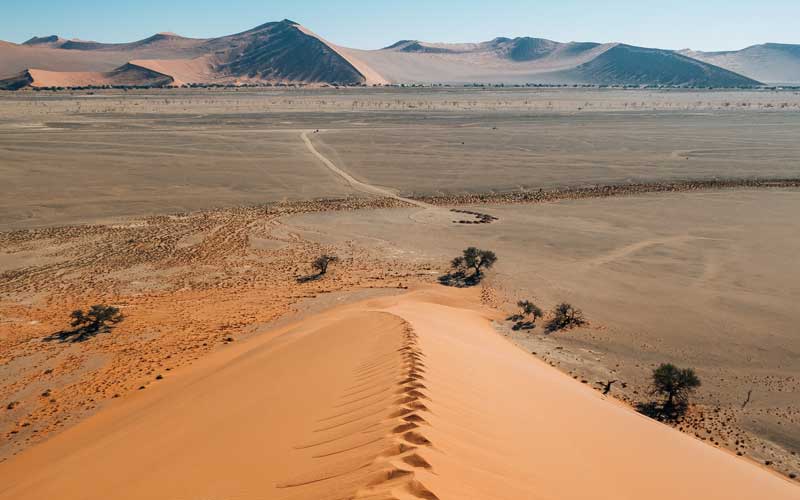 It's long, tiring, and tough, but eventually we reached the top of Dune 45. Taking it all in from above, the burnt orange landscape of Sossusvlei is some of the most unique scenery we've come across. Mars? Earth? It strikes just how desolate and isolated this part of the world is; no highrises here, just views as far as the eye can see. After admiring the view for a while, the slide back down the dune was a far more enjoyable journey than the way up!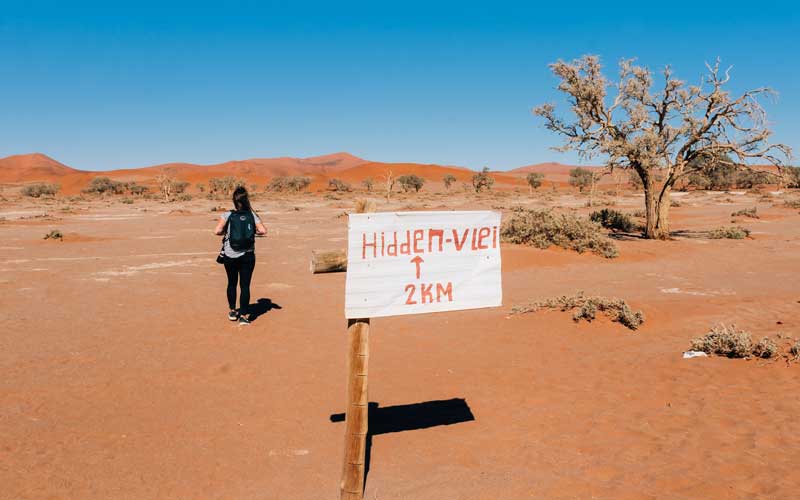 Our mission post Dune 45 is to reach Hidden Vlei, a smaller pan in the Sossusvlei region. With the heat already bearing down on us, even 2 kilometres feels like a marathon journey. Stuffing as many bottles of water as we can into our backpacks, we take off towards where the faded tin sign's arrow points. The distant dunes act as a magnet, luring us in. It's not long before we're wonderfully lost amongst the perfectly sculpted mountains of sand.
Fighting against all odds to succeed in an environment where nothing else could; it sounds like a Hollywood movie script. Except this isn't the story of Rocky the underdog boxer, but the tale of a lone camel thorn tree's survival in a vast, dry, expanse of desert that we stumble upon in Hiddenvlei. Everywhere we look in Namibia nature wears its resilience on her sleeve, putting on a brave fight against it's own limitations.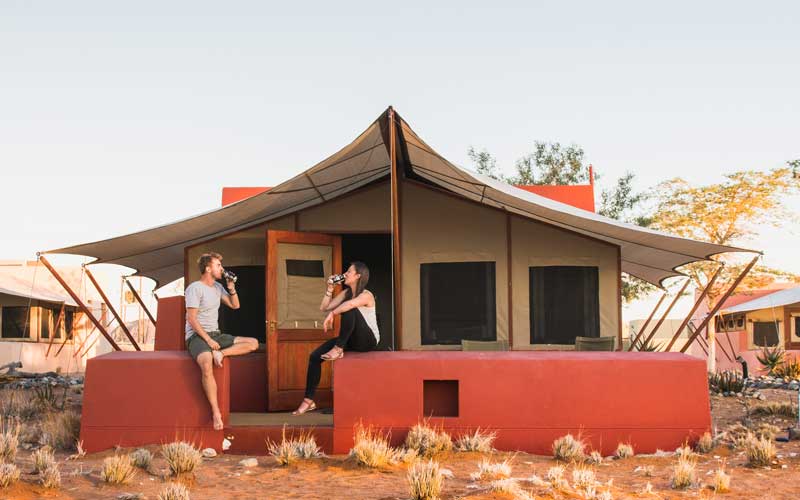 Long hot days spent traversing desert dunes are best ended one way: enjoying a traditional sundowner on the balcony of our glamping hut. Our accommodation is on the edge of the national park, and our back verandah looks directly out over the expanse of desert – perfect sunset viewing territory. There's a Hemingway quote that says: "I never knew of a morning in Africa when I woke up that I was not happy". While we completely agree, we'd also say that we never knew of a sunset in Africa that didn't make us feel extremely fortunate to be alive.
Want to explore Sossusvlei for yourself? Check out our Namibia small group tours.
Photos and images c/o The Common Wanderer. You can follow more of their adventures on Instagram.
Feeling inspired?