When I decided to go to Ghana for a month-long internship, I didn't know a single person who had travelled to the country.
I quickly discovered, however, that if they had been, they would have raved about it non-stop. My trip there offered an introduction to the West African gem and showed me that wild African safaris aren't the main attraction here. There is, in fact, so much more…
I discovered a destination that was packed with surprises and that has something for every type of traveler. It offers a combination of off-the-beaten path natural landscapes and bustling coastal cities, while offering important traces of harrowing history too.
Here's just a few (of many) reasons Ghana should be on your travel radar.
You will feel welcomed
Upon your arrival in Ghana one of the first things you'll notice is the warm akwaaba (welcome) you'll get from Ghanaians. During my first long-haul ride in a tro-tro (picture a large cargo van rearranged with bench seating, something that makes up the majority of Ghana's public transportation), the man sitting next to me said, "You're invited", holding out his bag of fried plantain chips in an offering.
It's in Ghanaians' hospitable nature to eagerly share what they have with others. This was shown time and time again throughout my travels in the country. It came in the form of impromptu homestay offerings, warm meals of Indomie noodles and prideful tours of their community on a whim, dropping what they had planned that day.
READ MORE: 10 'FACTS' ABOUT AFRICA THAT JUST AREN'T TRUE
The coastal capital's medley of hustle and harmony
There are over 100 ethnic groups in Ghana. In visiting the the coastal capital of Accra, the most populous city, with over 2.27 million people living in it, you will get a feel for this ethnic mosaic.
If you want to be completely submerged into the Ghanaian culture, dive right into the beating heart of Accra — Makola Market. Here, the Ghanaian entrepreneurial spirit is showcased by vendors in stalls or porters gingerly balancing their goods on their heads, selling everything ranging from shoes to unrefined shea butter. The real draw to this market is for the locally dyed and weaved textiles. Take your choice of the boldly-colored fabric with dashiki print and find a local tailor who can create a custom traditional t-shirt or dress with the classic v-shaped neckline.
The market is also the perfect place to sample traditional Ghanaian dishes, like Jollof rice. This dish has a spicy kick that you won't see coming — let it be a lesson of the surprises Ghana has to offer.
Although there is no promise of a trip to Makola being a breezy stroll — thank both the dense humidity and hustling crowd — your senses are sure to be stimulated. The blend of chatter, the smell of wood burning from food stalls, and the plethora of items on offer will send your eyes jetting in all directions among the organized chaos.
A perk of Accra's location on the coast is that the buzzing city center converges with its laid-back coastline. There's a different kind of noise here. On the outskirts of Accra, Labadi Beach boasts a swift breeze from off of the Gulf of Guinea and gives you all of the reggae music feels into the night.
Dance to the beat of the djembe drums while acrobats perform their acts one after another. Even during the week, the city remains lively.
The Republique bar on a discreet side street in the Osu district will introduce you to highlife music – popular West African music with roots in Ghana. Among fellow expats and locals alike, I loved to kick back as I sipped on local Club beer while listening to the live acts on the terrace. I'd advise going on a Wednesday night if you're into karaoke.
SUBSCRIBE TO OUR NEWSLETTER FOR TRAVEL INSPO, GIVEAWAYS, COMPETITIONS & MORE
Ghana's diversity extends to its wildlife
While Ghana isn't renowned for its untamed safaris, its landscapes and parks can't go unmentioned. Take a roughly three hour tro-tro ride west of Accra and then inland to Kakum National Park, an area that was established by local people in order to preserve the rare, and some endangered, wildlife who call the rainforest home.
Don't leave without (shakily) making your way through the Canopy Walkway. Suspended 30 meters above the forest floor, the treetop views are divine.
Keep an eye out for wildlife that can be observed from the unobtrusive perspective that the bridges allow. Among them is the Diana monkey, a breed most active in the early morning.
If you have more time on your hands, head to northwest to Mole National Park, the country's largest national park. The park is rich in flora and fauna and its open Savannah woodland is home to an impressive ecosystem.
Ghana will take you to new heights
You won't get as elevated as you would climbing Mount Kilimanjaro, but you may be surprised to know that a quaint town in Eastern Ghana is home to West Africa's highest waterfall, tucked away in the folds of the mountain range that serves as a natural border between Ghana and Togo.
To experience the magnificent Wli Falls, which plunges down 143 metres, head out towards the Volta Region, to the town of Wli. From here you can hear the French language spilling across from the Togo border. A highlight of my visit was the 45-minute journey a local took me on to bask in the flowing pool of water at the lower falls. To my delight, I passed colourful butterflies, wild pineapple and the free flowing Agumatsa River on the way.
With more time, another option is to spend the day exploring the upper falls. You can follow a trek in the lush greenery, and enjoy whimsical trees and the orchestra of birds.
CHECK OUT OUR RANGE OF SMALL GROUP ADVENTURES IN GHANA
Ghana is rich in history and holds an important piece of Africa's story
Learning about Ghana's history is vital to understanding the country. Do this by heading westward along the coast to Jamestown, Accra's oldest district. Visit the colonial-era James Fort lighthouse where you can climb up the spiral stairway to the top of the lighthouse and learn about its past, which dates back to the 1930s. Take in the 360-degree view of the town and get a glimpse into the daily happenings of the fisherman who live on the coast.
Jamestown also has the most concentrated amount of boxing schools in one area, so it won't come as a shock to see two gloved young men duking it out in the middle of the street, practicing their craft.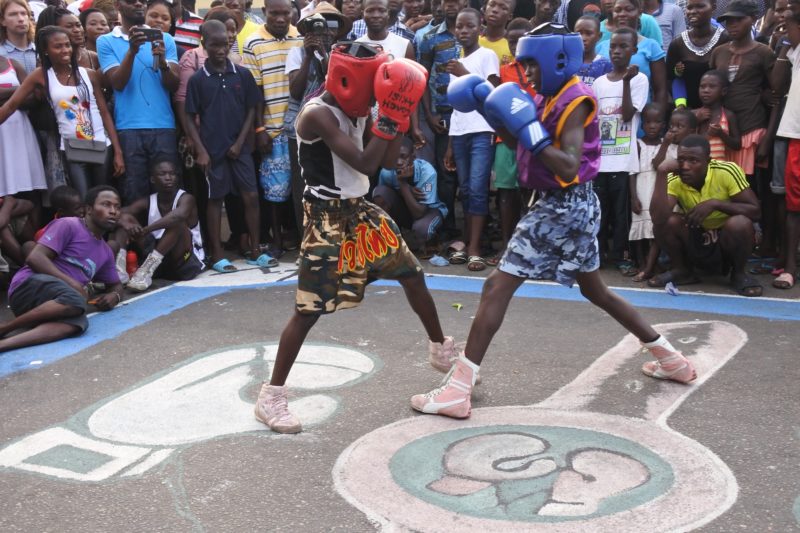 Continue further west to Cape Coast and visit the Cape Coast Fort. The giant white stone structure perched over the Atlantic Ocean is the largest and among the most well-preserved forts built in the 17th and 18th centuries. You can enter the fort's chambers, which held host to some shocking brutality against African men, women and children during the Atlantic slave trade.
Allow the castle to be a reminder of the past, and a contrast with the progressive, beautiful place that Ghana is today. It's a special country – give it a visit, and you sure won't regret it.
Tempted by this beautiful West African gem? Check out our range of small group adventures in Ghana.

(Image credits from top to bottom: iStock x4, Julie Faye Germansky, iStock, Fulie Faye Germansky)
Feeling inspired?