My shoes are soaked to the gill, my feet cold as ice. Crossing over these marshes without sinking into six inches of icy water is proving to be an impossible task.
But in the face of Mongolia's largest glacier, surrounded by the country's highest peaks and located in a remote pocket of the Steppes considered sacred by the Kazakh and Tuva nomadic tribes that call this part of the world home, a little discomfort is negligible.
I'm hiking to Potanin Glacier inside the Tavan Bogd National Park in Mongolia's westernmost frontier on Intrepid's inaugural Uncharted Expedition. Wedged in an isolated corner of Bayan-Ölgii province in the Altai Mountains, this glacier is about as remote as you can get. Not surprising, then, that getting there is a challenge. On paper, we'll need to walk 18 kilometres (mostly uphill) to reach our base camp by the glacier for the night, before packing our tents and trekking a further 20 kilometres (mostly downhill) the next day to our campsite in the White River Valley, for a dinner date with a family of nomadic Tuvans.
This overnight trek promises to not only give our group plenty of time to soak up the majestic mountain scenery as we walk through colourful meadows of summer wildflowers (it's July, after all) and alpine grasslands, but the following two days also gives me time to probe into the minds of this group of intrepid travellers. Specifically, I want to know why someone, anyone, would sign up to a 22-day mystery trip with no fixed itinerary through Kazakhstan, Russia and Mongolia, where the only certainty is that they'll be visiting some of the most remote and least explored parts of the world? Turns out, their motivations are rather simple: they're modern-day adventurers, keen on experiencing the world authentically.
INTERESTED TO KNOW MORE ABOUT THIS ADVENTURE? CHECK OUT THE FULL TRIP DETAILS HERE
John's story
After setting off for the hike just after 9am from our camping site by the Oigor River, our small group of 11 travellers from Australia and the USA take our first proper break around midday, settling down for a picnic lunch of stir-fried beef, veggies and rice at a spot overlooking a verdant valley and craggy mountain spires. We're at about 3,000 metres in altitude now, and it's starting to get hard – thinning air and all that.
It's definitely tough going, even at this early point. But then you don't sign up for a trip like Uncharted without expecting a challenge. Take Kuan-Ling (John), 35, from Dallas. He knew this trip was going to be challenging ­– he just didn't know what form the challenge would take. For him, the physical aspects of Uncharted have proven the hardest. "Hiking is not my forte," he chuckles as we set off after our lunch break. "I can do it, but I'm not good at it."
He tells me about his experience hiking to the Blue Lake in Russia, just four days ago. "That hike, at that particular elevation (around 3,000 metres), was pretty challenging for me. When I started the walk that day, I was ready to give up about a fifth of the way into it." He turns to me and smiles, "But thanks to (our trip leader) Anton, and the rest of the group – who continually encouraged me to push on – I kept going. Without them, I would have given up at the first rest point, but I didn't. I embraced the challenge."
**
The heavens open up just after lunch and release a drizzle that continues for the next 15 minutes. We do our best to keep our feet dry amidst the marshes, but it's a lesson in futility. So I embrace the wetness and walk right through the marshes, making a beeline for the general direction of the glacier. This hike would be a lot harder if we had to carry our own backpacks. Thankfully, we have a trio of camels (yes, camels. By a glacier.) for that, led by a couple of herders on horses. They pass us, smiling, shortly after lunch in front of a small alpine lake that reflects the ominous clouds above.
Pushing on from lunch, we eventually reach a stone monument at the top of a mountain. These stone cairns are known as ovoos and are built around sacred sites as shrines or altars. Facing the sacred peaks of the national park (the name of the park, Tavan Bogd, translates as "five saints" after the five snow-covered mountain peaks that reign over the park), it's right at home here. Draped in colourful prayer flags, Timur, our local guide based in Ulaanbaatar, tells us to walk around this Buddhist shrine once, three or nine times, on each pass throwing stones on its roof and making wishes. And so we do, making pass after pass, contemplating what we want and hoping for the best.
But it's what lies beyond this monument that's most impressive. It's here that we catch our first glimpse of the massive Potanin Glacier. Stretching for over 14 kilometres, Potanin Glacier is the largest ice-cap in the country, period. At this elevation, our base camp is now also within view.
FIND OUT MORE ABOUT INTREPID'S RANGE OF OFF-TRACK EXPEDITIONS HERE
Meredith's story
As we descend down to base camp, I start thinking. It would be easy to pass this monument as an independent traveller without learning what it stood for, or the cultural practices that surrounded it. Indeed, it's easy to miss a lot of stuff when travelling alone if you don't actually know what you're looking at. But Timur, and the other local guides on this expedition, have always been at hand, teaching us what everything means.
It's gaining access to these deep reservoirs of local knowledge that continually draw Meredith, 53, back to Intrepid again and again. For this Melburnian, travelling with Intrepid satiates her natural curiosity and gives her an immediate insight into a different way of life than her own; with the help of local guides, she's able to go deeper into a local culture than if she was to travel by herself.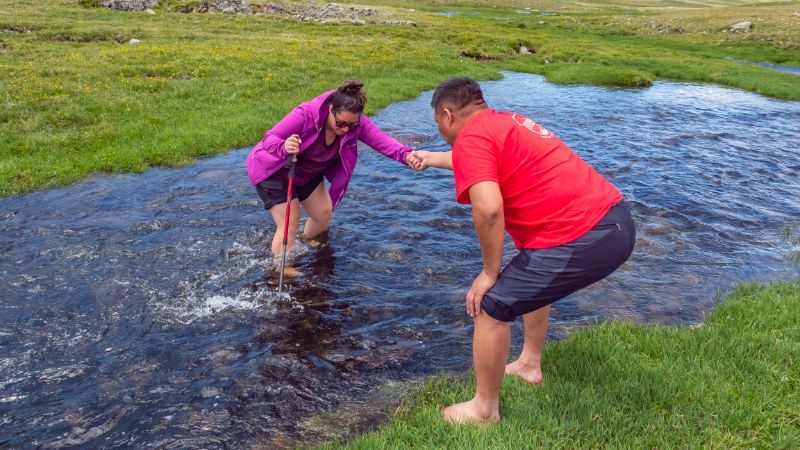 "I try to see and experience how a culture and country works. I'm aware that what I'm familiar with may not be the best or most compassionate way to live. I love learning about the world and I am exploring new ways to live a more meaningful life," she tells me as we walk together for the rest of the afternoon, crossing streams and navigating through the challenging marshland. "I signed up to Uncharted because of my sense of adventure. The unknown itinerary would be a surprise every day, and I welcomed this," she continues. Eventually we reach base camp, setting up our tents as the setting sun paints the sky pink and purple. I sleep well that night. We all do.
EXPLORE OUR FULL RANGE OF NEW ADVENTURES IN 2020 HERE
Kim's story
I wake up just after sunrise for some early morning photography. My shoes are still wet from the day before and it's freezing cold, but the golden light on the glacier is more than worth the slog up the vast mounds of rock and sediment that skirt the ice-cap. These moraines, some sections more than four-storeys-tall, were bulldozed into being by the sheer force of the glacier. Symbolically, the relentless determination of the glacier strikes me as a metaphor for what it takes to travel in this day and age. Just like a glacier, we, as travellers, often need to push on and overcome our own boundaries and limitations – which are often built on fear – if we are to have authentic experiences of the world.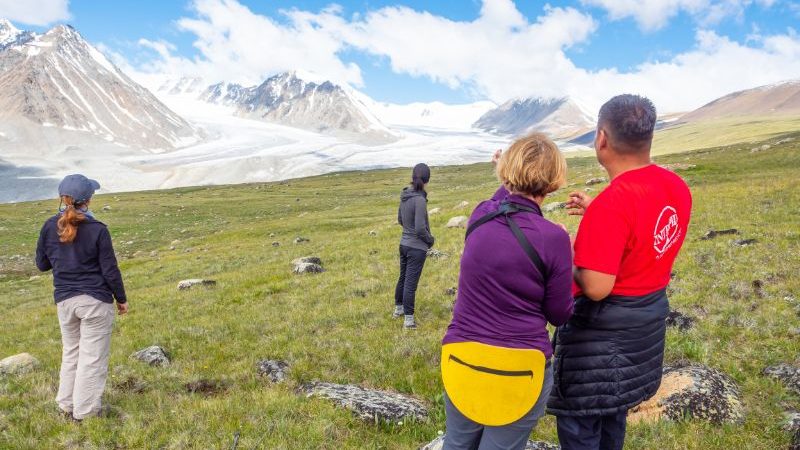 Take Kim, for example. She's an experienced and enthusiastic traveller with over 10 Intrepid trips under her belt and dozens of countries to her name. And yet, she's afraid of flying. Despite this fear, she continues to travel and fly in planes, even signing up for incredible adventures around the world, such as this Uncharted Expedition.
Apart from flying, Kim lets me in on a couple of her other travel-related fears as we leave our campsite and set off for the White River Valley: language barriers and mysterious foods. "When signing up for this trip, I knew that a few adventurous meals and drinks would be shared due to the area in which we were travelling. But to be honest, it hasn't actually been that bad if you keep an open mind and give it a go." Ultimately, Kim has managed to overcome her fears by immersing herself in the experience and trying to enjoy it as much as possible. Easier said than done, I know, but it's the truth, and I know it's a sentiment shared by everyone on this trip.
SEE ALL INTREPID'S SMALL GROUP ADVENTURES IN MONGOLIA HERE
Paul's story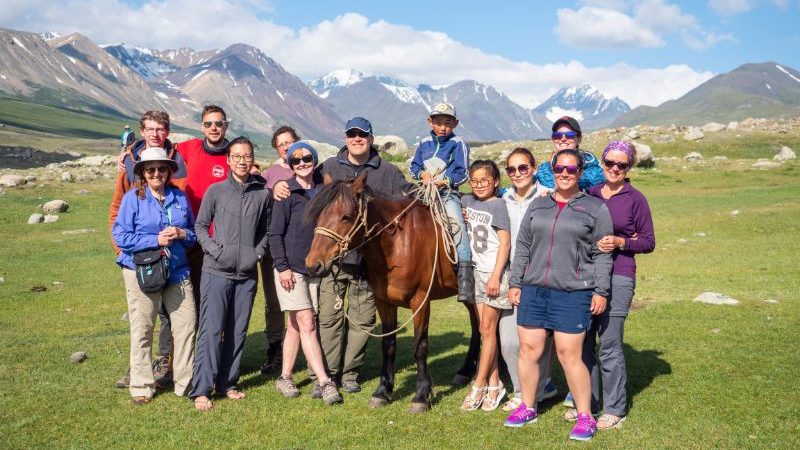 Kim's openness to new experiences reminds me of a conversation I had with Paul, 54, on the overnight train journey from Karaganda, Kazakhstan to Barnaul, Russia, in the first leg of our adventure. Like other adventure-seekers on this trip, Paul signed up because he was attracted by the possibility of exploring new cultures and possibilities. "For me, travelling has always been about the journey, not the destination," he told me as we looked out at the passing scenery in far-eastern Siberia one morning. "I liked the concept of only having a vague idea of where we were going, but none of the details. I was open to the adventure of it all."
For Paul, being open also means a willingness to connect with new people you wouldn't normally get to meet, including locals and other travellers. For example, this expedition has put him in direct contact with Mongolian nomadic tribes, young people studying in the Kazakh capital, Nur Sultan, and Russian train drivers, just to name a few – characters he'd never meet back in his home town, Sydney.
Walking away from the campsite, Timur points out Mongolia's highest mountain, Khüiten Peak at 4,374 metres tall. Permanently capped with snow, Khüiten sits at the tri-border between Mongolia, Russia and China, and summiting it is the reason many venture to this isolated pocket of Mongolia.
Unfortunately, we won't be climbing Khüiten or any other monstrous mountain on this trip – we've got dinner plans with Tuvans, after all. But still, it's amazing to be so close to the intersection between these three vast countries. But even more amazingly, it's been an absolute pleasure getting to know my fellow travellers on this Uncharted Expedition and, through them, rediscovering the true meaning of adventure travel. I finish the hike convinced that intrepid travellers are a special breed: they're open to challenges and new experiences, they're curious about the world and fearless – all qualities I deeply respect. I finish the hike as inspired as ever.
Check out Intrepid's full range of expeditions here, or find out more information about our Altai Mountains expedition here.
All photos by Shaun Busuttil. 
Feeling inspired?