You plan a trip to Peru knowing it's going to be something special. After all, Machu Picchu is what bucket lists are made for.
And whether you're venturing to the Incan Citadel for a special birthday, for a meaningful trek, or just for an adventurous sort of vacation, the site is iconic for good reason.
But, as I found on my 8-day Inca Trail trip with Intrepid Travel, you'll visit for the ruins but leave having taken in and fallen for so much more. With that in mind, here's 10 things you'll only know if you've travelled in Peru:
10. It's the people that make the place
You'll be hard pressed to find someone whose been to Peru and not found the locals to be startlingly open and friendly. Of course it's not wise to make generalisations, but whether in Miraflores, Lima at night or rural villages by day, I felt welcome wherever I went. And as a solo female traveller, this proved a massive sense of comfort.
One of the fondest memories from my trip was a morning spent with a local community in the Sacred Valley. After a scenic drive from Cusco we arrived to dancing, smiles and a language barrier that would've been insurmountable had it not been for our invaluable Intrepid leader turned translator, Cristina. She taught us a few words of Quechua, explained about the community's traditional lifestyle, and helped facilitate one of the most hospitable, memorable meals of the trip.
READ MORE ABOUT SPENDING TIME WITH THE LOCALS ON A HOMESTAY IN LAKE TITICACA
9. The cities are underrated in their gorgeousness
It's no surprise that Peru's lush mountain greenery (and also desert!) steals a lot of the show. But the cities are not to be slept on. Starting in Lima was a great introduction to the country for me. I was able to see the colonial history and architecture of the Plaza Mayor (main square) and also head to creative, foodie district, Barranco, too.
But if you're looking for beauty then head to volcano-ringed second city, Arequipa, or the official gateway to Machu Picchu, Cusco. Both will show you – if you didn't already know – that quaint streets, cobble stones, and ornate architecture are what Instagram dreams are made of.
READ MORE: WHAT TO EAT, DRINK, DO AND SEE IN CUSCO, PERU
8. A week or two in Peru is not enough
Like many travellers to Peru on limited vacation days, I visited for about a week. (There's a reason Intrepid's most popular trip there is the 7-day Inca Trail Express.) But the list of reasons to return is close to endless.
Two destinations I'm keenest to return for are the Colca Canyon, which is casually twice as deep as the Grand Canyon. And Kuelap in Northern Peru, with its ruins that pre-date Machu Picchu's and have-to-be-seen-to-be-believed waterfalls!
If you're anything like me, you'll travel to Peru and only then realise quite how much is on offer .
BROWSE ALL OF INTREPID'S TRIPS IN PERU FOR ENDLESS ADVENTURE
7. The food scene is out of this world
Yes, there's ceviche you should absolutely try on the coast. And inland there's cuy (roasted guinea pig) you can get on pizza or… on its own. But this is a land of over 4,000 varieties of native potato. A land that basically invented fusion food with its Japanese-Peruvian and Chinese-Peruvian cuisines. And a destination that'll surprise and delight with its food scene. And with its chicha morada, a purple corn drink that's extremely refreshing!
Even when hiking (more on that later), I was blown away by the food on offer. And if there's one tip I believe fellow adventurers will benefit from: eat the alpaca. You won't regret it.
LOVE PERUVIAN FOOD? THIS 10-DAY FOOD TRIP IS MADE FOR YOU
6. The hiking is also out of this world
Don't let people tell you Peru's only about hiking. But if you're even a little bit tempted by the great outdoors and the grandeur of the Andes, it's an experience not to be missed. Because unless you've travelled to Peru, you simply can't picture how special the mountain scenery really is.
While trip planning I discovered that there are tons of epic hikes beyond the Inca Trail. There's the Choquequirao one, which is more challenging but rewards you with a site three times the size of Machu Picchu. And then there are alternate routes to Machu Picchu, such as the lesser-known Quarry Trail that I opted for, and – spoiler alert – absolutely loved. (Check out my photos and consider getting off the beaten path too!)
READ MORE: WHAT IT'S REALLY LIKE TREKKING THE INCA TRAIL
5. The (altitude) struggle is real…
Fun fact: the altitude of Cusco is actually much higher than the altitude of Machu Picchu itself. But however you're planning on visiting the world wonder, it's best easing your way in – whether that's arriving in Cusco a day early, not physically exerting yourself upon arrival, drinking lots of water, or limiting alcohol pre trek. You don't know how you'll react to the altitude but you can take precautions.
Most people in my Intrepid group were impacted by the altitude one way or another (which is perfectly normal!), but our local guides were always on hand to provide tips and reassurance as well as much-appreciated coca tea.
If you've been to Peru, you'll know altitude isn't worth stressing out about but that it is worth reading up on pre-trip. For starters, check out this guide by a writer who took the train to Machu Picchu and this feature by a blogger who hiked the Inca Trail.
READ MORE: 5 TIPS FOR STAYING SAFE ON YOUR INCA TRAIL TREK
4. …Though not for hero-like porters
Just a quick one to say… hikes and altitude might slow you down. But they won't slow porters down. Because porters are basically superhuman. Not only are they the ones carrying the group's heavy camping equipment up the Inca Trail, they're pretty much guaranteed to do it much faster than you.
I was proud to hike with Intrepid Travel because of their Porter Policy, which ensures the safety and wellbeing of these incredible humans. And you know that if you choose to hike that responsible travel is a necessity. And if you didn't, well you do now.
HERE'S HOW TO SUPPORT PORTERS THROUGH THE INTREPID FOUNDATION 
3. Inca ruins are everywhere!
Whether you're a history buff or just like to be kept on your toes, Peru's MANY ruins won't disappoint. Because they're pretty much everywhere – whether you're a hiker or you're not. This National Geographic article will give you some idea, but half of the joy is in the unexpected.
My unexpected favourite ruins? In Ollantaytambo, where my group spent one very happy afternoon exploring one of the only towns in Peru retaining its original Inca walls. Dating back to 1536 they truly have to be seen to be believed.
READ MORE: 10 (OTHER) FACTS YOU PROBABLY DON'T KNOW ABOUT PERU
2. There's so much more to Peru than Machu Picchu…
Admittedly, the whole point we made earlier about a week not being enough kinda touched on this. But it's just so important we had to say it again. If you go to Peru once, you'll want to go to Peru again. Because of the wild, spectacular Amazon. The intriguing archaeological mystery of the Nazca Lines. And the opportunity to hike, eat or cycle until you're high on life. And have fallen hard for Peru's many charms.
READ MORE: PERU'S HIDDEN GEMS, ACCORDING TO AN INTREPID LEADER
1. …But, ultimately, nothing compares to Machu Picchu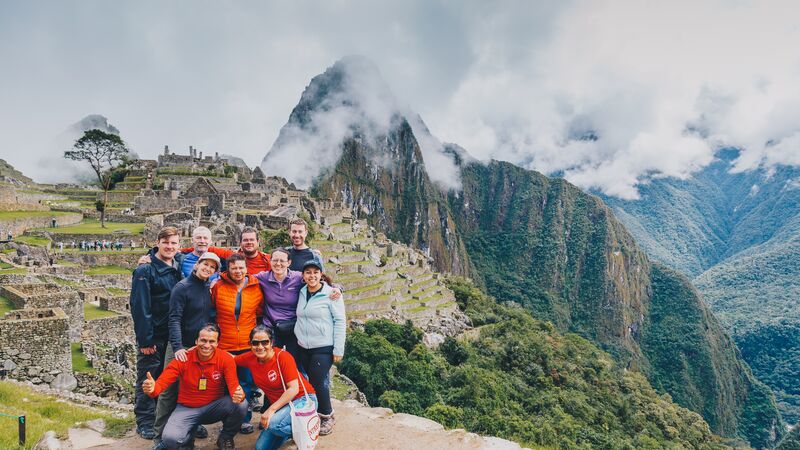 You've gotta see it for yourself.
There's nothing else to say.
It's worth it.
Promise.
Ready to experience the above and visit Peru for yourself? Check out Intrepid's range of adventures there.
Feeling inspired?