Yes, Machu Picchu is Peru's number one attraction and trekking the Inca Trail is so popular that permits sell out months in advance. But if you're active and independent (like me) and would rather not sleep on the ground (like me), trekking in Peru's Colca Canyon is for you.
No need to carry a tent or food since there are villages with at least basic facilities. No crowded trails (I spent hours on trails without seeing any other trekkers). No need for a pesky, pricey permit.
An introduction to the Colca Canyon
There are only a few modest archaeological sites in the Colca Canyon, but the place makes up for it with extreme topography (flat spaces are few and far between) and vast landscapes that blow the Sacred Valley (home to Machu Picchu) out of the water.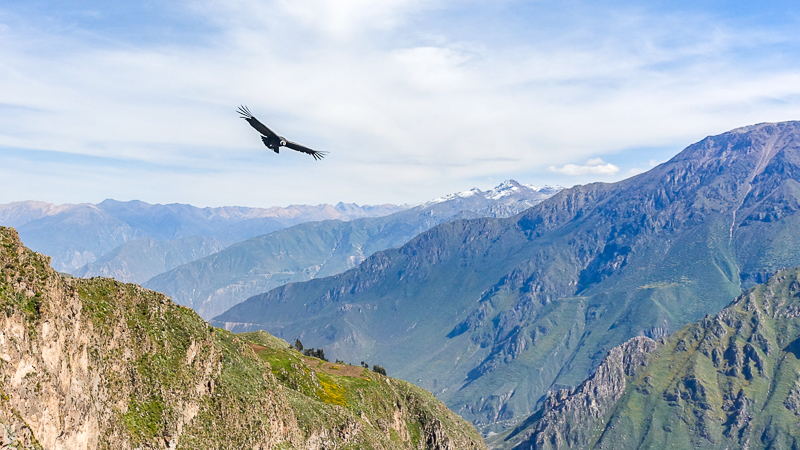 It's commonly said that the Colca Canyon is nearly 11,000 feet deep – more than twice the depth of the Grand Canyon. I've hiked into the Grand Caynon from both rims of the park and, I admit, I found the prospect of descending and ascending twice that a bit daunting.
But that 11,000 feet deep thing, while accurate, is misleading because canyon depth is measured from the top of the highest rim feature. The Colca Canyon is surrounded by Andean peaks (and at least one very active volcano), so the measurement is taken from the top of the peaks to the bottom of the canyon which results in 11,000 feet. However, trailheads into the canyon start much, much lower down. Most walks require a more reasonable 4,000 feet of elevation change from trailhead to the canyon floor.
VISIT COLCA CANYON ON THIS EPIC SMALL GROUP ADVENTURE TO PERU (HOMESTAY INCLUDED!)
During three days in the canyon I gaped at condors, gasped on the trails (which are steep and at altitudes between 6,700 and 10,800 feet), and soaked in the springs.
Here are a few things I learned along the way that will make your Colca Canyon experience even better:
Take your time, choose the right route
Some people rush down from their base (often Chivay, but sometimes Cabanaconde) to the oasis town of Sangalle on the canyon floor, then climb right back up again in one very long, very hard day. The trekkers I talked to who did that one day bounce spoke mostly about being exhausted, not about being amazed.
Though Sangalle is the most famous (and busiest) Colca Canyon destination, the canyon is crisscrossed with trails and other places to explore and sleep. If you have the time, this three day/two night loop takes you through some of the best the Colca Canyon has to offer, allowing time to be amazed. And exhausted.
From Cabanaconde, trek down to the tiny village of Llahuar. Allow 4-5 hours for this 6 mile leg which is almost entirely downhill. A sign at the first of two hostels in Llahuar makes it seem like only their guests are allowed to use the adjacent riverside hot spring pools. However, I met trekkers who were staying at the second hostel in Llahuar and they soaked in the heavenly pools as well.
RELATED: WHY YOU SHOULD VISIT HUACACHINA, THE SURREAL DESERT OASIS IN PERU
By the time I reached Llahuar my aching legs were not amenable to the idea of climbing up and down stairs. Nope. But if you arrive in better shape than I did, go for one of the new bungalows, located between the restaurant and the hot springs, at Llahuar Lodge.
From Llahuar the route climbs for about 2 hours, then continues along the dirt road that now travels through the canyon (there are buses and everything, which I was bit shocked to find), before descending steeply into the backpacker resort village of Sangalle where many riverside hostels offer swimming pools and cold beer. Allow 4-5 hours for this 6 mile leg.
RELATED: OUR GUIDE TO PERU'S TASTIEST STREET FOOD
Get an early start to beat the heat on the trail up to Cabanaconde. Though it's less than 3 miles, allow about 4 hours for this leg since the trail gains 4,000 feet in that short distance and it's a very, very steep climb. You can see the trail zig-zagging up the canyon wall from your hostel in Sangalle and I'd been visualizing myself powering up it. The morning started out at a fast clip and I had hopes of finishing under the average ascent time, however, sun, increasing altitude, and a mile long section of boulders showed me who was boss.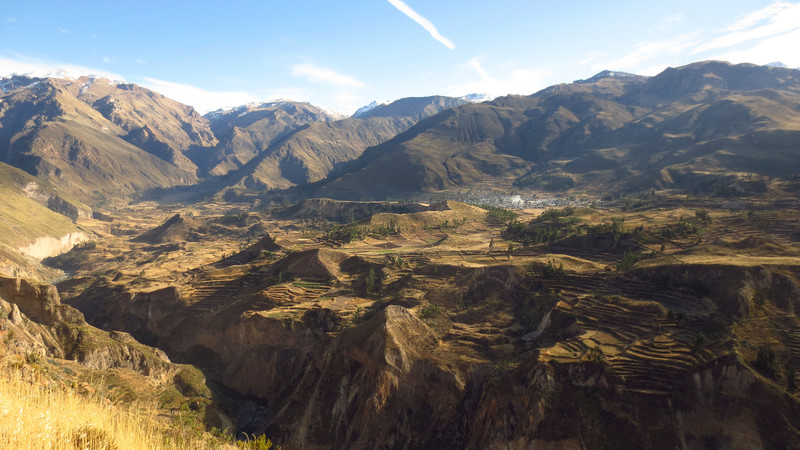 There is no easy way to hike through the Colca Canyon, but this loop is best done from Cabanaconde to Llahuar to Sangalle then back up to Cabanaconde as described. It can be done in the opposite direction, but the trail connecting Sangalle and Cabanaconde is very steep and would make a much more brutal descent than the longer but slightly gentler trail down from Cabanaconde to Llahuar.
SUBSCRIBE TO INTREPID'S NEWSLETTER FOR TRAVEL INSPO, COMPETITIONS, GIVEAWAYS & MORE
Pack right, pack light
Whichever route you take, you'll be hiking up and down steep canyon walls which is challenging enough without an over-stuffed pack on your back. Pare down your essentials (then pare them down again).
Here are a few items that are worth the weight:
Flashlight (many hostels have no electricity or limited solar power)
Swimsuit (the hot springs and pools are calling)
Cash (there are no ATMs and no one accepts credit cards)
Binoculars (a condor was spotted circling above the trail during the climb from Sangalle to Cabanaconde)
SPF 50 sunscreen (there is virtually no shade on the trails)
Hat (see above)
Nail clippers (to keep your toenails short and free of contact with the front of your boots during all those long descents – unless you want to lose a big toenail like I did!)
Trekking poles (trails are knee-bustingly steep and often covered in loose gravel)
Hiking boots (highly recommended over tennis shoes given the steep, rocky, unstable terrain)
Travel alarm clock (early starts are crucial because the sun is relentless and shade is scarce)
Lightweight off-trail shoes (I always hook my Crocs to the outside of my pack – they're ugly but they weigh almost nothing and can be worn with socks on chilly nights)
Also, don't forget to carry the boleto turistico that all foreigners must buy from the entrance station on the road entering Chivay. This tourist ticket costs 70 soles (about US$21) and is valid for one week.
The ticket is an impressive souvenir and many people squirrel it away in their luggage right after they receive it. However, you will be asked to show your ticket as you ascend the trail back up to Cabanaconde. I trekked that leg with a cool German I met in Llahuar and he didn't have his boleto with him which meant he had a lot of explaining to do (in Spanish) to avoid paying again.
Go soak in it
No matter how fit you are, you're likely to have sore muscles after Colca Canyon trekking. That's part of the satisfaction. Allow for a day of post-trek recuperation on the rim in one of the many natural hot springs that have been moderately built up and opened to the public.
At Termales Chacapi, about a mile outside the town of Yanque, entry is just a few soles and you get access to changing rooms and a variety of steaming pools on the edge of the Colca River where you can let the mineral-rich water do its magic.
There are also public hot springs near Chivay, including Termales La Calera. Enjoy!
Want to witness the extraordinary beauty of Peru for yourself? Check out our range of small group adventures there.
—
(Image Credits from top to bottom: Eric Mohl, Robert Pechholz, Eric Mohl x3, Euphemia Foo, Sue Muggleston, Eric Mohl)
Feeling inspired?