Don't eeny meeny miny mo it; these archeological treasures deserve better…
There's no denying that Machu Picchu and Chichen Itza have achieved icon status; both are remnants of an ancient civilization, are just as grand as they are impressive, and offer an experience that's likely to stay with you long after you return home. But which one is worth visiting first?
It's definitely a tough question but, so you can spend less time googling and more time oogling, it's one I'll try to answer with this comparison blog. Looking at the history of the ruins themselves, the crowds you'll likely see at each destination and the countries they're situated in (Peru and Mexico, respectively), by the time you've read the last word, you should have a better understanding of which historical site your upcoming holiday should be planned around.
If not, you can always flip a coin.
History
Believed to have been founded in the mid-15th century CE (and subsequently abandoned in 1572), Machu Picchu was an imperial estate belonging to Incan ruler Pachacuti Inca Yupanqui. Granted World Heritage status by UNESCO in 1983, this archeological site is divided into two areas known as the urban zone and the agricultural zone, where you can see residences where people once lived (around 1,100 people at its peak) and cultivation terraces built for growing produce.
The exact reason why the Incan fortress was deserted is unknown with some historians believing it was due to a smallpox epidemic, while others think Spain's conquest of the pre-Columbian civilization was the more likely cause. The site was 'rediscovered' in 1911 by explorer Hiram Bingham; however, locals in the Cusco region were aware of its presence before then.
EXPLORE MACHU PICCHU ON OUR INCA TRAIL EXPRESS TOUR
Famous for symbolizing the lost Mayan civilization, Chichen Itza was founded around the 6th century CE (the exact year is unknown) by the Itza peoples, also known as the 'water sorcerers'. It was invaded by foreigners some 500 years after it was built, and new structures were orchestrated to accommodate their way of life.
These foreigners, who were believed to have been Mayan-speaking people from Central Mexico, abandoned the site in the 1200s but it has remained a sacred place for the Mayans in the centuries since with offerings and sacrifices continuing to be made.
EXPLORE CHICHEN ITZA ON OUR MEXICO UNPLUGGED ADVENTURE
Crowds
Machu Picchu is 'open' all year round so you'll never miss out on witnessing this ancient wonder for yourself, regardless of the time of year you're travelling in. But there is a peak season and it's the drier months of June, July and August that see crowd levels soar and accommodation prices increase.
The number of annual visits to the site varies each year but, on average, one million people either make the trek or take the train to see the ruins for themselves. Most of these travellers do so during the dry season so you can imagine how packed the ruins can get. If you want to avoid as many people as possible, we recommend going in April – May or September – October.
VISIT THE MIGHTY PERUVIAN RUINS ON OUR SACRED LAND OF THE INCAS ADVENTURE
This might surprise you but over two million history lovers and new wonder-of-the-world seekers visit Chichen Itza each year, making it one of the most popular attractions in all of Mexico. This means the archeological site gets more foot traffic than Machu Picchu (shocked face emoji).
The dry season is also the best time to visit this iconic ruin; however, Mexico's dry season runs from November to April and promises nice weather without extreme temperatures and high humidity levels. So, you can expect plenty of visitors during this time, especially if you want to witness the Chichen Itza 'Snake Shadow' where the famous feathered serpent descends the steps of the temple thanks to the sun's lighting effects on March 21st.
If you don't want to share your historical awakening with a lot of other people doing the same thing, visit in May when the temperatures aren't too hot and there's a slightly better chance of zero rainfall than in the wetter months.
VISIT THIS MEXICAN HISTORICAL SITE ON OUR YUCATAN PENINSULA ADVENTURE
Country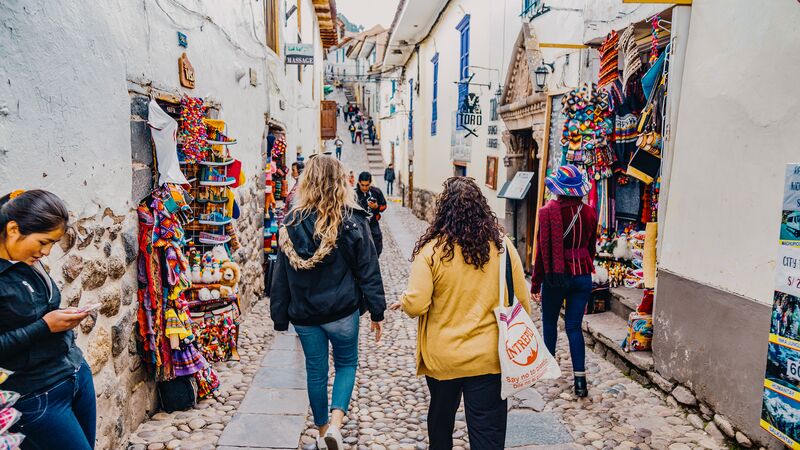 While Machu Picchu is undoubtedly the historical heart of this mythical country, there's so much more to marvel at in Peru. Most travellers come to stare in awe of the archeological ruins and learn about the ancient Incan civilization that once lived at Machu Picchu, but they often stay for the vibrant cities hidden by soaring mountain ranges, the rainforests teeming with wildlife and the friendly nature of the local Peruvian people.
Feed your senses in Lima where plates of fresh ceviche are served alongside citrusy pisco sours and the nightlife will keep you entertained for hours. Adventure through the luscious and untouched Amazon and keep your eyes peeled for animals you've only ever seen in books. Explore the treasures of Cusco by wandering its cobblestoned streets lined with Spanish cathedrals and Inca temples. You really can't go wrong in Peru.
ADVENTURE THROUGH PERU ON OUR PERU ENCOMPASSED SMALL GROUP TOUR
When travellers think of Mexico, they think of ancient Mayan ruins, naturally enchanting cenotes, and laying out on pristine beaches eating chips and guac with a salty margarita nearby. And they're not wrong – Mexico promises all of those things. But this tequila-soaked country is so much more than Chichen Itza, and its culture runs right through the charming streets of its most popular cities; Mexico City, Oaxaca, Puebla and Merida to name a few.
You'll never get bored in Mexico. You simply can't. Not in one of Mexico City's hip-shaking salsa clubs. Not touring some of the country's other Mayan ruins in Teotihuacan and Coba. Not running your hands through the golden sand of Play Del Carmen's best beaches. And not while you're biting into a crunchy, cheese and beef-filled empanada in Oaxaca. It just won't happen.
JOURNEY AROUND MEXICO ON OUR REAL MEXICO TOUR
The verdict
Of the three categories, only the 'crowd' one has a clear winner, and that's Machu Picchu. But the other two could go either way depending on what you prefer.
Both archeological sites are drenched in a history so captivating you could spend hours listening to your tour guides and still be interested. And I can't even begin to compare the countries they both live in; pisco sours vs margaritas, Lima vs Mexico City, rainforests vs beaches. My brain hurts just thinking about making a decision.
So I won't. Both of these man-made wonders deserve your appreciation and because they're both located in the America's, why not tick them off your bucket list on the same trip? And if that doesn't work for you then go ahead, flip that coin.
Feeling inspired?