The Inca Trail is one of the most well-known hikes in the world. Due to its popularity, there's a cap of 500 people (200 trekkers and 300 porters) allowed to start the trek each day.
With the sheer volume of travellers and the importance of tourism to Peru, the Peruvian Government has improved its safety measures over the years. Like many destinations, the most pressing safety issues are influenced by some of the key travel decisions you can make yourself.
1. Get a guide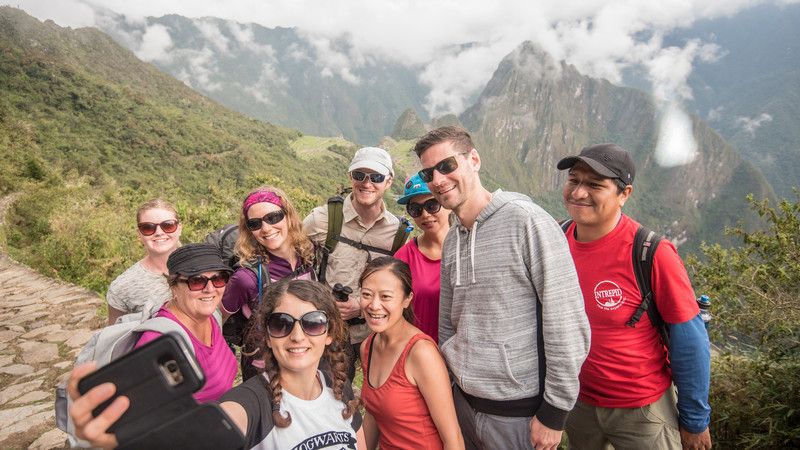 To undertake the Inca Trail, you must have a guide, even if you're an experienced hiker. Since 2001, regulations have been introduced to ensure all tourists travel with a licensed tour guide. Our Inca Trail guides are certified local tour guides. Each trekking guide also receives additional training in the field by mountain rescue experts.
DISCOVER OUR RANGE OF SMALL GROUP ADVENTURES TO MACHU PICCHU NOW
2. Recognise the signs of altitude sickness
Most people start to feel the effects of altitude at 2000 metres (6561 feet) and upwards – regardless of their age, gender or level of fitness. While our leaders have basic first aid training and are aware of the closest medical facilities, it is very important that you make yourself aware of the cause and effects of travelling at altitude, monitor your health and seek assistance accordingly. Signs that you may be feeling the effects of altitude sickness are fatigue, shortness of breath, nausea, or vomiting, and a loss of appetite.
It's important to take it easy, drink plenty of water and speak to your group leader at once if you start to feel unwell. We recommend seeing your doctor if you have any health concerns before undertaking the trip, particularly if you have a pre-existing medical condition or take any medication. All our guides and trek leaders have been trained by medical specialists in handling altitude illness and are proficient in first aid; our team carries oxygen cylinders on all treks for emergency use too.
RELATED: HOW TO SPEND 48 HOURS IN CUSCO, PERU
3. Have a reasonable level of fitness
The Inca Trail is within the abilities of most reasonably fit people, but please come prepared, as the trail is 43 kilometres (26 miles) long and often very steep. Each day's journey generally consists of seven hours of walking (uphill and downhill), with stops for snacks and lunch. Accommodation on the trek is camping (three nights); double tents (twin-share) and foam camping mats will be provided. The porters will set up the tents while the cook prepares meals. Each day you get up at about 7 am (except the final day which starts at 4.30am) and hike for around seven hours.
4. Leave the valuables at home
The threat of crime is low along the Inca Trail, and Peru treats the safety of travellers as a matter of priority. However, it is advised to take the normal precautions while travelling, such as not carrying a large amount of cash, and keeping your passport and money safely tucked away.
SUBSCRIBE TO INTREPID'S NEWSLETTER FOR TRAVEL TIPS, STORIES, OFFERS, GIVEAWAYS & MORE
5. Hiking during the wet season
Hiking the Inca Trail during the wet season (between November and April) can be tricky, as the trail can get very (VERY) muddy. Be prepared by taking a good rain jacket and waterproof cover for your day pack and clothing. The Inca Trail closes every year in February due to it being the wettest time of the year.
Looking for an adventure to Peru? Start exploring Intrepid's range of small group adventures now.
Feeling inspired?