The Northern Territory is just as good as everyone says it is and these top national parks are here to prove it.
Most of the Northern Territory is made up of beautiful things to look at so it's no surprise that this breathtaking region has some of Australia's best national parks. You might be thinking that once you've seen one desert landscape and staggeringly powerful waterfall that you've seen 'em all but trust us when we say these 6 Northern Territory national parks are each worth a visit in their own right.
From the deep gorges and sparkling watering holes of Kakadu National Park to the prehistoric and fascinatingly shaped domes of Uluru-Kata Tjuta National Park, these nature-filled playgrounds are turning up the heat in the best way possible.
Whether you're joining an Intrepid trip that adventures through these otherworldly parks and want to read up on what to expect or you're looking to explore one of these national parks by yourself after your trip is over, we've done the research (and the hard work) to bring you our top picks when it comes to the Northern Territory national parks you simply can't miss.
There are a whole heap of outstanding national parks in the Northern Territory (and many of them are on this list) but perhaps there's none as captivating as the Nitmiluk National Park. Owned by the traditional owners of the land, the Jawoyn peoples, and managed with the assistance of the Parks and Wildlife Commission of the Northern Territory, this national park is 292, 008 hectares of culturally significant sites, extraordinary sandstone formations, and deep valleys you'll want to spend the whole day exploring.
However, the main attraction is the eponymous Nitmiluk Gorge. Expertly created over time by the powerful current of the Katherine River, this gorge is a haven for outdoor lovers with fishing, canoeing, swimming, and sunset cruising among the most popular activities you can do. If those don't take your fancy, head into the gorge on a leader-led tour and let the bare sandstone walls come to life with tales of the Dreamtime.
EXPLORE THIS NATIONAL PARK ON OUR BROOME TO DARWIN OVERLAND ADVENTURE TOUR
Kakadu National Park makes it easy to fall in love with nature over and over again. Looking like a natural wonderland you could easily get lost in, this beloved world-heritage-listed national park is the perfect place to connect with both country and Aboriginal culture. With rock art sites, weaving workshops, and painting demonstrations, grasp the opportunity to immerse yourself within a culture that's been here for centuries.
Whether you feel like taking in the sunrise from a cruise through the wetlands, spotting crocs from the banks of billabongs, or going for a dip in one of the many sparkling waterholes, Kakadu National Park has a little something for everyone. But if you think this park's natural beauty stops there then think again. Home to five stunningly impressive waterfalls, including the popular Jim Jim Falls and the peaceful Twin Falls Gorge, this park promises an experience you're going to relive for decades to come.
HIKE IN THE KAKADU NATIONAL PARK ON OUR TOURS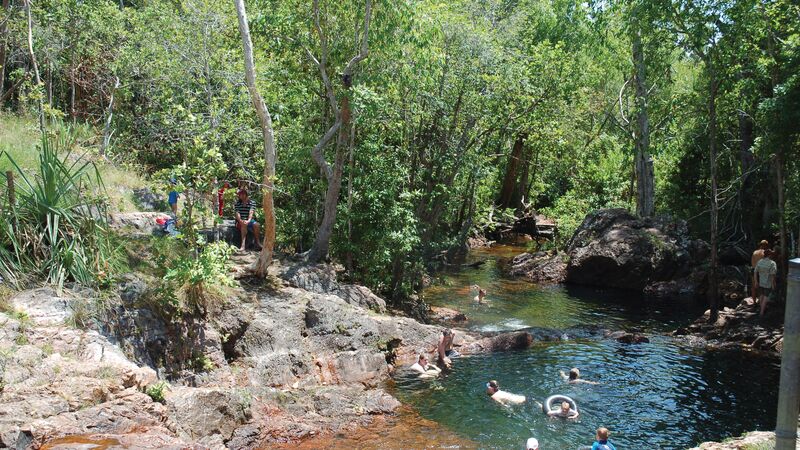 We all know the top end is full of magical places to visit but Litchfield National Park might just take the cake as the most enchanting park you'll ever spend time in. Boasting waterfalls that won't hesitate to take your breath away, crystal-clear swimming holes perfect for floating in, and a rainforest full of native trees to walk through, Litchy (as it's affectionately known) offers a dramatic landscape you won't forget in a hurry.
Often considered to be the Northern Territory's best-kept secret, exploring this park will transport you to another world, one where rainbow bee-eaters flit between the trees and wallabies search for food on the forest floor. Not only can you walk amongst Australia's native flora and fauna, but you can also wander through nature's very own 'graveyard' made up of 2-metre-high magnetic termite mounds to ensure this is one Northern Territory national park that will never leave your mind.
CHECK OUT OUR KAKADU, KATHERINE & LITCHFIELD ADVENTURE TOUR
Uluru/Ayers Rock might be the most recognised feature of Australia's red centre but looking at pictures of the culturally significant rock formation and taking in its majesty in person are two entirely different things. That's why exploring the Uluru-Kata Tjuta National Park should be on your Northern Territory bucket list. Owned by the traditional owners, the Anangu people, this park represents so much more than just the epitome of nature's beauty.
Head off on a ranger-led tour to gain a deeper understanding of how important this land is to the heritage of those who've lived here for centuries and listen to the stories that unfold as you pass by their culturally significant sites. Take in the rich colours as the sunset splashes them against the naturally created formations and stop to appreciate the landscapes that will not only hold a permanent spot on your Instagram page but also in your heart.
SEE ULURU/AYERS ROCK ON OUR ULURU & KINGS CANYON ADVENTURE TOUR
With a landscape that's been sculptured over time by Mother Nature herself, the Tjoritja/West Macdonnell Ranges are something straight out of a fairytale. Featuring several cold-watered swimming holes to play around in and hiking trails that range from easy-peasy-lemon-squeezy (easy) to let-me-catch-my-breath (hard), this park is truly one of a kind.
As if the Tjorita/West Macdonnell Ranges weren't already satisfied with having some of the best natural landmarks in the whole territory, the iconic Larapinta Trail also snakes its way through the park, coming to an impressive 223 kilometres in length. Attempting to walk it will set you back a few days but overnight trips, like our Trek the Larapinta Trail tour, make seeing this trail's spectacular scenery a possibility.
If hiking's not your thing, look out for the rare and endangered species who call these ranges their home and learn more about the cultural significance of this park from the traditional owners themselves, the Aranda people.
EXPLORE THESE RANGES ON OUR TREK THE LARAPINTA TRAIL TOUR
A bit different to the other parks on this list, the extensive Garig Gulag Barlu National Park is known for its rugged-terrain-meets-sandy-shoreline landscape and is popular with travellers wanting to experience several different environments in one. Not short on croc-infested swamps, dense seagrass meadows, mangrove patches, canopied rainforests, and endless white beaches, exploring this spectacular national park is sure to be the highlight of your trip to Arnhem Land.
WANDER THROUGH GARIG GULAG BARLU NATIONAL PARK ON OUR EAST ARNHEM LAND ADVENTURE
EXPLORE THESE NORTHERN TERRITORY NATIONAL PAKRS ON OUR NORTHERN TERRITORY TOURS
Feeling inspired?