Ticking off one of the seven natural wonders of the world or swimming with whale sharks? The buzzing East Coast or the red barren lands of Western Australia on your doorstep?
Australia is lucky to have two amazing coral reefs. The Great Barrier Reef on the East Coast is the world's largest coral reef – it's so big you can see it from space. Ningaloo Reef on the West Coast is more of a hidden gem… well, it's definitely not hidden as it's 260 km long, but it's more remote, harder to get to and attracts fewer visitors. 
We don't think it would be fair to say whether Ningaloo or Great Barrier Reef is better. Both reefs boast an abundance of marine life and activities to keep you busy above and below the water. That being said, some factors might sway your decision on where to go for your next adventure. 
| | |
| --- | --- |
| Ningaloo Reef | Great Barrier Reef |
| Credentials: It's a UNESCO World Heritage Site | Credentials: It's one of the Seven Natural Wonders of the World and a UNESCO World Heritage Site  |
| Size: 5,000 km² (1930 sq miles) | Size: 348,700 km² (135,000 sq miles) |
| Type of reef: Fringing (you can swim to it from the shore at Coral Bay) | Type of reef: Barrier (you can only access it by boat) |
| Fun fact: It makes up 50% of all living coral in the Indian Ocean | Fun fact: It is the world's largest coral reef system |
Best for marine life
Both reefs are brimming with diverse marine life. The Great Barrier Reef is home to over 1,500 species of tropical fish, 130 shark and ray species, and 3,000 species of molluscs. You'll likely see sea cucumbers, sea slugs, clownfish, parrotfish, angelfish, butterflyfish, giant clams and heaps of other fish when you're in the water. 
It's also home to larger sea creatures including 30 species of dolphins and whales, and six types of turtles. You're never guaranteed to see bigger animals when snorkelling or diving, but you have a good chance of seeing pods of humpbacks and dwarf minke whales (and gorgeous calves) between May and August when they migrate from Antarctica. Bottlenose dolphins live in the water all year round, but you might also be lucky to see Indo-Pacific humpback, spinner and Australian snubfin dolphins. Look out for these curious critters riding the bow of your boat. 
Ningaloo Reef is home to 500 species of fish and various other marine life including turtles, dolphins, dugongs and rays. You can swim with majestic manta rays all year round, but May through September is the best time as there are more of them. Turtle nesting season runs from November through March when female turtles make the strenuous journey ashore to lay their eggs. You can see eggs hatching along the beach between February and March.
The biggest drawcard for Ningaloo is the opportunity to swim with whale sharks. They migrate between mid-March and July to hunt for krill and plankton. These gentle giants span up to 10 metres long and seeing them up close is nothing short of magical. Ningaloo Reef also has one of the largest gatherings of humpbacks in the world. They join the whale sharks from June until November on their journey from Antarctica. If you manage to see both species, you've hit the jackpot. 
Best for coral
Spanning a whopping 2,300 kilometres, the Great Barrier Reef isn't a natural wonder of the world for no reason. To put this into perspective, it's bigger than Tassie and Victoria combined! It's also the only living organism that can be seen from space. It consists of thousands of individual reefs and about 600 species of coral that support this amazing ecosystem.
It might not be as big as the Great Barrier Reef, but Ningaloo is still one of the world's largest (and healthiest) fringing reefs. It's home to roughly 200 species of hard coral and 50 species of soft coral. The Great Barrier Reef has bigger and more diverse coral gardens, but Ningaloo's are just as spectacular. From spiky, skeletal-looking formations in the shallows to soft, spongy and jelly-like coral, both reefs are a vibrant underwater playground waiting to be explored. 
We can't talk about coral without mentioning bleaching, which happens when corals are stressed and expel their algae – usually due to rising water temperatures. Several sections of the Great Barrier Reef have experienced mass bleaching, while Ningaloo has experienced minimal bleaching. Bleached corals can bounce back if water conditions return to normal, which highlights the importance of acting now against climate change. Intrepid is committed to protecting our oceans and the marine life within them. That's just one of the reasons why we're a carbon neutral company and when you travel with us, we offset the carbon emissions from your trip by investing in renewable energy projects. 
Best for weather
Both reefs experience two seasons: summer (wet) and winter (dry). Shouldered by the Indian Ocean, Ningaloo Reef experiences warm weather and water temperatures all year round. It gets around 320 days of sunshine and sees average rainfall of less than 250mm, most of which falls in February and March. We dare say the weather is almost always guaranteed to be mild. Even in the coolest months, daytime highs rarely dip below 24°C and the water is a pleasant 22°C. November through February are the hottest months with high humidity and air temperatures that top 35°C. 
The Great Barrier Reef experiences a tropical climate with warm temperatures all year round. Summers are hot and humid with frequent downpours and an average water temperature of 30°C, while winters are warm, dry and sunny with an average water temperature lingering at a comfortable 23°C. Winter is the best time to visit as the weather is more consistent and visibility is generally better.
Best for activities (besides snorkelling and diving)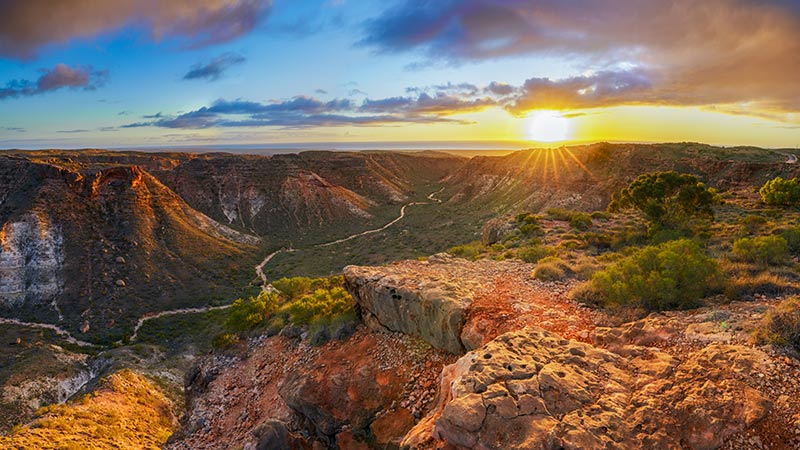 The Ningaloo Coast is wild and untouched with vast beaches and red sand desert inland. It feels very isolated, but that's what makes it so stunning. Once you've had your vitamin-sea fix, there's loads to do ashore. Chill out on Exmouth's pristine beaches, watch turtle eggs hatch or explore Cape Range National Park's deep gorges, caves and limestone cliffs.
The Great Barrier Reef might be a little more touristy, but you've gotta' love just how much there is to see and do along the East Coast. Most tours start from Cairns or Airlie Beach where you'll find white sandy beaches, lively bars and restaurants, and tropical rainforests including the Daintree (ahem, the oldest rainforest on the planet). You've also got the Whitsundays which is home to bucket-list beaches like Whitehaven Beach.
Best for accessibility
The Great Barrier Reef is massive and there are multiple entry points along the East Coast, which is well connected with air, bus and train networks. You can also find accommodation and tourist amenities easily. The easiest way to visit the Great Barrier Reef is to fly into Cairns, Hamilton Island Airport (also known as the Great Barrier Reef Airport) or Whitsunday Coast Airport in Propsperine. From here you can take a boat tour to the reef. The journey can take up to 1.5 hours depending on the starting point.
Unlike the Great Barrier Reef, Ningaloo Reef is located just off the shore of Coral Bay and you can simply pop on your snorkel and swim out to it if you want! The other starting point for tours is Exmouth, which has more accommodation options, restaurants and things to do. Getting to Coral Bay or Exmouth is a bit of a trek if you're travelling from outside of WA. The closest airport is in Learmonth (36 km south of Exmouth), and you can only fly direct from a few destinations in Australia including Perth, Rockhampton and Paraburdoo. It might be easier to fly into Perth and transfer to Learmonth by car.
We hope this guide has given you a better idea of where to go for your next coastal adventure. No matter which reef you choose, we have no doubt you'll have an amazing time exploring these incredible underwater worlds. 

Join us on a Great Barrier Reef or Ningaloo Reef tour.
Feeling inspired?