From testing out your four-wheel driving skills on sand roads to bathing in shimmering lakes, adventure awaits on K'gari.
For the traditional owners, the Butchulla people, K'gari (pronounced "gurri") means paradise. And it's not hard to see why. Located just off the east coast of Queensland, this ever-changing sand island promises an amazing outdoor adventure whether it's your first or fifteenth visit. From whale watching and floating along lazy creeks to shipwrecks and camping under the stars, there's heaps to see and do. If you're planning a trip to K'gari, we've put together some activities that should be on your itinerary.
1. Swim in Lake McKenzie
Did you know there are over 40 lakes on K'gari? But we'll let you in on a little secret: Lake McKenzie is definitely one of, if not the, best lakes on the island. If you only have time for one, this is it. The water is some of the purest on Earth (for real) and the white silica sand is unbelievably soft. Random question, but when was the last time you cleaned your gold or silver rings? The sand is that soft you can actually use it to clean your jewellery. You could also scoop a handful and give your body a good ol' scrub. You won't find a more natural or cheaper exfoliation treatment than this.
2. Watch the sunset
Watching the sun go down just never gets old, does it? And sunset on K'gari is one for the books. Grab a cold one, get comfy on your camping chair and watch the sky illuminate with hues of pink, purple and orange. The best place to watch it depends on which side of the island you're on, but Kingfisher Bay is a firm favourite. If you're an early riser, it's also worth going to Eurong Beach to watch the sunrise.
3. Go four-wheel driving on 75 Mile Beach
There are hardly any paved roads on K'gari (it's mostly sand), so your four-wheel driving skills are about to be put to the test. 75 Mile Beach is a beach-come-highway (with road signs, speed cameras, etc) that takes you to the island's main attractions. Pop on your favourite road trip playlist and feel the sea breeze in your hair as you cruise along this long stretch of coast. Keep your eyes peeled for wild dingoes and people fishing by the water. Oh, and you might also see the occasional plane landing on the sand! Driving 75 Mile Beach is best at low tide when the sand is hard and flat, but be prepared to dodge any waves that thrash onto the shore.
4. Take a dunk in Champagne Pools
Don't worry, you won't be over the limit after taking a dip here. Champagne Pools gets its name from the frothing ocean waves that spill into naturally formed volcanic rock basins, creating pools of fizzy white water. In fact, it feels a bit like you're in a giant bubbly spa tub. It's the only place on K'gari where you're allowed to swim in seawater, so you can imagine it's a popular spot. If you don't fancy a dip, you can admire the pools from the boardwalk that wraps around the headline. Or, set yourself up on the beach for a picnic (champagne is optional).
5. Float along Eli Creek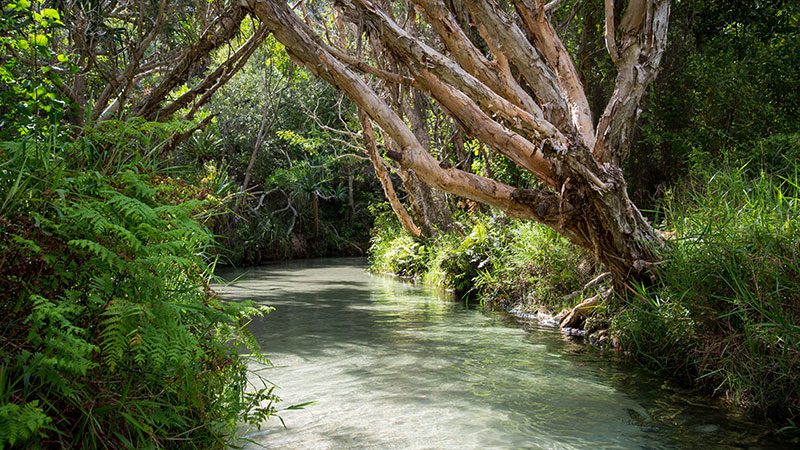 Eli Creek is the largest creek on K'gari. It pours up to four million litres of water into the ocean every single hour. Take a short stroll along the boardwalk enveloped with banksia and pandanus groves, pop on your bathers and jump into the sparkling cold water. Once you're in, let the water carry you along the shallow winding watercourse. There's minimal effort required on your part as the water practically does all the work for you. You could even bring a floaty device of your choosing for an extra bit of fun. Inflatable watermelons and unicorns always go down swimmingly.
6. Spot humpback whales
Whale watching season runs from August to October. These fascinating and mysterious sea mammals migrate from the cold waters of Antarctica to birth their calves in the warmer waters of the East Coast. You won't be able to take your eyes off the water. If you're lucky you might see them breaching, spraying water into the air or slapping their tails on the water to communicate with other whales. A cruise is the best way to see these gentle giants, but you can also spot them as you drive along the shore or from lookout points like Indian Head.
7. See wild dingoes and other native wildlife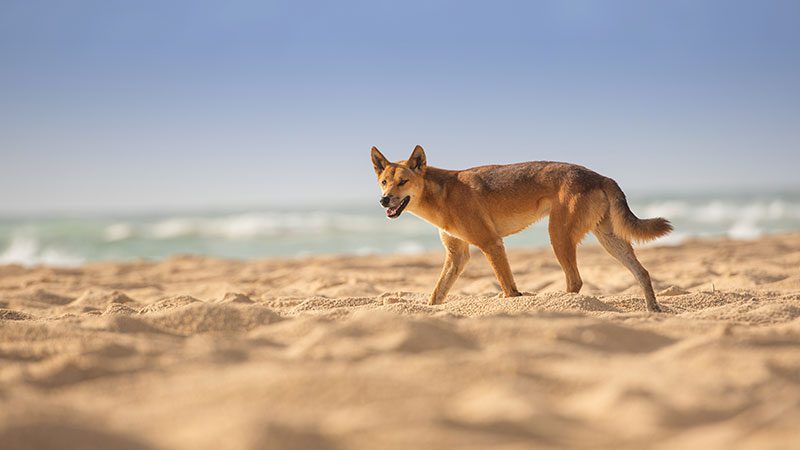 Fun fact: Did you know there are up to 19 packs of dingoes on K'gari?
Wild dingoes were removed from the mainland as part of a conservation program, and K'gari is supposedly home to Australia's purest strain of the species. You might see them roaming the coast as you're driving, or maybe you'll hear a pack howling in the distance at night. The island has a diverse range of other native species including wallabies, short-eared mountain possums and sugar gliders. If you're out bushwalking you have a good chance of seeing these animals.
8. Visit the Maheno Shipwreck
No trip to K'gari is complete without stopping at the rusting Maheno. This former luxury passenger liner got caught in a cyclone in 1935 and was washed ashore. Although you wouldn't think it now with all of the orange rust, Maheno was almost as glamorous as the Titanic back in the day with sparkling chandeliers, polished wood floors, regal staterooms and sophisticated bars. You can get up close and personal to see the finer details of the wreck or take some very Instaworthy photos of the sunset peeping through one of the holes.
9. Walk in the ancient Pile Valley rainforest
Fun fact: Fraser Island is the only place on Earth where rainforests can grow from sand.
Dubbed as the heart of K'gari with thick rainforest canopies and an abundance of native flora and fauna, Central Station and Pile Valley showcase the island's bountiful natural beauty. It's well worth doing the 4km bushwalk circuit that takes you on a winding journey past giant satinay (hardwood) trees, some of which are over 1,000 years old. You can also marvel at kauri pines, giant king ferns and bunya pines. It's the perfect opportunity to reconnect with nature and feel the tranquillity that only standing in an ancient rainforest can give you.
10. Get a free pedicure in Lake Wabby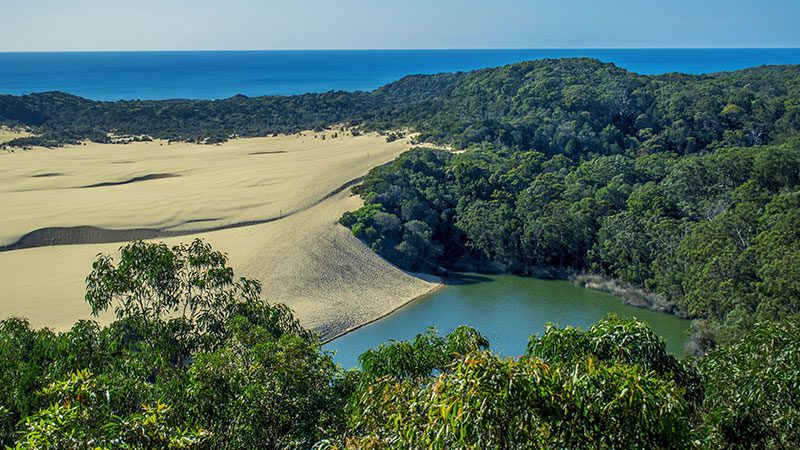 Pack your bathers and a picnic and set off for a chilled afternoon at Lake Wabby, K'gari's deepest lake. The hike there takes about 30 mins and is mostly uphill over the sand dunes. The burning sensation in your calf muscles is totally worth it, though. The lake is surrounded by lush green trees and feels like a desert oasis. There are little fish in the water that eat the dead skin off your feet, so you get a swim and a cheap pedicure treatment. Bargain.
11. Go camping
There's something about falling asleep and waking up to the sound of waves crashing on the shore and birds chirping in the trees above you. You sleep like a log and wake up with spring in your step. There are 45 camping areas on K'gari with several fenced sites to keep the dingoes out. Stock up on BBQ supplies and get ready to immerse yourself in the great outdoors. If you're not the outdoorsy type or you want a little more comfort, there are plenty of hotel resorts, beach houses, lodges and motel-style accommodation options to choose from.
K'gari s a true gem. There's so much to see and do that we bet you'll be going back for more time and time again.
Feeling inspired?