Trust us when we say you haven't explored cradle mountain unless you've laced up your hiking boots and hit the ground on these spectacular tracks.
Cradle Mountain isn't short on natural beauty. With an abundantly lush national park full of rugged rainforests, stunning river gorges, and sparkling glacial lakes, it's little wonder travellers come from all over Tasmania to wander through its extraordinary landscapes.
An absolute outdoor lover's paradise, Cradle Mountain is full of epic walks to explore from the super challenging to ones that are perfect for beginners. Whatever your fitness level, come adventure through Cradle Mountain's wilderness and make some memories to last a lifetime.
1. Marion's Lookout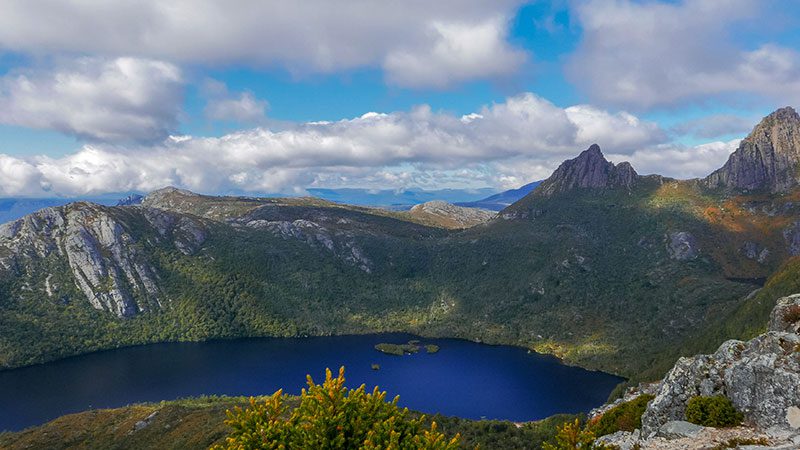 Difficulty: medium-hard (some level of hiking experience is required)
Distance: 10km return
Duration: 3-4 hours
If you're looking for a Cradle Mountain walk that'll take your breath away, then look no further than Marion's Lookout. Less challenging than some of the other Cradle Mountain walks on this list, Marion's Lookout offers an epic view across the surrounding mountain peaks and the sparkling Dove Lake. While the walk is perfect for any season, trekking the track in summer provides a stunning vista of blooming flowers, making it the most popular time to go.
However, winter is also a great time to visit Cradle Mountain as there's a dusting of snow atop mountain peaks ensuring the view from the top is just as magical as you hoped it would be. This walk is super manageable for the most part, but they are some sections of the walk that are more difficult than others so remember to take care, especially in the winter months when the ground is uneven and slippery.
HIKE UP TO MARION'S LOOKOUT ON OUR HIGHLIGHTS OF TASMANIA TOUR
Difficulty: Easy
Distance: 1.1km return
Duration: 20 minutes
We don't know about you but when we hear the words the 'Enchanted Walk', we expect to wander through a densely covered forest wonderland full of moss-covered trees and bubbling creeks and Cradle Mountain's own Enchanted Walk doesn't disappoint. Bursting with coloured fungi and woodland creatures (keep your eyes peeled for wombats), this walk is suitable for all ages and fitness levels and is guaranteed to be utterly captivating.
Featuring towering myrtle-beech trees and stick-thin pencil pines, as well as a network of fascinating tunnels the little ones can crawl through, this track is nothing short of magical, and while it doesn't have an epic view, it's still one of the must-do walks this region has to offer.
Difficulty: Easy
Distance: 6km return
Duration: 3 hours
One of the more picturesque Cradle Mountain walks, the Dove Lake Walk is perfect for those who want to take in different vistas but don't want to walk several tracks. Taking you to the scenic Glacier Rock and then down to the water's edge, get an eyeful of the honeymoon islands as you listen to the sounds of gently lapping water and communicating birds.
But the Dove Lake Walk doesn't stop there. Make your way through the Ballroom Forest (which sounds as grand as it actually is), walking underneath a canopy of sky-reaching trees until you come to the iconic Boatshed. Nestled on the lakefront, the Boatshed was built in 1940 by the first ranger to be stationed at Cradle Mountain, remaining an interesting part of this region's history today and well worth a visit to.
EXPERIENCE THE DOVE LAKE WALK FOR YOURSELF ON OUR CRADLE MOUNTAIN EXPLORER
Difficulty: easy-medium
Distance: 3km return
Duration: 1-2 hours
While you might have to do some steep climbing to reach the top of Hansons Peak, you won't regret the effort and energy you've exerted once you lay your eyes on the spectacular views of Cradle Mountain stretching out below you. You won't even have to fight off other travellers doing the same thing as you either because this walk is quite underrated and not frequently visited (we have no idea why).
Make sure you're fully prepared for the steep but short climb with comfy hiking boots on, energy-laden snacks ready to go, and a reusable drink bottle full of cold water in hand because chances are, you're going to need to stop at least once or twice to 'take an awesome photo' (catch your breath). Don't let this put you off though because this track has views for days, weeks and fortnights too, so keep an eye out for the Twisted Lakes and Marion's Lookout.
Difficulty: hard
Distance: 13km return
Duration: 7 hours
We're going to start off by saying this, if you're afraid of heights, then you may as well just stop reading now because the Cradle Mountain Summit walk isn't for you. While the walk initially starts off reasonable, it quickly gets more challenging the higher you climb with some steep sections requiring some serious rock scrambling skills.
But the higher you climb, the more epic the view gets and the view from the top of the Cradle Mountain Summit is a feast for the eyes. Overlooking dozens of lakes and smaller mountain peaks, this walk is guaranteed to be a highlight of your trip and take up most of your camera roll.
Difficulty: hard
Distance: 65km return
Duration: 6 days
Welcome to the head honcho, the ringleader, the CEO of all Cradle Mountain walks, the Overland Track. Attracting travellers and avid hikers from all over Tasmania, this track is epic not only because of how long it'll take you to walk it but also because of the magnificent views that you're rewarded with along the way. Definitely not for the faint of heart, the Overland Track is both physically demanding and mentally exhausting thanks to the different landscapes you'll have to trek through.
From dipping valleys and temperate rainforests to alpine meadows and lush moorlands, the Overland Track will ensure you've seen it all. Giving you the chance to reconnect with the nature around you, this wilderness-y wonderland of a track might just be one of the most extraordinary things you ever do, not just for the experience, but for the sheer satisfaction of saying 'I did it'.
TREK THE CRADLE MOUNTAIN OVERLAND TRACK ON OUR TOUR
Feeling inspired?