Whether you want wow-worthy views to fill up your camera or you're looking to put your stamina to the test, these trails in Freycinet National Park won't disappoint.
Oh, Freycinet. We're not joking when we say it's Tassie's version of a tropical paradise. From the pink-hued granite peaks to the shaded coastal forests to the idyllic Wineglass Bay, Freycinet National Park is wild, untamed and ridiculously beautiful. And we think one of the best ways to experience it is with a pair of hiking boots.
There are trails to suit all levels and abilities whether you fancy a casual stroll or a full day of hiking. Walking on sandy terrain can be quite a burner on the ol' calves, but trust us, the views are totally worth it. Not to mention the crystal clear waters you can plunge into to cool down. Without further ado, here are some of our favourite walks and hikes in Freycinet.
Note: Most of the trails in Freycinet are not wheelchair-accessible. A TrailRider all-terrain wheelchair is available for people with mobility limitations. Go to TrailRiders for further information on use and assistance requirements.
1. Wineglass Bay Lookout Track
Difficulty: Easy
Distance: 3 km return
Duration: 1-1.5 hours
Elevation: 204 m
Wheelchair accessible: No
This is Freycinet's most iconic walk, hands down. We're not usually one to recommend the path most travelled, but if you only have time for one walk, make it this one. Wineglass Bay is one of Tassie's most photographed places and it's consistently voted one of the world's top ten beaches. Hardly surprising really with its powder-white sands and shimmering turquoise waters.
The trail takes you through a luscious coastal forest littered with curvy granite boulders of varying shapes and sizes, and past the Coles Bay Lookout point. It's steep in sections, but there are a few resting chairs about halfway to take a breather. Phew. The final section of the climb takes you to the Wineglass Bay lookout platform where the views will blow you away. You can continue onto Wineglass Bay beach (an extra 1.5 hours return), but just remember that what goes down must go up. In this case, it's 1,000 steps.
2. Mount Freycinet Summit
Difficulty: Strenuous
Distance: 1.5 km return
Duration: 1.5-2 hours
Elevation: 350 m (from the saddle), 620 m total elevation gain
Wheelchair accessible: No
Standing at 620m, Mount Freycinet is the tallest peak in the park. To climb to the summit you'll need to make your way to the saddle between Mount Freycinet and Mount Graham (the second-tallest peak), either via Cooks Beach or the south side of Wineglass Bay. It might be a short ascent, but don't be fooled. It's steep and you'll climb 350 metres in less than 1 km. However, your efforts will be rewarded with panoramic views that sweep over the entire southern part of the peninsula. We guarantee you'll be sweating buckets by the time you reach the top, so bring plenty of water.
3. Mount Amos
Difficulty: Grade 4/strenuous (bushwalking/rock scrambling experience is recommended)
Distance: 4 km return
Duration: 2-3 hours
Elevation: 434 m
Wheelchair accessible: No
Vamos, up Mount Amos! If the idea of scrambling over steep granite slabs sounds fun, this hike is calling your name. If you're on the fence, we might be able to twist your arm when we say the views of Wineglass Bay from Mount Amos are unbeatable. Seriously, they're the best in the house. Mt Amos is part of the Hazards, so you'll also be treated to sweeping vistas of Mount Graham, Mount Freycinet and other peaks in the range. The route doesn't have a set path, but if you follow the yellow reflective arrows you won't stray too far. Note: this trail is recommended for experienced hikers only.
4. Cape Tourville Circuit
Difficulty: Easy
Distance: 600 m return
Duration: 15-20 minutes
Elevation: Mostly flat
Wheelchair accessible: Yes, however, wheelchair users may require assistance due to a slight gradient
If you're looking for a shorter walk to stretch your legs and enjoy the salty sea breeze, look no further than the Cape Tourville Circuit. This is a short, even track with a slight gradient, making it suitable for wheelchair users. The trail loops around a wooden boardwalk near the cliff edge and takes you up to Cape Tourville Lighthouse where you'll get beautiful views of the peninsula, Wineglass Bay, the Hazards and four granite islets known as The Nuggets. We recommend waking up early to watch the sun rise over the east and paint the sky above Cape Tourville different shades of orange and pink.
This walk is lovely all year round and you have a good chance of spotting wildlife including sea eagles, albatross, dolphins and Australian fur seals. If you're visiting in winter, it's an amazing place to see whales as they migrate from Antarctica.
5. Hazards Beach Circuit (via Wineglass Bay)
Difficulty: Moderate/Grade 4
Distance: 11 km return
Duration: 4-5 hours
Elevation: 320 m
Wheelchair accessible: No
The Hazards Beach Circuit gives you a great taste of all Freycinet has to offer. Plus, Hazards Beach is easily one of the most stunning beaches in the park. The first section follows the trail up to the Wineglass Bay Lookout and is a great way to avoid those 1,000 steps back up! After walking down the staircase to Wineglass Bay beach, have some lunch or go for a paddle, or continue across the mostly flat isthmus until you reach Hazards Beach. The circuit continues along the coast where you'll pass some hidden coves (perfect for swimming on a hat day) before turning inland through a pretty coastal forest to the car park.
6. Sleepy Bay & Little Gravelly Beach Track
Difficulty: Easy
Distance: 1.5 km return
Duration: 30 minutes
Elevation: Flat
Wheelchair accessible: No
This trail is ideal if you fancy a nice 'n' easy stroll. The gravel path takes you to a picturesque lookout where you can watch the ocean thrash against the rocky landscapes (despite its name, Sleepy Bay is known for its wild waves!). Continue down the rocky steps to Little Gravelly Beach where you'll find a peaceful bay littered with pebbles and interesting-looking boulders. Watch the waves crash into the orange lichen-covered rocks, go searching for crabs in rock pools or play a game of hide and seek in the boulders (don't worry, you're never too old). Little Gravelly Beach is almost always deserted (we have no idea why), making it the perfect spot to relax and enjoy a bit of peace and quiet.
7. Mount Graham (via Wineglass Bay)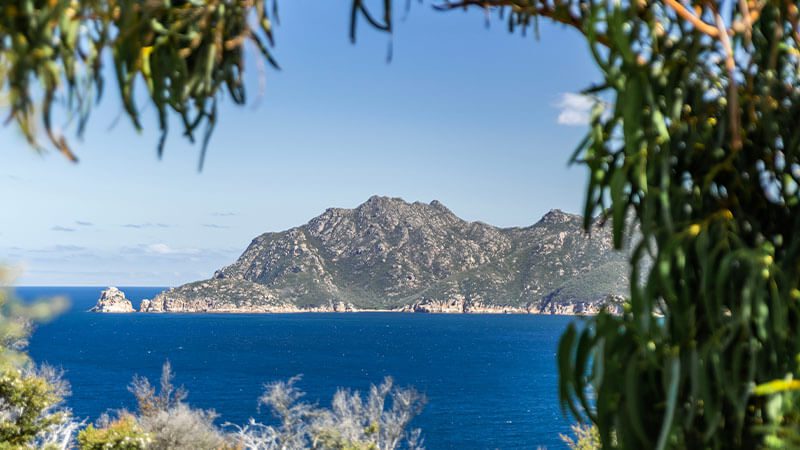 Difficulty: Strenuous
Distance: 20 km return
Duration: 7-9 hours
Elevation: 570 m
Wheelchair accessible: No
Last up we have Mount Graham, the second-tallest peak in Freycinet. The trail follows the Peninsula Track (a 30 km multi-day circuit) via Wineglass Bay and you'll need to trudge over soft sand, scramble over craggy slopes and climb a steep ridge to the summit. Your energy and efforts will be totally worth it when you set your eyes on the views. You can practically see the entire park with clear views of the Hazards and Wineglass Bay below you.
You can do this hike in a day, but we think it's better to do it over two days with a stop at the free campsite located at the southern end of Wineglass Bay. The quartzite ridge to the summit is steep (if you're afraid of heights this might not be for you), so it's safer to climb when you have fresh energy reserves. You'll also get to see how the soft morning light hits the peninsula, and this alone is worth the overnight stop.
ITCHY FEET? CHECK OUT THESE TRAILS FOR YOURSELF ON A FREYCINET TOUR
Feeling inspired?