Arequipa, the stunning volcano-ringed colonial-era city in southwestern Peru, is more than just an underrated gem – it's an absolute must-visit.
Nicknamed "La Ciudad Blanca" for its unique white buildings made from a local volcanic material called sillar, Arequipa will lure you in immediately with its distinct beauty and charm. You may even feel like you've left Peruvian borders and any proud Arequipeño would say that you have. Just ask about the former Arequipa passport.
But, if the stunning white, carved facades and snow-capped volcanic peaks don't capture your heart from the start, Arequipa's rich traditions, refreshing pace, and thrilling outdoor adventures likely will.
As someone who currently calls Arequipa home, I've been able to pinpoint what makes this city so irresistible and it goes far beyond the 300 days of sunshine and quaint, cobble-stoned colonial streets (though those are certainly factors).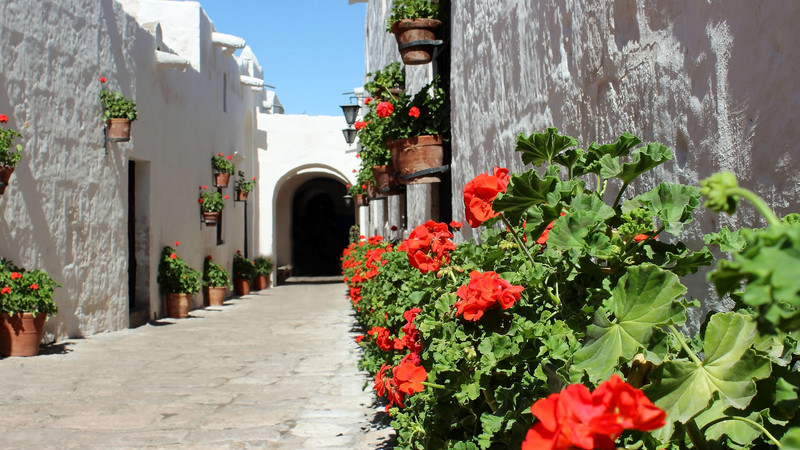 Here are just a few reasons why Arequipa is more than worth a few days of your limited time in Peru. In fact, you'd regret missing out on – dare I say it – one of Peru's most beautiful corners.
The local Arequipeña cuisine
As a self-proclaimed foodie, I have to start this love letter to Arequipa with a mention of the city's extensive list of local cuisine. Arequipa has more local dishes than any other city in Peru.
A few of my favorites include rocoto relleno, a spicy meat- and vegetable-stuffed red pepper, adobo, a flavorful pork stew served with a shot of anise liqueur (great for hangovers, I must add), and ocopa, potatoes smothered in a creamy, herb-based sauce. For the seafood lovers, the must-try local dish is chupe de camerones, a seafood soup of tomato, shrimp, hot pepper, cheese, potatoes, milk, and eggs.
READ MORE: OUR GUIDE TO PERU'S TASTIEST STREET FOOD
The picanterías
Now that your mouth is watering, the place to try all of Arequipa's local dishes is a lively and unique establishment called a picantería. The name comes from the fact that most of the dishes on the menu are picante, or spicy. Many of Arequipa's picanterías are spacious and have an outdoor element to them. Try your luck at getting a table on a weekend and you'll be knocking elbows with locals and their entire extended families.
My personal favorite picantería is called La Nueva Palomino. It has a great garden patio vibe to it and even better food. Their chupe de camarones is one of the best in town. Also, you can't go to a picantería without ordering an enormous glass of chicha de jora, the famous corn-fermented beer that's been enjoyed in Peru since the time of the Incas.
VISIT AREQUIPA ON THIS 15-DAY INTREPID SMALL GROUP TOUR
Foodie tips from Intrepid local leader, Paola Ramos, who is from Arequipa!:
My favourite local places to eat in Arequipa are Ary Quepay (traditional dishes – like alpaca – in a colonial-style building with Andean folk music) and Zig Zag (a meat-heavy menu with amazing fondues!).
The queso helado
Okay, I promise this is the last food-focused reason for visiting Arequipa, but I'd be amiss not to mention Arequipa's unique claim to dessert fame. Queso helado, the creamy local "ice cream" made from coconut, condensed milk, and egg, is a rite of passage for any traveler to Arequipa. You'll know you've found it when you see the signature bucket-like churn and often a traditionally dressed woman standing by it with a free cinnamon-topped sample.
My favorite is a little hole-in-the-wall place just down the hill from the Plaza de Yanahuara on Alfonso Ugarte. The sweet woman who owns the shop makes her queso helado in a variety of flavors including papaya, strawberry, mango, and several local fruits including membrillo, aguaymanto, and chirimoya.
READ MORE: 5 MUST-VISIT HIDDEN GEMS IN PERU, ACCORDING TO A LOCAL
The plazas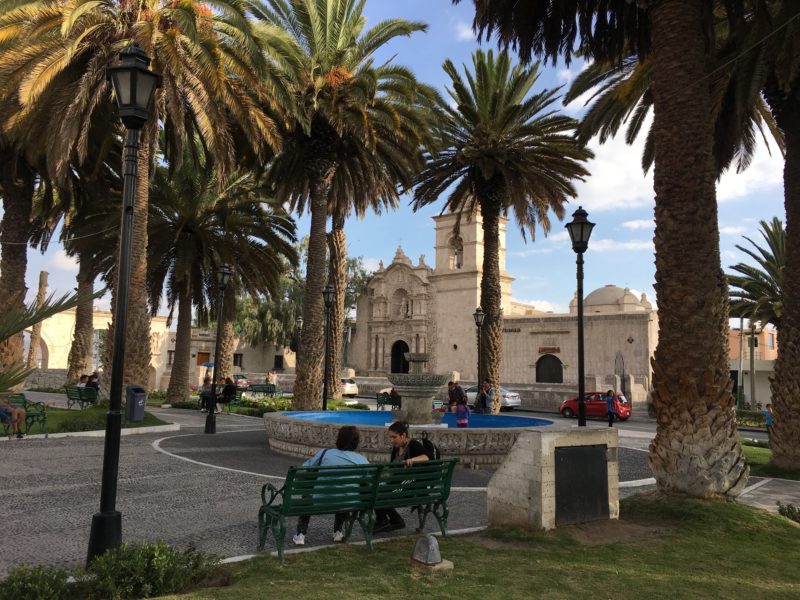 Arequipa should win an award for its lush and well-manicured plazas. It's the go-to hang out spot for the locals and also happens to be the ultimate setting to enjoy your cup of queso helado, if you can snag a bench. There's usually an ornately decorated church on one edge and, located amidst the picture-perfect palm trees and vibrant flowerbeds, a beautiful fountain anchoring the plaza's center. It's like you're standing in the garden of Eden, no matter whether you're at the main Plaza de Armas, the Plaza de San Francisco, the Plaza de Yanahuara, or the Plaza de Cayma – all of which are worth a visit.
SUBSCRIBE TO INTREPID'S NEWSLETTER FOR TRAVEL TIPS, COMPETITIONS, GIVEAWAYS & MORE
The cobblestone streets of Yanahuara
When I think back on my first visit to Arequipa, the memory that sticks out to me is my walk up Leoncio Prado, a pedestrian-only, cobblestoned street in the neighborhood of Yanahuara. It's a tangible reminder of both Arequipa's Spanish colonial origins and its unique aesthetic. In Yanahuara, the signature white, stone walled streets are always accented with bright pink or red flowers in wall-attached flowerpots. It's truly a photographer's dream and any aimless wanderer's favorite place to get lost.
The endless sunshine and perfect temperatures
The sunshine in Arequipa is enough to put a smile on anyone's face. Throw in year-round spring-like temperatures and it's really no wonder that Arequipa is home to some of the friendliest Peruvians. The clearest volcano views and the freshest temperatures tend to occur in the morning. Find a seat at one of the open-air balcony restaurants in the arches of the Plaza de Armas, order a coffee, and enjoy the view.
My go-to spot is a restaurant called La Boveda. They have one of the best chicharrón (fried pork) sandwiches I've ever had. It comes served with a carafe of coffee and, yes, it is a breakfast food. If you're lucky, you may even spot Chachani and Misti poking their snowy heads out from behind the plaza's main cathedral.
READ MORE: 10 THINGS YOU PROBABLY DON'T KNOW ABOUT PERU
The sunsets
I'm not sure why Arequipa has some of the best sunsets. Maybe it's the altitude (Arequipa sits at 7,661 feet) or the way the sun hits the white sillar stone, but whatever it is, it's always an entertaining show of pink, purple, and orange hues. The best place to catch the sunset is from one of the rooftop bars in the Plaza de Armas.
My favorite is a place called On the Top Terrace. It's located adjacent to the cathedral, which only adds to the experience as you sit there sipping an Arequipeña (the local beer) or pisco sour at eye level with the 17th century cathedral bell towers.
The local attractions
From the volcano-framing Mirador de Yanahuara, to an Incan ice mummy named Juanita found at the top of the volcano, Ampato, the attractions in Arequipa are vast and varied. Maybe you've heard of the famous Peruvian author Mario Vargas Lllosa? It turns out he was born in Arequipa and that his childhood home is now the highly interactive and entertaining Casa Museo Mario Vargas Llosa. The Santa Catalina Monastery is another bucket list item, and one of the most Instagram-worthy places I've ever visited.
READ MORE: WHY TO VISIT NORTHERN PERU, HOME TO THE "NEW MACHU PICCHU"
The nearby adventures are of epic proportions
We're talking scalable 5,000+ meter high volcanoes and a canyon double the depth of the Grand Canyon to trek…just to name a few of the adventures available from Arequipa.
There's also mountain biking, horse back riding, and white-water rafting down the Rio Chili to consider. I, myself, have trekked the Colca Canyon twice now and would do it again in a heartbeat (guide here). This part of Peru is truly stunning and the terrain is like nowhere else in the country.
Arequipa is the perfect place to indulge your adventurous side.
Ready to visit this stunning Peruvian city? Explore it with Intrepid on our Essential Peru, Majestic Peru or Cuzco to Lima tours.
—
(Image credits from top to bottom: hero image c/o iStock/hartmanc10, Amber Dunlap x4, Caroline Joseph x2, Amber Dunlap.)
Feeling inspired?