When's the best time to visit Botswana? Well, that depends. What are you hoping to see? Big game? Migrating birds? Do you want to paddle the Okavango? How do you feel about afternoon showers?
Botswana is one of those destinations, like New England and Japan, that changes a lot from month to month. So much so that travellers often return multiple times in different seasons. It's not a 'been there, done that' sort of country.
Green Seasons, dry seasons, rainfall, mosquitoes and water levels – this is our guide to the best time to visit Botswana.
Peak Season
May to August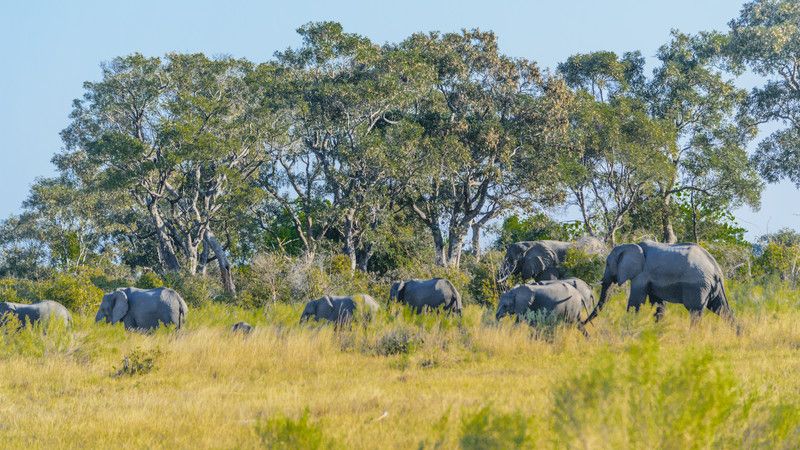 There's a reason the majority of Okavango, Moremi and Chobe visitors travel between May and September. This is Botswana's winter season, the dry season. Temperatures are mild (still, pack a jumper for those crisp, early morning game drives), rainfall is minimal, and there are fewer mosquitoes. Average temperatures tend to range from 13°C to 17°C.
EXPERIENCE THE HIGHLIGHTS OF BOTSWANA ON OUR 9-DAY SMALL GROUP ADVENTURE
There's also less vegetation and eye-height elephant grass all over the place, which means animals will be easier to spot. Zebra, antelope, lions, elephants, rhinos and giraffes all tend to congregate around familiar waterholes during this time. Finding them isn't difficult.
RELATED: WHAT IT'S REALLY LIKE EXPERIENCING BOTSWANA'S OKAVANGO DELTA
If you're looking to paddle the Okavango, this is the perfect time. In autumn, water from the Angolan Highlands pushes into the Delta, and by winter the water levels are at their peak. Perfect paddling conditions.
Of course, like anywhere else, travelling during the peak season comes with a catch. You'll run into the biggest crowds between May and September. Prices may be higher, particularly for flights. And national parks tend to feel the biggest strain during this time – on roads, infrastructure, people and animals.
CHECK OUT OUR 10-DAY BOTSWANA ADVENTURE TOUR HERE
Hot Season
September to October
September and October are still great months to visit Botswana's national parks, but just be aware that temperatures are on the climb, particularly in October. Average temperatures tend to range from 22°C to 25°C.
If you don't mind the odd scorcher, this can be a terrific season for spotting animals: the high temperatures concentrate the game even more, and you can get some pretty huge congregations at the larger waterholes. Maximum temperatures in October can hit 40°C, so pack accordingly – lots of sun protection, hats, sunglasses and re-usable water bottles (pro tip: bring some filtration tablets and avoid plastic bottled water).
A quick note on November: this is a tricky month to predict. Sometimes October's heat sticks around a bit longer than expected, but other times you'll get cool winds and the first big rains of the season.
SUBSCRIBE TO INTREPID'S NEWSLETTER FOR TRAVEL TIPS, COMPETITIONS, GIVEAWAYS & MORE
The Green Season
November to April
Okay, let's dispel a few myths about Botswana's 'Green Season'. Yes, this is the wet season. Yes, there will be rain. But not the sort of biblical, apocalyptic rain that prohibits travel altogether. In fact, a lot of Botswana veterans say the summer season (from November to April) is their favourite time to visit Chobe and Moremi. Average temperatures in the Green Season range from 22°C to 26°C.
RELATED: THIS SAFARI LODGE IS SO SPECIAL IT MIGHT CONVINCE YOU TO BOOK A TRIP TO BOTSWANA
The big thing about the Green Season? It's green. Like incredibly, verdantly, iridescently green. Crackling orange savanna turns into lush veldt. Grass explodes across the country. The downside is that all the vegetation can make game viewing more difficult (there are more places to hide). The upside is a menagerie of new animals: thousands of migrating Burchell's zebras cut through Botswana in summer, and birds fly from Asia and Europe to nest here. A lot of animals give birth during this time too, so there's the chance to see young cubs and newborns. If you're into flowers, exotic birds and obscure game-viewing, The Green Season is a pretty good choice.
As for rainfall? January and February are the two months when the rains really come down. In November, December, March and April, you'll probably just have to put up with afternoon showers.
The other big advantage to the Green Season is visitor numbers. If you're concerned about over-tourism (and most responsible travelers are these days), visiting Botswana in summer is a great way to ease the strain on the country's national parks. You'll also get them mostly to yourself. They should put that on the brochure…
Want to learn more about Intrepid's Botswana group tours? Check out our trips here.
Feeling inspired?