From looking up at the glow-worm-filled caves in Kawiti to cruising through the famous 'hole in the rock' formation, activities in the Bay of Islands don't get much better than this.
The Bay of Islands, and the rest of New Zealand for that matter, is made up of one naturally beautiful landmark after another, so it's no surprise that you want to explore as much of it as possible. Whether you prefer taking in the impressive size of Rainbow Falls on the Kerikeri River or wandering through the Maori village of Te Ahurea, you're in for a real treat with these top Bay of Islands activities.
What are you waiting for?
1. Walk through the Waipoua Forest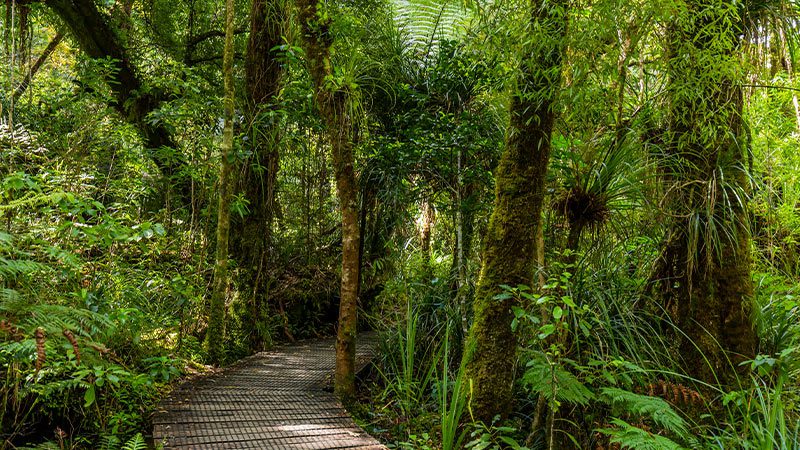 There's no better way to reconnect with nature than by wandering through the Waipoua Forest for an hour or two. Not only can you explore shady trails, listen to native birdsong, and weave through the beautiful and impressively tall kauri trees but you can also marvel at an extra giant one, Tane Mahuta ('God of the Forest').
It might not sound like much but this tree is believed to be 2500 years old and thanks to its 47-metre height, it's no wonder people come from all over the world to see it. If that wasn't enough tree for you, there's also a collection of 4 other incredibly tall kauri trees known as the 'four sisters' close by, as well as Te Matua Ngahere ('Father of the Forest'); a tree with a trunk that measures a whopping 5 metres in diameter.
2. Surf down the Opononi sand dunes
If you're looking for ultimate serenity, then the collection of sand dunes at Opononi is the perfect place for you. With nothing but sand and sea before you, this beautiful landscape gives you the chance to put your feet up, take in the peacefulness that only being among nature can bring you, and relax in a once-in-a-lifetime location.
Not only can you take a dip in the sparkling blue waters, but you can also surf your way down one of the many sand dunes, and if that's not one of the coolest Bay of Islands activities you've ever heard of then we don't know what is.
Nothing says 'Mother Nature's best work' like a waterfall, especially when you're referring to Rainbow Falls on the Kerikeri River. Just as impressive as it is beautiful, this mystical waterfall has not one, not two but three viewing platforms so you can take in this cascading body of water from multiple angles.
If those three aren't enough, you can also view the majestic waterfall from the bottom where you'll have a front-row seat to the falling water as it makes its way into the pool below or, if you don't mind getting a little wet, you can also walk behind the waterfall. Talk about a 360 experience.
4. Educate yourself at Te Ahurea
There's nothing as important as understanding the cultural significance of the land you're travelling through, and Te Ahurea is one of the best places to go to help better your knowledge. But visiting Te Ahurea is more than just an activity, it's an experience.
Promising to take you on an ancient, contemporary, and futuristic journey through time, embark on a guided tour through the former Maori village and learn about the historic significance of this area. Listen to native bird songs on your travels through the lush bushland and wander beside the serene waters of the Te Awa o Ngā Rangatira (the river of Chiefs) for memories you'll never forget.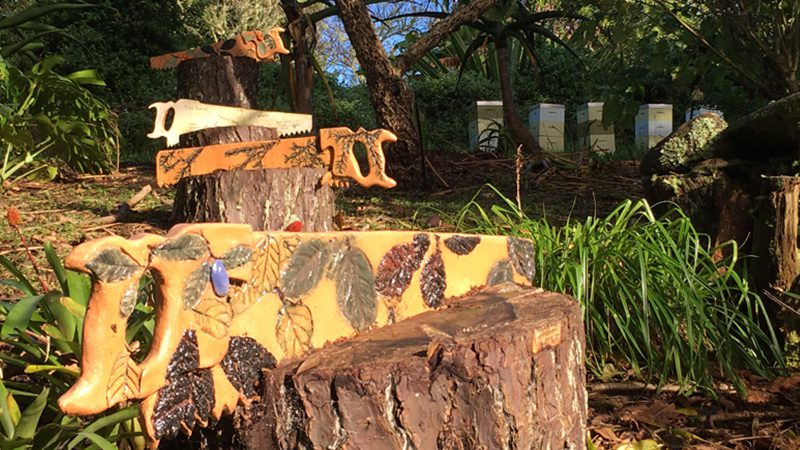 What's better than walking through a lush botanic park full of native flora and fauna? Spotting several sculptures along the way! Recognised as a 'Garden of National Significance, the Wharepuke Sculpture Park features 2 acres of subtropical garden and has art pieces scattered along a 1km trail. Perfect for both nature and art lovers, each piece of artwork tells a different story, whether that's to entertain, evoke conversation, or simply be visually appealing.
6. Peek at the glow worms in Kawiti
If you think the night sky's very own milky way is impressive then wait until you step into a cavern packed with thousands of luminous bodies for as far as the eye can see. Buried beneath the surface lies the Kawiti Glow Worm Caves, a twisting, hidden world of unusual rock formations bursting with light-filled creatures everywhere you look.
Run by the descendants of the chieftainess of the Maori tribe 'Ngati Hine' who discovered the caves in the 17th century, this underground rock network is bursting with stalactites and stalagmites and features secret chambers with glow worms close enough to touch. Breathtaking in their natural beauty, these caves are nothing short of magical.
SEE THE GLOW WORMS FOR YOURSELF ON OUR BAY OF ISLANDS ADVENTURE TOUR
7. Dive or snorkel in the waters of the Poor Knights Islands
How can you go to the Bay of Islands and not explore some islands? Besides, is there anything more satisfying than diving into crystal clear waters on a sunny day surrounded by a rugged series of islets? No, there really isn't. Dating back millions of years, the Poor Knights Islands are actually a bunch of ancient volcanoes that have been shaped by the conditions of the water, hollowed out over the years to create tunnels and interesting rock faces.
One of the most popular diving and snorkelling spots in New Zealand, the Poor Knights Islands are home to an array of fascinating marine life from several fish species to the more impressive whale shark. Swim your way over 800 metres of protected marine reserve for a truly unforgettable experience under the sea.
8. Slip into the 'Hole in the Rock' on a day cruise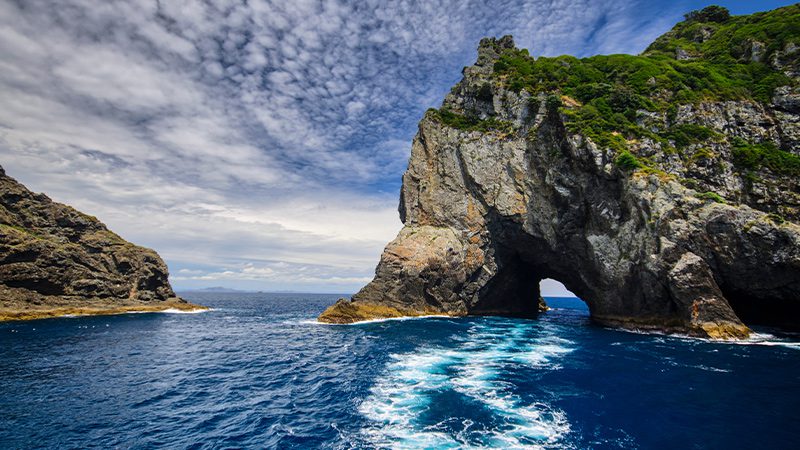 Arguably the most popular island to visit in the Bay of Islands is the 'Hole in the Rock' island and it's pretty easy to see why. Not only has it been uniquely shaped to feature a 'hole' large enough for boats to travel through, but it's also of great cultural significance to the Ngaphu iwi tribe and is considered to be Maori freehold land.
A must-do if you're visiting the islands, there are many ways of getting up close and personal with the 'Hole in the Rock' from speeding along in a jet boat or flying over it in a seaplane to taking in the majesty of this natural wonder from the roof of a boat. You might even see a dolphin or two so make sure your camera's at the ready, you're not going to want to miss this view.
9. Kayak to the impressive Haruru Falls
If you thought Rainbow Falls was impressive then you're going to love the equally beautiful, Haruru Falls. Located just 5km from Paihia, Haruru Falls is nothing short of magnificent. Living up to its name's meaning of 'big noise', this thunderous waterfall is in the shape of a horseshoe so it's wider than it is high but that doesn't mean it's lacking in epic-ness.
You can walk up to the falls via a walking track, however, if you want the full experience, why not kayak up to the cascading water? In the summer months, get right up close and personal to the base of the waterfall and feel the adrenaline rush that comes with being so close to the power of falling water. Feel the spray as the gushing water hits the pools below and absorb the magic of this breathtaking waterfall.
10. Visit the Waitangi Treaty Grounds
Continue with your journey to discover New Zealand's story by visiting the historically significant Waitangi Treaty Grounds. Featuring two museums, the Treaty House, traditional Maori waka taua (war canoes) and so much more, this cultural site is guaranteed to teach you about the commitment and sacrifice of the Maori people, as well as their spirit and connection to the land. With award-winning exhibitions to visit and native bushland to walk through, an afternoon spent here will be a truly memorable experience.
11. Day tour it to Urupukapuka Island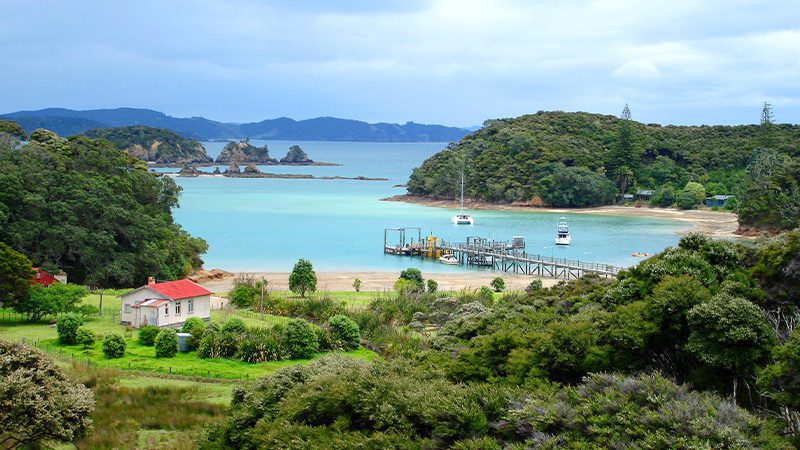 The Bay of Islands region is full of natural beauty and Urupukapuka Island is no exception. Enjoying the title as the Bay of Islands' largest island, Urupukapuka Island offers a dramatic landscape of rocky cliffs, rolling green hills, white sandy beaches, and sparkling bays filled with crystal clear waters. While there are many activities you can do on the island including snorkelling, diving, and kayaking, one of the best things to do is simply nothing.
That's right, you don't have to do anything extravagant to enjoy the beauty of this island. Take a walk through the forest and listen to the birds sing to each other. Or relax on the beach for an afternoon of quick swims and sandcastle-making. Or lay out a picnic and lounge underneath the cover of native trees. However you choose to spend your time, the memories you make on Urupukapuka Island will last a lifetime.
12. Explore the historic town of Russell
Coastal towns don't get any more picturesque than Russell, New Zealand's first-ever capital. While it might be on the small side, Russell delivers big time when it comes to historical significance. Walk around this seaside town for a couple of hours and you'll feel like you've stepped back in time with many of the original buildings from the 19th century still standing today.
Originally developed by the Europeans as a shipping town, Russell is now a delightful place full of vibrancy and charm. With various breathtaking walking trails such as the Cape Brett track and Tapeka Point and activities that are both exhilarating and relaxing, stopping off in Russell is a must.
Feeling inspired?