Burgermeister, Biergartens, a 24-hour metro, a museum that's dedicated to currywurst. These are just some of the many reasons to love Germany's capital city.
But there's no reason more compelling, in my opinion, than its vibrant street art culture.
Given the official title of 'City of Design,' Berlin's art is a narrative of its history that books don't tell, and for this reason, has to be one of my favorite European destinations.
Since the demolition of the city's most famous landmark, the Berlin Wall, graffiti has spread across the city like wildfire. But while some associate the practice with vandalism, others admire each canvas as a unique work of art. Street art may not strictly be legal, but every inch of the city breathes the same passion and flair, a must-visit for art lovers everywhere.
In case you fancy finding the very best spots for yourself, we've rounded up our favorite picks for you to bear in mind.
East Side Gallery
The East Side Gallery, which is located between the banks of the River Spree in Friedrichshain and Mühlenstrasse, can be accessed by walking from Schlesisches Tor station, or across the bridge Oberbaumbrücke if you're looking for a more scenic route.
It's the longest remaining stretch of the Wall, standing at 1316 meters long and showcases the largest selection of street art the city has to offer.
BEYOND BERLIN: 5 GERMAN STOPS TO INCLUDE ON YOUR ULTIMATE EUROTRIP
One of the most famous paintings, 'The Kiss', recreates a picture taken in 1979, on the anniversary of the founding of the Communist German Democratic Republic in East Germany. When Soviet leader, Leonid Brezhnev finished his speech, the East German President, Erich Honecker congratulated him with a kiss. After the Wall came down in 1989, Soviet artist, Dmitri Vrubel, painted this iconic image on the East Side that remained.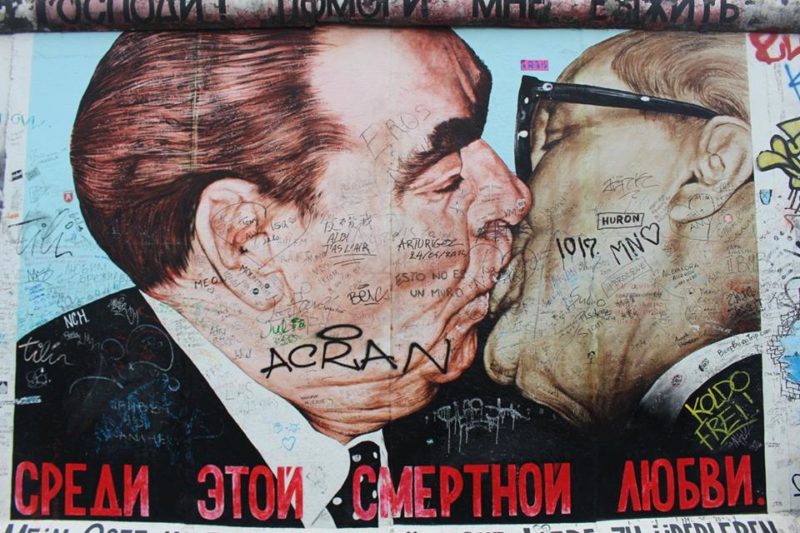 VISIT BERLIN ON THIS 8-DAY TRIP THROUGH WESTERN EUROPE & SCANDINAVIA
The East Side Gallery is also home to Thierry Noir's famous cartoon faces. Noir, an artist originally from France, was one of the forerunners of street art and began painting before a large part of the wall was destroyed. He painted the wall illegally for five years, protesting for its demolition, and was once held up by soldiers with guns after attempting to drill a metal door onto the wall.
In order to avoid arrest, Noir simplified his paintings, bringing them to life with a few bright colors, something he called the 'Fast Form Manifest'.
s
Freidrichshain's neighboring district, Kreuzberg, is a little more rugged and brazen. Although once a run-down area, it has since become home to a host of trendy European haunts. Brimming with nightclubs, street food (there's a large Turkish community) and hip galleries, it's now considered the quirky, adult playground of Berlin.
As well as being home to Checkpoint Charlie, i.e. the crossing point of the Berlin Wall between East Berlin and West Berlin during the Cold War, it is also a great spot for street art, making it extremely popular with visitors.
SUBSCRIBE TO INTREPID'S NEWSLETTER FOR TRAVEL INSPO, COMPETITIONS, GIVEAWAYS & MORE
Once enclosed on three sides by the Berlin Wall, the former West Berlin neighborhood is also home to the May Day riots tradition, which began in 1987. Rebels and punks took on police in a running battle lasting over 12 hours, looting shops and vandalizing cars. But with protests came art, making it the cultural hotspot it is today.
Victor Ash is one of the artists who has taken prominence in this part of the city.
"I like the freedom of not having a small limited space to work on," he said when I asked him about his passion for street art via an email interview.
"Working on canvas is like seeing the world through a window. Painting in a public space is about going outside of the house."
Ash first visited and painted in Berlin in 1987. His most famous piece, 'Astronaut Cosmonaut' depicts a lonely faceless astronaut floating along the side of a building. Ash said this painting illustrates his view of Berlin.
"It symbolizes the space race between the USSR and America, with Berlin in the middle," he added.
"At the same time, it can be associated with the alternative subcultures of Berlin – the punks and the junkies. That aspect is inspired by the character Major Tom in David Bowie's song Space Oddity."
But despite the sheer size of his paintings, Ash rarely uses stencils, saying he believes it's important to use his skills as a painter.
"The astronaut is painted completely by hand. I see stencil work as a mechanical process that anybody can work with, someone just needs to know how to use Photoshop and a cardboard knife to work with it," he said.
Rosenthaler Straße
Part of Berlin's Mitte district, Rosenthaler Straße is an extremely cultural part of the city. As well as being a landmark for striking architecture, it is home to a range of museums, including the Anne Frank Zentrum which has a permanent exhibition focusing on the life of Anne Frank. Also popular is the B-Flat Jazz Club, which hosts weekly free-to-watch jam sessions.
Of course, Rosenthaler Straße is best known for being covered head to toe in all forms of street art, from graffiti and paste ups to stencils and murals. Illustrious street artist El Bocho has lined the walls of this area with his Little Lucy figures.
The works of artists like D Screet and Jimmy C can also be found around the famous Otto Weidt Museum. As well as being home to an independent cinema and bookshop, the courtyard outside the Museum is filled with the artist's own creations. You'll even find work by world-famous street artists, Banksy and The London Police group here.
Follow the courtyard down some steps and you'll come to an alleyway, coined 'Dead Chicken Alley,' after artists, 'The Dead Chickens Society,' who filled it with their art. The alleyway is also home to the mysterious MonsterKabinett, a basement filled with 'monsters' crafted out of old bits of machinery. Visit to see whimsical machine creatures dance and sing for your pleasure in one of the most unique showcases of street art in the city.
GERMANY'S GRUNGE CAPITAL: WHY LEIPZIG IS THE NEW BERLIN
Schlesisches Tor
In the north-eastern corner of what was formerly West Berlin and what is now officially part of the Kreuzberg neighborhood, lies Schlesisches Tor. One of Berlin's more chic and laid-back areas, it's home to an increasing number of bars, cafes, restaurants and clubs, including the legendary Watergate Club.
As well as being a popular choice for a fun night out, Schlesisches Tor is also renowned for its striking street art. When you exit the Schlesisches Tor U Bahn station towards the Oberbaum Bridge, it's not hard to spot the numerous warehouses and industrial spaces lined with colorful graffiti.
You can also get a good view of the artwork by twin brothers, Otavio and Gustavo Pandolfo, from Schlesisches Tor station over at Oppelner Straße. Originally from Sao Paulo, Brazil, the brothers, who call themselves OSGEMEOS, are best-known for their huge murals, with the piece at Oppelner Straße titled 'Yellow Man'. The brothers have made their stamp in several cities across the world, including in Vancouver, where they transformed Granville Island's concrete silos into works of art.
What's particularly great about Schlesisches Tor is the passion its residents have for the street art here. A passion that's representative of the city. And a passion that you'll adopt when you visit Germany's capital for yourself.
Germany is a country with something for everyone. Visit it on an Intrepid small group adventure.
—
(Image credits from top to bottom: Intrepid Travel, Rebecca Shapiro x6, iStock/Nikada)
Feeling inspired?