There are few countries as diverse and dazzling to explore as the United States – there's just no doubt about it. The one potential pitfall? Tipping. It's one of those sticky etiquette issues all travelers have to face. After all, the U.S. is so big on it, and it can be intimidating if you don't know the ins and outs.
So, forget about reaching for your wallet with nervous, sweaty hands. Our guide to tipping in the U.S. will help you navigate eating out, traveling, staying in hotels, and everything else you might want to know.
Eating out in the U.S.
Trying new food and restaurants is one of the most pleasurable parts of traveling and one of the most common tipping scenarios. If you are sitting down to a meal at restaurant with wait staff, tipping will be expected. The customary tip is 15 to 20 percent of the total bill, but there is nothing stopping you from giving more or less. Americans rarely dispense with restaurant tipping entirely, but they do take into account the quality of service when determining gratuity. Feel free leave a smaller or bigger tip based on how you felt about the service.
If your mental math isn't up to much, many restaurants will include a suggested tip amount on the bill. In other words, larger dining parties won't even need to sweat the tip amount. Whatever the case, you can feel free to leave your tip on the table.
RELATED: THE 37 EXPERIENCES YOU NEED TO TRY IN 2017
Tipping is so customary in the U.S. because restaurant servers, and other people with jobs that accept tips, often depend on gratuity as the most substantial source of income. In some cases, employers are allowed to pay their employees based on "tip credit." This means servers could earn as little as $2 per hour, plus whatever they receive in tips. Under the tip credit system, employees' pay plus tips must reach the minimum wage threshold of $7.25 per hour.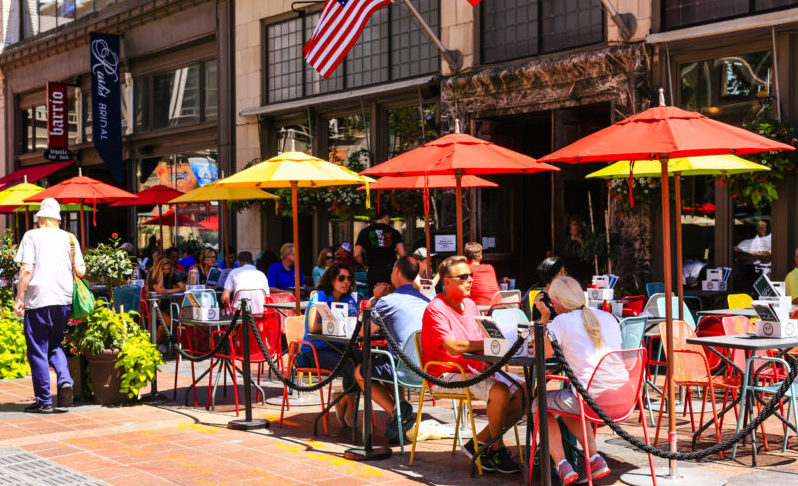 While tipping is a given in sit-down restaurants, you enter murkier waters in different types of eateries. The 15 to 20 percent rule is no longer the standard at "fast casual" spots. Some of these restaurants will have a tip jar on the counter, while others might not. Tipping is up to the diner's discretion (i.e. it'll be appreciated by staff, but you won't be judged for not leaving anything extra).
Going to a bar for drinks is different than sitting down for an entire meal, but tipping bartenders is pretty common practice. If you get a single drink, you can give just a few dollars in tip. Generally, the tip amount will correlate with how long it takes for the bartender to whip up your libation. If you get a fancy cocktail your tip will be bigger than what you'd leave for a simple beer. If you rack up a big bar tab – hey, you are on vacation after all – you can give a few dollars with each order, or you can fall back on the 15 to 20 percent of the total bill rule.
Getting around in the U.S.
If you decide to hail a cab, your driver will be expecting a tip after getting you to your destination. The standard tip for a taxi driver is 10 percent of the total fare, but this, like most tipping rules, is not set in stone. You, as the customer, can decide to give more or less based on the quality of service.
RELATED: THE TOP 10 MOST WALKABLE CITIES IN AMERICA
If you opt to take a ridesharing service like Lyft or Uber, the tipping process will be a little different. You can decide to tip your Lyft drive with cash or through the Lyft app. The amount you tip can be similar to what you'd give a cab driver. In the case of Uber, your ride is meant to be a "cashless experience." No tip is expected, but riders are welcome to offer a cash tip. This is entirely up to you.
Travelers driving themselves won't have to think about transportation tipping issues aside from valet parking. If your hotel or restaurant you're dining at offers valet service, you can tip anywhere from $2 to $5.
Most travelers will hop on a shuttle bus to or from the airport. The shuttle ride is often complimentary, whether run by a hotel or airline. In this case, tipping is entirely up to you. If the drive helps you with your bags, a dollar or two is a nice gesture. If the driver simply gets you from point A to point B, do not feel obligated to tip.

Hotel stays in the U.S.
When you first arrive at your hotel, a porter or bellhop might be ready to help you carry your bags up to your room. A dollar or two per bag is a good rule of thumb to follow. At the front desk – most likely at a luxury hotel – you might engage the services of the concierge. A concierge can secure tickets for a local show or book dinner reservations for you. Depending on how much the concierge does, you can tip up to $10.
Hungry travelers might want to indulge in room service. Don't worry about any special calculations or rules. Just take a look at your order total and tip 15 to 20 percent, as you would for a meal at a sit-down restaurant.
Hotel breakfast buffets work a little differently than your typical sit-down dining experience. You'll be getting up and serving yourself, while the staff generally clears your table. In this case, you can determine your tip based on the level of service. A few dollars per person helping clear your table is standard, while you can leave 15 to 20 percent of your bill total if you thought the staff went above and beyond.
Hotel cleaning staff will change your bedding and tidy up your room during each day of your stay, unless you specify otherwise. Each day, leave a few dollars on your nightstand. It might seem easier to leave a single tip at the end of your stay, but someone different is probably attending to your room each day.
SUBSCRIBE TO OUR NEWSLETTER FOR GIVEAWAYS, STORIES, COMPETITIONS, NEWS & MORE
Taking tours in the U.S.
Joining tour groups is a great way to explore a new area – and we might be biased, but we think Intrepid's array of trips are the best way to get a local experience in the U.S. In terms of tipping our fantastic tour guides, our trip notes always have recommended tipping amounts. But expect to tip them something like $3-10 per day – their expertise is worth it!
If you go for a bus tour, you can offer your guide a tip worth 10 to 20 percent the total cost of the tour. You can also offer the driver gratuity; a dollar or two is considered perfectly acceptable.
The question of tipping becomes a little trickier when you're dealing with a free service; there's no bill to use as reference. In the case of a free walking tour, you can tip based on the number of people in your party or the length of the tour. $5 per person or $10 per hour is a good tip baseline for these types of tours, but you can always adjust your tip amount based on how knowledgeable your guide is.
Looking for a day tour? Check out Intrepid's sister company: Urban Adventures. There's a ton of tours in the U.S.!
The U.S. is known for its beautiful national parks system. Travelers from all over the world explore the diverse geography and wildlife of America through its national parks, which are patrolled by park rangers. Rangers can offer you advice and tell you about the park, but this is one place you can rest easy about tipping. National park rangers are employees of the federal government, and they legally cannot expect tips.
Fancy sailing through the stunning Florida Keys? This beautiful 7-day trip is for you.
As you've probably surmised, there are some customary starting points, but tipping is largely an exercise in customer choice. Our guide is a great way to help you acclimate to American tipping culture, but it is by no means the law of the land. Tipping etiquette varies widely across activities and regions.
When in doubt about the amount, don't be afraid to talk to a local and ask (it will be a bigger gaffe to leave no tip or too little than it is to just ask). In fact, asking a local is pretty good advice for travel in general. That's why all Intrepid's tour guides are locals, and why they're so passionate about giving you the local experience!
Now that you know how to tip, it's time for an adventure. Check out our range of small group tours in America.

Image Credits (top to bottom): Intrepid Travel x2, iStock, Intrepid Travel, iStock x2, Intrepid Travel x2
Feeling inspired?