Thinking of booking a once-in-a-lifetime adventure, but fears holding you back?
We get it. And we think it's worth considering travel via small group tour. Travel Intrepid Travel-style.
On our trips, the safety of our passengers, leaders and operators is a top priority. We ensures all reasonable precautions are taken, from giving every local leader a medical kit, to ensuring life jackets are worn during water activities, to keeping in constant contact with our on-the-ground operators for up-to-date safety information.
We could reassure you about this all until we're blue in the face, but we think it'd make more sense to let our travelers tell you themselves. So, here's 10 Intrepid travelers from North America, and why they felt safe on their Intrepid Travel trips:
Sally, 28, LA
Trip: Turkey Encompassed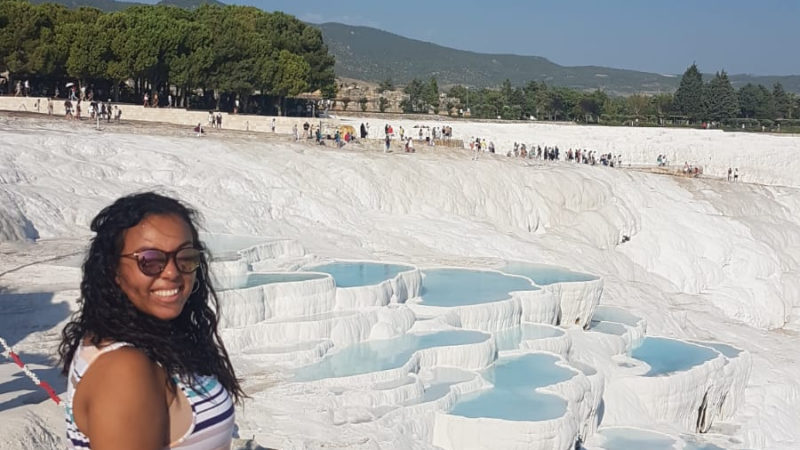 "I've taken three trips with Intrepid, always as a solo traveler. It's so nice have a local leader who knows the destination inside and out. Not only does this mean I'm never concerned for my safety, but it also means I can have amazing local experiences that I might not be able to do on my own. One memorable example was when my group stopped at a small local rest stop for gozleme when I was in Turkey. The family-run "restaurant" had no name but it was one of the best meals I had in Turkey. If I wasn't with a guide who knew about this place, I would have never found it on my own."
READ MORE ABOUT SALLY'S EXPERIENCE BEING SOLO ON A GROUP TOUR IN TURKEY
Mia, 37, Houston
Trip: Egypt Experience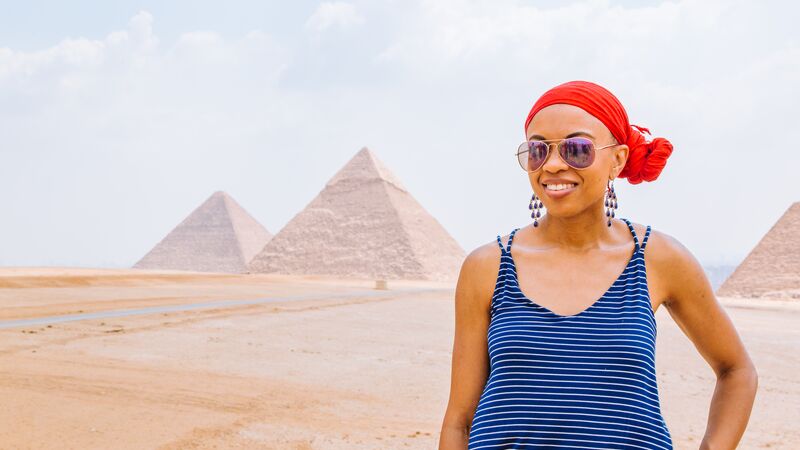 "As a woman, counselor and small business owner, physical and mental safety is extremely important to me. Intrepid's attention to detail on safety measures, amazing staff and ability to track other conscious travelers made my trips to both Cuba and Egypt feel extremely safe. If you follow the detailed itinerary and guidelines for going solo on your free time, you have absolutely nothing to worry about it and can enjoy your travel with peace of mind."
READ MORE ABOUT MIA'S TRIP TO CUBA WITH INTREPID TRAVEL
Ryan, 33, Toronto
Trip: South Africa's Garden Route Adventure
"Intrepid puts safety first. 100%. I've been on eight adventures with Intrepid thus far, and every time, in every far-off corner of the world, I feel safe with Intrepid. From the local guides to the drivers to the cooks, safety is numero uno, and it shows."
READ ABOUT ONE OF RYAN'S MOST UNIQUE ADVENTURES WITH INTREPID TRAVEL
Rachel Chang, 41, New York
Trip: Galapagos Encounter
"My first ever completely solo trip was with Intrepid Travel to the Galapagos. After researching all my choices, I was instinctively drawn to the itinerary, price point, and responsible nature of the Intrepid trip. What I didn't expect was the level and care every single customer rep gave me during the booking process (and I'm very indecisive, so that was many emails and calls!). But it always seemed like I was speaking to old friends who were helping me plan a trip… I even got to know some of them well by name. And that was before even getting on the plane.
But when I landed in Quito, all my worst solo travel fears came true. I was on a foreign continent where I didn't speak the language… and my luggage didn't arrive. I started using every possible means I could think of – and the one person I was able to reach? Someone on the other end of the Intrepid Travel Twitter! I immediately felt taken care of. Thanks to her help, I was able to get to the hotel, where my tour guide came out in the middle of the night and met me with a duffel bag and four Intrepid t-shirts!
When I met the group the next morning, everyone was so sympathetic, lending me all the items I needed. And when we arrived back from the Galapagos, what was waiting for me? My suitcase! The Intrepid rep in town had gone to the airport EVERY. SINGLE. DAY. until he got it. If that's not being taken care of, I don't know what is!
Since then, I've also traveled to Cuba and Australia with Intrepid Travel, always feeling taken care of every step of the way!"
READ MORE ABOUT RACHEL'S TRIP TO THE GALAPAGOS WITH INTREPID TRAVEL
April, 30, LA
Trip: Discover Israel & the Palestinian Territories
"I've traveled with Intrepid Travel to India, Turkey, Israel, Nicaragua and more in the past three years. There was not one time where I felt my safety was jeopardized on any of these trips due to the experience, knowledge and savviness each of our local leaders possessed. Being able to link up with fellow solo travelers in the group also made exploring each place more convenient when it came to sharing costs of taxis, etc. and also a lot more fun as we were sharing these experiences together!"
READ MORE ABOUT WHY APRIL TRAVELS WITH INTREPID
Norbert, 35, New York
Trip: Iran Adventure
"I traveled to Iran with Intrepid Travel, and I'm positive my experience couldn't have been any better. Intrepid Travel, and especially our guide, Nadia, made sure that everything on the trip flowed smoothly and safely. Nadia was a rockstar tour leader because she knew how to give us the best adventure possible, how to stay integrated in their culture, and how to help us interact with locals in a safe and respectful way. Iran may present certain travel logistic challenges for some nationalities, but Intrepid Travel helped each one on my tour group get their visas in order as well as other trip details, no matter their country of origin."
READ MORE ABOUT NORBERT'S TRIP TO IRAN AS AN AMERICAN
Alison, 68, Vancouver
Trip: China Experience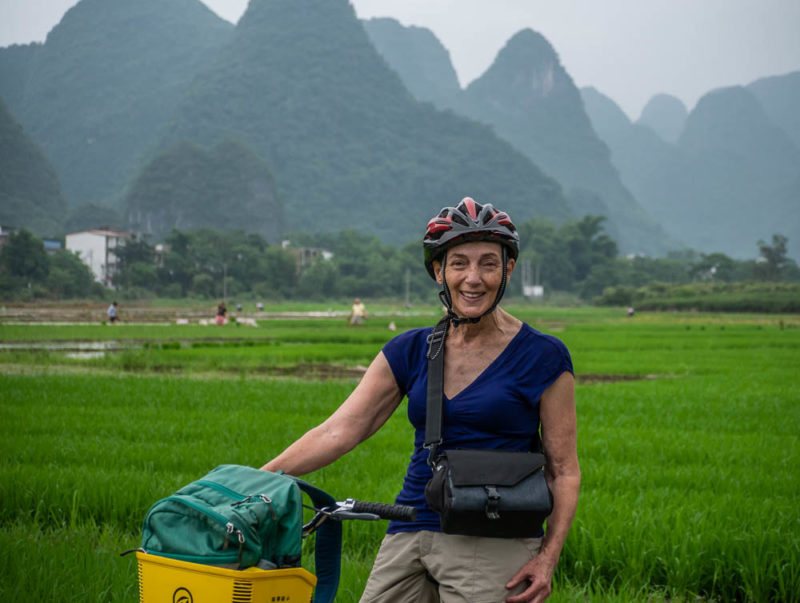 "I did a small-group tour with Intrepid, three weeks travelling solo in China, and I always felt safe, it never occurred to me not to. The group bonded and we all took care of each other, and our fabulous guide Peter held us all in a big protective cocoon taking care of all the travel details and translating for us whenever we needed it. I don't know how we'd have managed the trains without Peter; he took care of all the details and always made sure all of us were at the right station, platform, carriage, and seat."
READ MORE ABOUT ALISON'S TRIP TO CHINA WITH INTREPID TRAVEL
Chris, 29, Toronto
Trip: Delhi to Kathmandu
"I personally travelled across India and Nepal with Intrepid, and I felt safe because our local leader, Chime, knew the itinerary and both countries like the back of her hand. No matter how much reading and preparation you do, there are things that you cannot understand about a country until you get there, so I personally loved having someone that I could ask unlimited questions to as I knew for sure that she did understand both nations extraordinarily well, which aided me in my own understanding."
READ MORE ABOUT CHRIS' TRIP TO INDIA AND NEPAL WITH INTREPID TRAVEL
Jess, 40s, New York
Trip: Trek Jordan
"When my husband and I told friends and family of our plans to go trekking in Jordan, many expressed worries about our safety. When we arrived in the country, met our ace tour leader and began interacting with the incredibly welcoming locals, any anxieties melted away with the desert sun, leaving us free and unburdened to immerse fully in the beautiful culture."
READ MORE ABOUT JESS' FIRST EVER GROUP TOUR
Amber, 28, Denver
Trip: Essential Egypt
"The prospect of traveling Egypt alone had always intimidated me and, as a result, I kept pushing it off. When I finally decided to do the trip on a small group tour instead, my fears faded away. Besides the relief of being able to leave all of the logistics to Intrepid, I had access to a local guide who spoke the language and a group of similarly-aged travel companions to share the experience with. It made for a much richer, smoother experience than I would have likely experienced had I gone it alone."
READ MORE ABOUT AMBER'S FIRST EVER GROUP TOUR
—
Ready to take the plunge and conquer the world? Intrepid's top trips and destinations are calling your name.
Still want to read more about safety on our trips? Check out these safety guidelines.
—
(NOTE: All of the above adventurers are also Intrepid Travel blog contributors and writers/ photographers. To learn more about their travels, check out their personal blogs. Sally can be found at passportandplates.com, Ryan at ryan-bolton.com, April at alovecreative.com, Norbert at globotreks.com, Alison at alisonanddon.com, Chris at travelingmitch.com, Jess at lighttraveling.org, and Amber at amberdunlap.com.)
Feeling inspired?