The very thought of it was terrifyingly isolating. An island chain in the middle of the Pacific Ocean — 3,000 miles away from the closest person I knew.
But ever since I learned about the "funny" animals in the otherworldly setting of the Galapagos Islands as a kid, I had to see them with my own eyes.
As I talked about going there with friends and family, no one shared that same spark I had about the destination, so I decided to take my first real solo trip there. And I signed up for Intrepid Travel's 6-day Galapagos Encounter trip.
Sure, I had tacked days onto business trips or taken the occasional city jaunt as part of a bigger trip on my own, but this was different. This was an entire trip to a country I'd never been, where I didn't speak the language, and didn't know a soul.
I read the itinerary and trip notes backwards and forwards dozens of times, making sure I packed for any scenario that came up: Motion sickness medication for my seasickness since we'd be on a catamaran, a rashguard to shield me from my (admittedly irrational) fear of fish while snorkeling, and even a bag of dried cranberries – like a friend suggested – so I'd have a little taste of Thanksgiving since I'd be gone for the holiday.
With every possible supply I'd need zipped up and placed perfectly in my suitcase, I set off on the adventure. I knew I should be confident, but my pesky fears kept creeping up. The last thing I needed to pack was the most important: A brave face.
HERE'S WHAT ELSE TO PACK FOR A TRIP TO THE GALAPAGOS ISLANDS
Fear #1: Seasickness
As much as I wanted to love the open sea growing up, I was always plagued with seasickness. From a ferry ride back from California's Catalina Island to a week-long Alaska cruise, my most vivid memories are a blur of taking deep breaths on open decks – fighting off that feeling of nausea.
So the very fact I even signed up for a boat-based trip was already making my head spin. But I knew it was the best way to experience the islands, so I bought everything I could find to combat the seasickness: a Sea-Band wristband, two kinds of Dramamine, and a natural remedy that my mom (who shares the same ailment) recommended, Hyland's Motion Sickness. Plus I learned the waters were supposedly calmer this time of year. All good things.
As we boarded the Queen Beatriz the first day from Isla San Cristobal, I was feeling strong. I even thought to myself that maybe this was all in my head!
SUBSCRIBE TO INTREPID'S NEWSLETTER FOR TRAVEL STORIES, COMPETITIONS, GIVEAWAYS & MORE
But by the second day, I realized it was real. We had been dropped off in open waters off of Isla Bartolome to snorkel through an area filled with active marine life, including penguins! I was fine at first, but then a sinking feeling in my stomach started developing. I mentally imagined it wasn't there, but it kept coming back.
About a mile out was solid ground — probably my only chance to rest before getting back on the catamaran. So after seeing a penguin (thanks to my guide for pulling me over to make sure I did!), I headed to land and rested for as long as I could.
Feeling refreshed, I shrugged it off as a quick bout. But the next night at dinner, that icky feeling crept back. I excused myself from the table and went to lay down in the room. It helped, at first. But next thing I knew, I was crouched over the toilet. And then a garbage can. And then another garbage can.
It was not pretty. This was, by far, the worst my seasickness had ever gotten. I kept apologizing to my roommate, Natalie. But she couldn't have been more supportive, telling me to stop apologizing and helping me out in ways I'm not sure I would have with someone I had just met a few days ago.
With that, I realized we were all on an adventure together, and even if I had a slight handicap, nothing was going to ruin the spectacular sail through these islands. While my fear came true, I realized the embarrassment factor was all imagined. It was all worth it to swim alongside the unique wildlife… which leads into another of my fears…
READ MORE: WHY THE BEST TRAVELS HAPPEN WHEN YOU FACE YOUR FEARS
Fear #2: Fish
During a family trip to Hawaii as a kid, my dad's friend who was a tour guide, took us to a beach and told me to go into the water and open my eyes for a surprise. Minutes later, I came running out of the waves screaming as if I'd seen a shark. Nope, nothing scary was in the water, just beautiful schools of fish – something I've had a weird fear of all my life.
There's no rationale for it. I used to fear goldfish sneaking into my ham sandwiches and check every few bites to make sure they hadn't. Bizzare, I know. When betta fish were all the rage as an office desktop accessory, a coworker asked if I had sought therapy for my fish-phobia (apparently called ichthyophobia!), but I told him it wasn't really holding me back in life… until now.
Half the beauty of the Galapagos wildlife was under the sea, so multiple snorkeling opportunities came up a day. Every single person in my group jumped right in every time, so of course, I felt obligated to as well.
Thankfully, there were full-body wetsuits on board, which felt like an extra layer of protection against my imaginary fear of the fish touching me. That helped.
So I jumped in, armed with the underwater camera I bought specifically for the trip – and was immediately mesmerized. It literally looked like the world from the Little Mermaid come to life… or at least something Disney made up at a theme park. To think this was all Mother Nature's work was mind-boggling.
READ MORE: WHAT I WISH I KNEW BEFORE MY GROUP TOUR OF THE GALAPAGOS ISLANDS
Yes, there were fish – hundreds of them! But behind my camera lens and mask, I felt invincible, swimming toward them without hesitation.
When there were moments that I felt they were too close, I simply swam to the top. What I couldn't see didn't hurt me. And if they did come close, I couldn't really feel them in my wetsuit.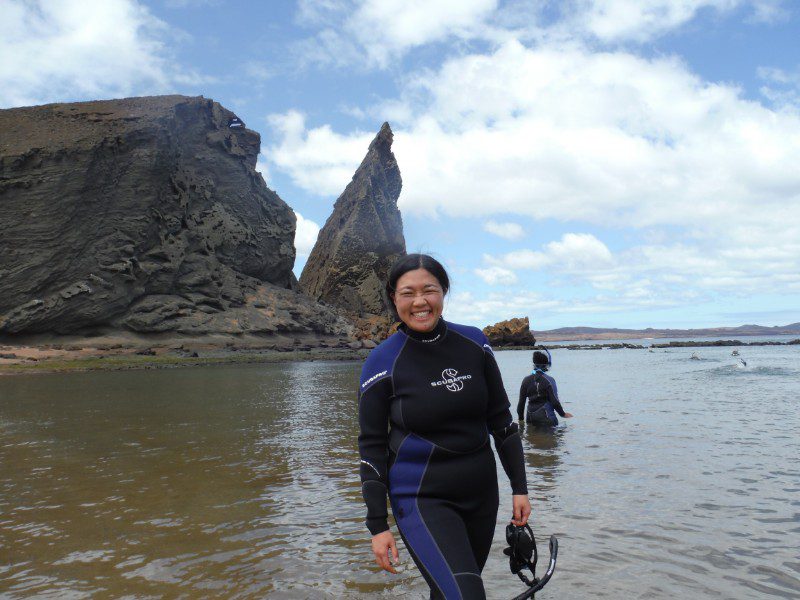 It was a world unlike anything I'd seen before, and something I would have totally missed out on if I hadn't just jumped in head first—literally.
Fear #3: Lost luggage
Whenever I'm standing at a luggage carousel, I always feel like I'm waiting to see if I hit the jackpot on a slot machine. Will I "win" this time? Will my luggage appear?
My biggest fear of all came true when my luggage didn't show up at the Quito airport when I landed for the Galapagos trip. After hours spent in the airport, trying to understand the situation in a foreign language, I finally left with only my carry-on bag. I picked up some overpriced essentials at the one store across from the airport that was still open and headed into the city.
READ THE STORY OF RACHEL'S LOST LUGGAGE IN THE HUFFINGTON POST
I had missed our welcome meeting and was trying to figure out the travel insurance for lost luggage in the hotel restaurant, when the receptionist said I had a phone call. Who even knew I was here?
It turned out it was my Intrepid leader asking what my shirt size was. An hour later, he showed up – well past his working hours I'm sure! – with an empty duffle bag and four Intrepid t-shirts for me to wear.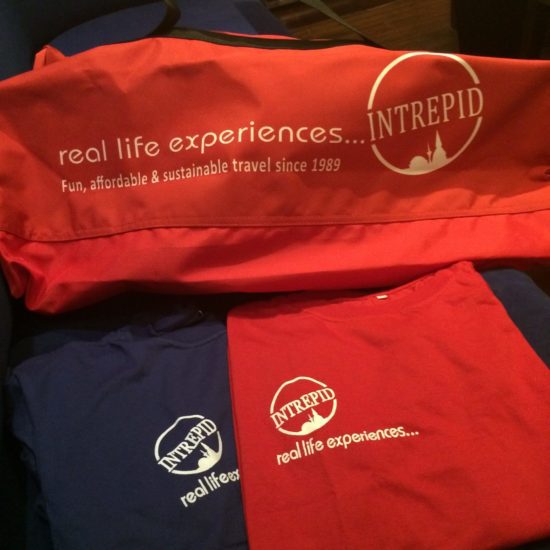 The next morning, I met my group and everyone started asking me what I needed! Before I knew it, I was being offered toothpaste, sunscreen, and even spare swimsuits! A few hours into our journey, one gentleman asked me what else I was missing. "A bra and underwear," I admitted. "Good thing, I can't help you there," he said, as the group burst into laughter.
After a whole night of anxiety, it was good to have a laugh with strangers, who I knew were about to become friends. Along the way, they helped me find socks at an airport kiosk and shorts at a tourist shop. Before I knew it, I had everything I needed. And I realized that I really didn't need as much as I thought!
WHAT YOU DO NEED TO KNOW: AN ETIQUETTE GUIDE TO THE GALAPAGOS ISLANDS
But most importantly, I had let go of all my fears and actually was able to enjoy the trip.
When we returned from the Galapagos back to Quito, my luggage stood waiting for me in the hotel lobby. While we were out enjoying life among the tortoises, iguanas, penguins, blue-footed boobies, fur seals, and Sally Lightfoot crabs, the Intrepid rep in Ecuador had gone to the airport every single day until he got my suitcase.
READ MORE: WHY THE LOCALS WERE A HIGHLIGHT OF MY TRIP TO THE GALAPAGOS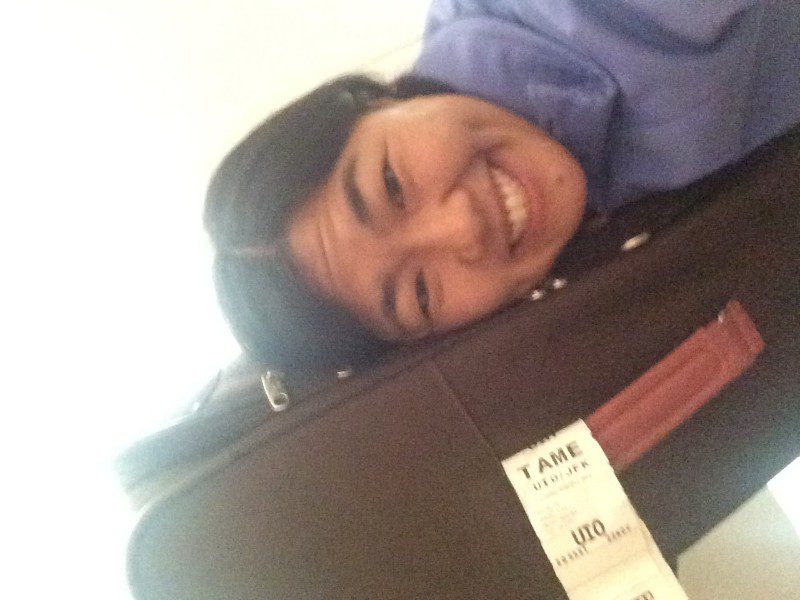 I opened it up and found my dried cranberries. It was the day before Thanksgiving – but the thing I was most thankful for wasn't getting my suitcase back.
It was for a spectacular adventure in a place I'd always dreamed of… without a single fear weighing me down.
Ready to embrace the unknown and visit the Galapagos Islands? Check out Intrepid's range of small group tours there.
—
(All images taken by Rachel Chang on Intrepid's Galapagos Encounter trip.)
Feeling inspired?