I stared at myself in the bathroom mirror, pressing the palm of my hand against my right eye. Distracted by what the day would bring, I'd basically jabbed myself in the eye trying to put in my contact lenses. The result? My right eye was blood red, swollen, and streaming with tears.
'Great'. I thought to myself 'now I look like an ogre'. A quick glance at the time told me I had about 30 minutes to get myself together before I threw myself into what could potentially be an incredibly uncomfortable situation: a group tour.
After 57 countries and nearly 8 years of travel, I was joining my first ever real group trip: a sailing trip through the Greek islands with Intrepid Travel. I'd done a couple small group trips before; a Sahara Desert tour in Morocco and a 3-day adventure through Jordan. But, this was different. This was 10 days with 11 complete strangers on a sailboat. A small sailboat with limited space where I'd share a tiny room with a random person I didn't know anything about.
I'd be lying if I said I wasn't nervous.
I had a million thoughts racing through my head as I finished packing. What if the group was all couples? What if it was a bunch of cliquey girls who didn't want to make new friends? Or a bunch of frat boys? Oh, god. What if it was a bunch of old people? Or, worse, 19-year-olds fresh from their first year at uni who just wanted to get drunk and party all the time?
READ MORE: EVERYTHING YOU NEED TO KNOW ABOUT SAILING WITH INTREPID
My over-active imagination had processed every possibility there was until I transformed from a strong, independent female traveller to a nervous wreck who felt like the new kid at school. It sounds silly, but I'd been so used to travelling alone and realizing I can do what I wanted, when I wanted, with who I wanted that the prospect of literally being trapped on the ocean for hours of each day with a group of strangers made me fell, well, kind of seasick. To the point where I actually made an escape plan. Yes, I had an escape plan. After all, I only had two small bags with me and I knew how the ferries worked. So, if worse came to worse and I was miserable, I told myself I could just bail on one of the islands and do my own thing.
Contact re-inserted (but still red-eyed) I flipped my sunglasses over my face and headed downstairs to meet the group. The itinerary said to meet at 11am but I planned to arrive 20 minutes early, hoping to be the first one so I could scope out the others. Yet as I approached the table with the red and white Intrepid sign I was greeted by name.
"You must be Hannah?"
"Yes." I answered, "how did you know."
"You're the last one."
And that was when all my expectations went out the window.
Our group of 11 consisted of 3 couples, 4 single females, and our skipper; a local Greek man named George.
CHECK OUT ALL OF INTREPID TRAVEL'S SAILING TRIPS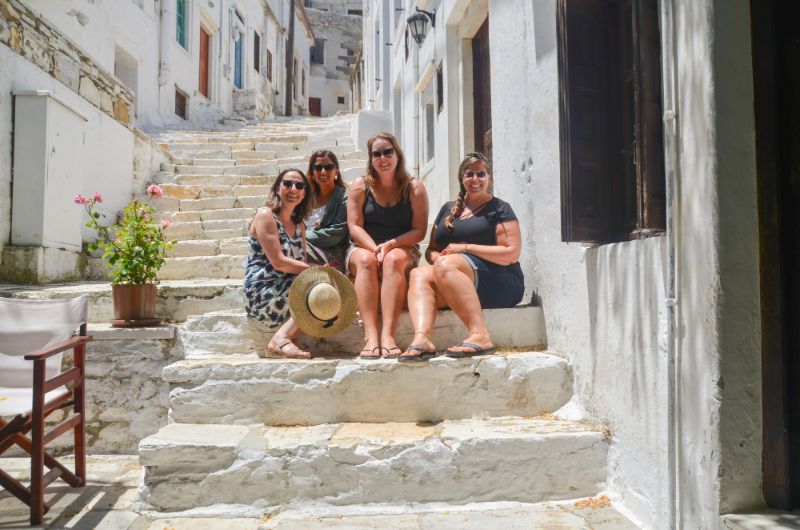 Ages ranged from 25 to 60s and, as we made our introductions and talked a little about ourselves, I quickly learned that I was the only one who had never been on an Intrepid Travel tour before. I listened as the others shared stories about boat rides in Italy and plane wrecks in Iceland, hiking the Inca Trail, and travelling overland through Africa, and my perspective began to change. These weren't newbies who needed their hands held every step of the way, they were experienced travellers who had a hunger for adventure, just like I did. And, despite the fact that we were still strangers (and I had already forgotten half of their names) I felt a little bit of my original apprehension disappear.
BUSY WORKAHOLIC? HERE'S WHY A SAILING TRIP MIGHT BE WHAT YOU NEED
As you can imagine, life on a sailboat is pretty, well, personal. It didn't take long for me to figure out people's routines; who'd get up early in the morning and who slept in. Who liked to chat and who was happier listening in or reading as we sailed through the crystal clear waters of the Aegean Sea.
Of course, they figured me out pretty quickly too; the sarcastic, clumsy girl who knocked over wine glasses and broke door handles just by touching them. As the first one in at most swim stops, I was the unofficial water temperature tester and maybe a tiny bit of a rule breaker when it came to staying close to the boat (sorry, George!). Despite my chaos, I think the group did a good job at understanding and accepting my kind of crazy. Well, most of the time. At least enough that I felt like I had bonded at least a little bit with everyone on board.
READ MORE: LIFE LESSONS I LEARNED FROM SAILING IN GREECE
11 people in such a confined space could have been awkward, but it wasn't. Again, this was a group of proper travellers and we all made it work to the point where it was actually comfortable. Having just spent 2 weeks alone, I actually liked the little sense of community that formed so quickly between us and began to think of the group as my boat family. Any thoughts I had of needing to disappear and leave the tour quickly vanished as I realized how much I actually liked these people and how much I truly loved sailing.
I've always loved boats. I grew up with a family cottage and have spent the past 4 years scuba diving around the world. But, spending half a day or more on a small sailboat was another thing I worried about, especially as someone who feels the constant need to explore when travelling. But it turns out I genuinely loved sailing. I happily spent hours scanning the waves and horizon line for sea life, spotting 'medium-sized' sea turtles (only according to George, the rest of us thought it was pretty big) and watching pods of dolphins dance and spin in the waves and under our boat. When the winds picked up and we were able to really sail, I laughed non-stop as waves crashed over the front, soaking me and leaving me covered in a glittering white salt crust.
READ MORE: WHY I'M SO GLAD I CHOSE A GROUP TOUR OF GREECE
I easily fell into the routine of early mornings. Pulling shorts and a t-shirt over my swimsuit as I waited on deck to see if George needed a hand. I had my favourite places to sit; on the front watching the waves in front of me, or on the side with my legs dangling over the edge below. Sailing was incredible and allowed me to relax in a way that I didn't expect.
Every day as our boat, The Big Blue, pulled into port I felt a mix of emotions; excitement at being able to explore a new island and sadness at leaving the sea behind. I fell in love with the boat life and honestly think I could have stayed on board for the rest of the season; awkward boat shower and all.
My 10-day Intrepid sailing tour went by far too quickly in a blur of pristine swim spots and idyllic Cycladic villages. I became a zucchini-ball enthusiast and mastic connoisseur. I stayed up late and woke up early. My skin, constantly covered in sea-spray, got darker, my long hair got more tangled, and the smile on my face grew bigger as we sailed and explored this magical part of Greece.

I've been to 57 countries, met hundreds of people, experiences dozens of sunsets, and have thousands of incredible memories. But, my Intrepid Travel Greek island sailing trip was something else. Something I will never forget. From 17-euro floral cocktails in Mykonos to dreamy chocolate-orange ice cream on Naxos. From swimming through azure-coloured sea caves and hiking up to see cliff-side monasteries.
I know that this trip will always stand out as one of my favourite travel experiences.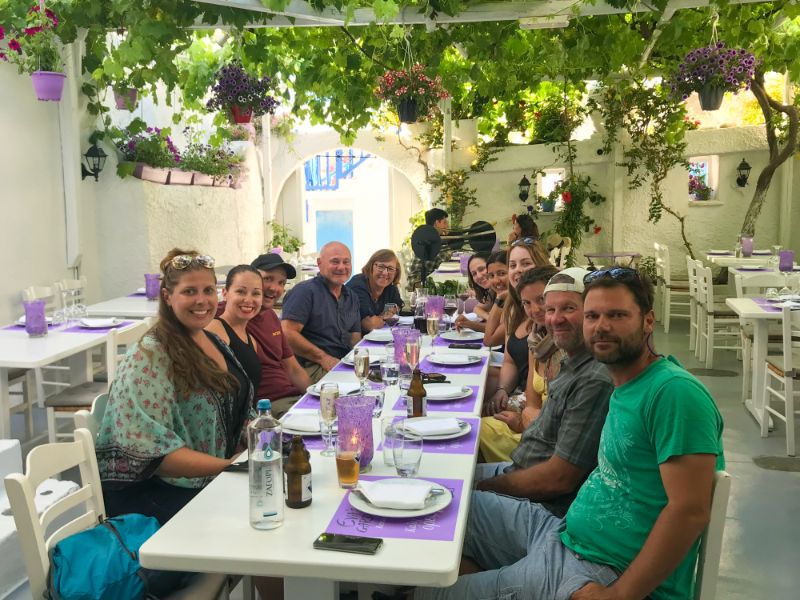 Our second last night in Greece we spent on the Big Blue, forgoing a taverna dinner for a simple meal of takeout souvlaki, 10 bottles of mystery-label Greek wine, and a homemade jug of tsipouro. Sitting under the stars, we shared jokes, stories, and memories both old and new. It was our simplest night, but also my favourite. Because there, as I watched my shipmates laugh, half-empty glasses of wine in hand, I finally got it. I got the Intrepid Travel allure; the ability to create an adventure with like-minded people and to explore the world ethically and responsibly.
The balance of having time to spend with others while also having the freedom to explore on your own. As an independent solo traveller who often finds herself craving company, I understand that these tours offered the perfect compromise. And at that moment I realized that I too was now a part of it – a part of the Intrepid Travel family.
Ready to embrace the bliss of sailing with Intrepid Travel? Check out all sailing group tours.
—
(All images courtesy of author Hannah Logan and taken on her Greece Sailing Adventure.)
Feeling inspired?