For many – including myself – the Galapagos Islands are the trip of a lifetime.
It's a destination we dream of seeing in person. In our dreams everything is perfect and heavy influenced by the Nat Geo lens. We rarely imagine the reality of what a visit to this iconic location entails.
This can often leave us (or just me?!) unprepared for some aspects of island life. And, let's admit, kind of kicking ourselves in the pants for not thinking about them before the trip.
Here are the top 7 things I wish I knew before my Galapagos Venture trip to the Galapagos:
I wish I wouldn't have been so nervous
I'm not afraid to admit that leading up to my trip… well, I was scared. This was my longest, farthest, and the most remote solo trip I have ever done, and my nerves nearly got the better of me. Luckily I made my flight, and upon exiting the airport, every fear I had was replaced with excitement, curiosity, and joy in its purest form. I went from airport freak-out to frolicking through Ecuadorian streets almost instantly.
READ MORE ABOUT MY FIRST SOLO TRIP: THE GALAPAGOS WITH INTREPID
I wish I knew to leave my cute clothes at home
Okay, look, while I'm no travel rookie, I am somewhat new to travel that centers so much on outdoorsy activities. My carefully-packed dresses, skirts, and blouses were not precisely the right fit once we began hiking volcanoes and searching for giant tortoises. (Read more: Intrepid's ultimate Galapagos Islands packing guide.)
Let's just say I'm happy I slightly over-packed for the tour. My cargo shorts, tanks, and athletic pants were the real MVPs of the trip.
VISIT THE GALAPAGOS ISLANDS ON A SMALL GROUP TOUR WITH INTREPID
I wish I knew to expect limited resources
"Hey, so there is no more chicken on the island, will tuna work for your lunch tomorrow?" This is a real question my guide asked me the night before our volcano hike.
Beach bars running low on fresh water (waiting for the next shipment from the mainland), islands without ATMs, and little to no internet access are all things to expect on a trip to this archipelago. Part of the charm of the Galapagos is the untouched, unspoiled, preservation of wildlife. It's what makes the region so unique – but be wary of a few trade-offs.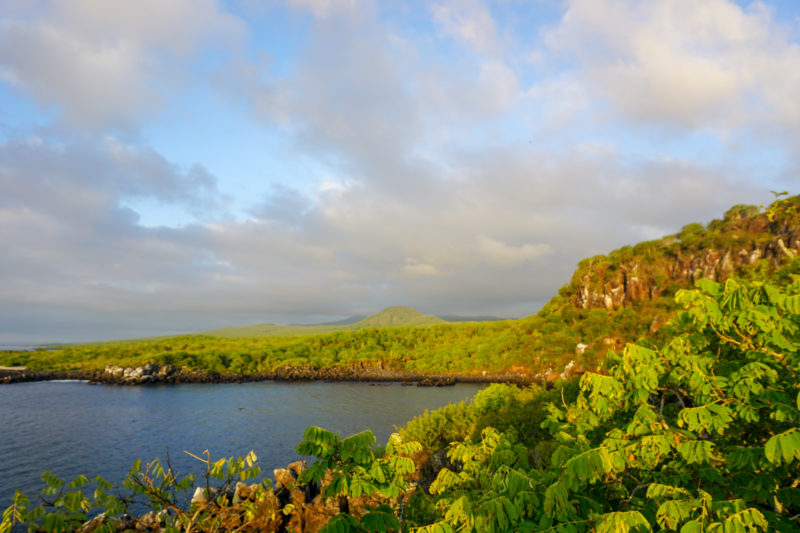 READ MORE: 7 WAYS TO TRAVEL RESPONSIBLY IN THE GALAPAGOS ISLANDS
I wish I brought a hat, sunscreen, and bug spray
I say this with the utmost importance: bring a hat, sunscreen, and bug spray. I thought I would be fine with my modest travel-sized rations of bug spray and a cute scarf to protect my face when the sun got a bit warm. Zoom in on my sunburn and bug bites, it was NOT enough. My first clue was when I saw locals walking the streets with umbrellas and baseball caps.
Remember that the Galapagos Islands are located directly on the equator, making the sun rays some of the most powerful on Earth. Do yourself a favor and check your bag, double up on sunscreen, and buy two hats. As for bug spray, all I have to say is saltwater-loving horse flies and vicious mosquitoes… 'nuff said. Luckily, I was able to stock up on all these goodies on one of the islands, and they quickly became one of my most vital investments.
SUBSCRIBE TO INTREPID'S NEWSLETTER FOR TRAVEL TIPS, COMPETITIONS, GIVEAWAYS & MORE
I wish I had done more research on the wildlife
I grew up in the United States and went to public school. Here, we all receive the same lesson about Charles Darwin's discovery of evolution on the Galapagos Islands.
If you were lucky, you might have also watched a Nat Geo documentary in class for a week (and remember giggling about blue-footed boobies). Well, this was all the information I had on the wildlife. It was a bit intentional – I wanted to let the islands surprise me. And they did not disappoint.
Our tour guides were incredible and extremely knowledgeable about the creatures and plant life. However, armed with such little knowledge, exploring more on my own was not as enjoyable.
SEE INFOGRAPHIC: THE BEST (AND WORST) TIMES TO VISIT THE GALAPAGOS ISLANDS
I wish I knew how friendly the locals would be
To me, the locals are the unsung heroes of these incredible islands. Every hotel host makes you feel like family, every ferry driver teaches you about the boats, every person on the sidewalk has a smile. The people of the Galapagos were arguably the best part of my trip. Each is an eco warrior in their own right and each has a unique story to tell.
READ MORE: WHY THE LOCALS WERE A HIGHLIGHT OF MY GALAPAGOS TRIP
I wish I knew to expect nothing and everything
I went on this trip with expectations set at normal, and that's exactly how you should approach a visit to these magical islands. Each island, each day has something different to offer at any given moment. Our guide Juan said to us, "This is not a zoo." He's spot on, and there is no way we could have predicted that sea lions would be in the bay we snorkeled in or that the sharks would be hiding on our boat trip to Kicker Rock.
In the Galapagos, there are no promises of seeing blue-footed boobies or rare finches but what you are guaranteed is a one-of-a kind adventure with nature.
Ready for a wildlife-filled adventure? Check out Intrepid's range of small group trips to the Galapagos.
—
(Image credits from top to bottom: Giela Thornton x4, Intrepid Travel x2.)
Feeling inspired?