Intrepid wouldn't be Intrepid without our leaders. They are at the heart of everything we do, always going the extra mile (literally and figuratively) to ensure travellers have positive, immersive and enlightening experiences on the road.
This year, three of our incredible leaders have been shortlisted for the Wanderlust World Guide Awards, a prestigious event run by UK-based magazine Wanderlust, that recognises top guiding talent within the travel industry.
We'd like to extend a huge thank you to all the travellers who nominated Hamid, Phurba and Sara. Read on to learn more about these fantastic finalists.
Hamid Oumezdou, Morocco
Born and raised in an Amazigh (Berber) village in Morocco's High Atlas mountains, Hamid has a particular affinity for showing visitors around this part of the country. With an average leader rating from Intrepid travellers of 4.98 out of 5, it's clear he's pretty good at it, too. This isn't his first time making the World Guide Awards nominees shortlist – back in 2015 he was recognised as highly commended among the finalists.
Whether Hamid is taking travellers into the Sahara to camp under the stars, introducing them to local families to share a homecooked meal or keeping spirits high on a trek up Mount Toubkal, he finds delight in sharing authentic insight into the Moroccan way of life – even during Ramadan. 'Guiding is my true calling,' he says. 'I love to share the knowledge and wonders of my country with visitors, while genuinely supporting local communities.'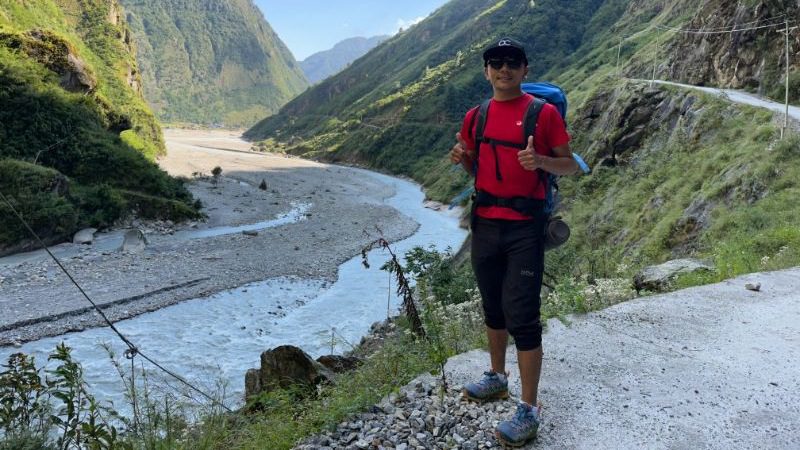 Phurba Sherpa, Nepal
Phurba Sherpa has been helping Intrepid trekkers explore the Himalayas for a decade, first as a porter and now as a trip leader. He lives and breathes these mountains, heading off on high-altitude trail runs when he's not working.
'On the very first day of a trip, I explain that the trek isn't just about reaching the destination,' Phurba says. 'It's more about creating good moments and memories along the way. In the evening, we congratulate each other and spend time learning about culture, religion and Nepal. We want to make sure visitors know Nepal is more than mountains.'
Recently, Phurba led 77-year-old Fiona from the UK on a successful Everest Base Camp ascent. 'Phurba was excellent in all respects,' she says. 'He kept us informed of each day's activities. He gave his assistant guides the opportunity to take on responsibilities that would help them become leaders in the future. He is a gifted tour leader and I am grateful to him for the quiet way in which he helped me achieve my goal.'
Sara Lamzouwaq, Morocco
Six years ago, Intrepid successfully lobbied the Moroccan government to include more women in the government-regulated tour guide licensing program. We also scouted and sponsored talented local women to pursue this career path, as part of our commitment to supporting gender equality in Morocco.
One of those women was Sara Lamzouwaq. In 2017, when she was running cooking classes in Marrakech for Intrepid travellers, we realised she had serious leader potential. With Intrepid's encouragement, Sara got her guiding license in 2018 and started leading trips throughout Morocco, quickly becoming one of our most highly rated leaders. While she is no longer leading trips for Intrepid, Sara is a shining example of what women can achieve when given the right opportunities.  
We wish Hamid, Phurba and Sara the very best of luck! Learn more about Intrepid's locally-based leaders and sign up to attend Wanderlust's virtual awards ceremony, held on 29 June 2023 at 6:30 pm (BST).
Feeling inspired?