Intrepid will be undergoing B Corp recertification once again in 2024. But what is a B Corp, exactly, and why should travellers be looking to book with B Corp-certified operators in 2024?
Certified B Corporations are companies that look after their staff, work toward a more inclusive supply chain and take corporate social responsibility to the next level. For us, becoming a B Corp back in 2018 meant taking all the work we've already done – through both The Intrepid Foundation and our core operation – to the next level and conducting a regular extensive audit to ensure we meet the highest responsible business standards. Earlier this year, we were named among TIME Magazine's top 100 most influential companies. It was not only an incredible honour, but also recognition of all the hard work we've done to make Intrepid a force for good.
Why travel with a B Corp?
By booking your next adventure with a B Corp like Intrepid, you'll be setting yourself up for an experience that does a world of good. Here's why.
1. You'll be joining a responsible travel movement
We recognise that travel is contributing to climate change by generating emissions and we seek to minimise the environmental impact of our adventures by travelling on local transport, taking flights out where possible and offsetting every passenger's on-trip carbon emissions by purchasing carbon credits in a range of renewable energy projects around the world. And while offsetting can support investment in green energy, we've accepted that it isn't enough; now, as part of the Science-Based Tragets initiative, we're actively working to decarbonise our business to reduce the amount of carbon we produce.
In order to cut emissions, we've eliminated short-haul flights from our top 50 itineraries and replaced them with buses and trains. This not only lowers carbon emissions, but also makes for an immersive, slow-travel experience that allows you to truly appreciate the landscape you're travelling through.
2. Your next adventure will give back to the communities you visit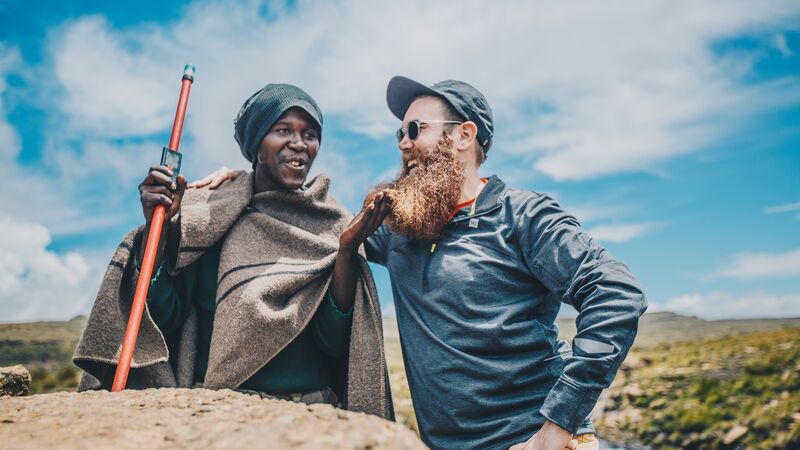 B Corps need to balance generating returns for shareholders with creating benefits for all stakeholders, and for a travel B Corp like Intrepid, those stakeholders include local communities on the ground. We design our trips to positively impact the communities hosting us, whether it's through using local transport, leaders and guides, or by connecting with local organisations doing good in the community.
We also work with our philanthropic arm, The Intrepid Foundation, to raise money for over 40 carefully selected partners across the world in the destinations we visit. Since 2002, The Intrepid Foundation has raised more than AU $14 million for over 130 partners, with Intrepid Travel absorbing all administration costs so that 100 per cent of donations can go straight to those in need.
3. You'll be empowering women
Gender equality unfortunately remains a neglected issue worldwide, but the good news is that B Corps, according to 2020 data, are 68 per cent more likely to be majority women workers than ordinary businesses, and 19 per cent more likely to have equal average compensation between non-managing men and women workers.
Intrepid works with over 2880 staff and leaders from 65 countries and we're proud to say that 60 per cent of them are women. Women are pushing for change in the travel industry, and we're working hard to create new opportunities for female leaders, guides and porters on our trips.
4. You'll be helping to champion sustainability
Becoming a B Corp is an incredibly complex process. To achieve our latest high certification score, we asked our hotel partners what practices they had in place to improve their social and environmental impacts to ensure the thousands of companies we rely on to run amazing trips all over the world are just as committed to doing good as we are. Since then, we've embedded processes to measure the environmental and social impacts of our supply chain to drive more sustainable supplier choices, like some of the makers who produce the reusable Intrepid tote bags you might get on a trip. You may not always be able to see how sustainable the travel supply chain is, but trust us when we say that after travelling with a B Corp, you'll notice when it's not.
Like it when your travel plans also give back to the world? You'll love learning more about Intrepid's B Corp journey.
Feeling inspired?