In a country where more than 80 per cent of women in rural areas can't read and write and aren't encouraged to pursue education, Intrepid's women leaders are effecting change.
There's an often unspoken but deeply felt kinship that connects the women of Morocco.
In a country where more than 80 per cent of women in rural areas can't read and write and aren't encouraged – or allowed – to pursue education, the future can feel limited and opportunities scarce. But beneath these statistics are powerful women linking arms and lifting one another up.
Zina Bencheikh is Intrepid's General Manager (GM) of Europe, the Middle East and Africa (EMEA). It's a role brimming with immense and powerful responsibility, which Zina grabs with both hands.
'I'm originally from Morocco, but travelled a lot when I was younger.' One of three daughters, Zina knows the way she was raised – by parents who believed in the importance of empowering their kids through education – is not typical for a young Moroccan woman.
From the time she joined Intrepid, in her mid-20s, Zina understood not only that her position was a unique one, but that she had a unique opportunity to celebrate the skills, creativity and hospitality of the women around her.
'We started to do a lot of work to support women in Morocco, whether it's female guides or the Women's Expedition we launched in 2018.'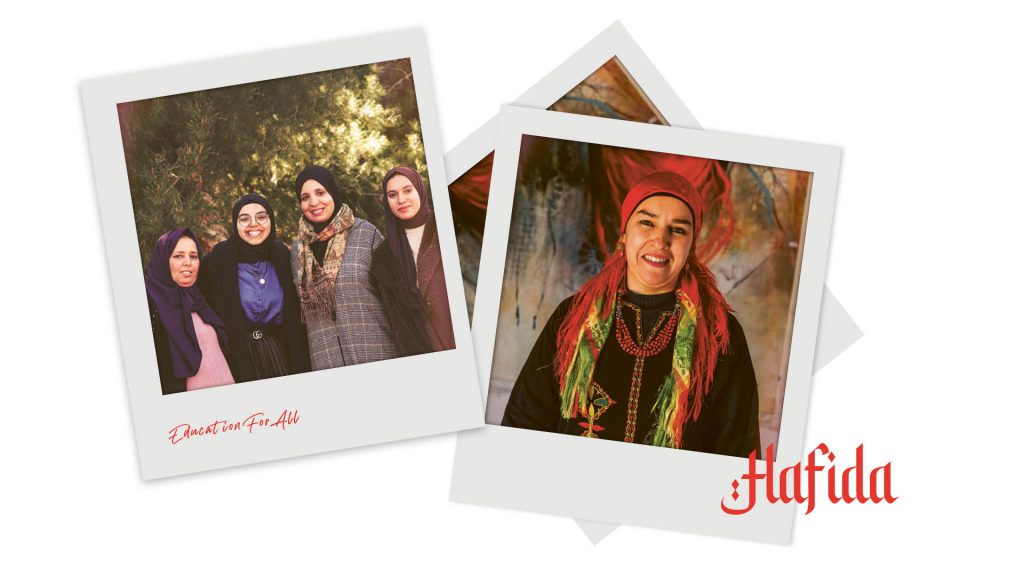 In 2017, Intrepid set the goal to double the number of female leaders worldwide by 2020. In Morocco at the time, the total number was zero – so doubling wasn't going to cut it.
'We really wanted to have as many women as possible working with us,' says Hala Benkhaldoun, Intrepid's GM of Morocco. To her, every visitor exploring the tropical gardens of Marrakech, the red soiled High Atlas Mountains and the ports of Essaouira is another opportunity to provide for the women of Morocco.
Providing employment for women is vital, but Hala and Zina also zoom out often, and look for chances to enact more systemic change.
'Especially in rural areas and from a very early age, there is this discriminatory custom of keeping the girls at home and the little boys continue their studies. So there is a big gender gap when talking about education and illiteracy,' Hala explains. 'The women are not free.'
Investing in the futures of young women, Education For All is a not-for-profit organisation that runs boarding houses in rural areas.
'When we started in 2007, we were told, "Education is not for girls, only for boys",' says Latifa Aliza, who worked as Education For All's first house mother. 'It started with ten. Ten girls can make a big difference.'
Since then, they've shepherded over 600 graduates from 65 remote villages into lives, careers and further education rich with choice.
'Education For All is getting education closer to girls,' Hala says. 'If we start from education, then everything else will follow.'
It's not the work the women of Ait BenHaddou got as extras on Game of Thrones or Gladiator – which were filmed in the town's famous ochre-coloured ksar – that has supported and encouraged them, so much as it is their pioneering approach to running Tawesna, a women-founded teahouse.
Leila Adzou is the manager of Tawesna, and has seen the upward mobility the local women have enjoyed since the day in 2018 when 40 of them banded together to serve tea, pastries and conversation to visitors.
'Now we have money to buy our own things: could be jewellery, could be dresses, could be anything.' The kind of indulgences those with husbands were rarely granted.
'My dream is to get this project bigger, bigger, and get more ladies involved in this. Women in other villages could learn from our example and set up a business for themselves as a community and become very independent.'
Nearby, artist Hafida Zizi is exploring identity, tradition and culture in bold primary colours. Her tableaus capturing the lives of Moroccan women and girls have been exhibited in galleries around the world. And she's always looking for ways to hold the door open for the next generation of curious creatives.
Wherever she goes, Zina has her eyes and ears open for even more local women with a passion to share with visitors. She's introduced to them by word of mouth, and in-the-know locals who've seen the ripple effect of giving women like Leila the tools to forge their own futures.
'That's why the local presence is so important,' she says. 'Because there's no magic source. It's just being there, listening, talking, exchanging, travelling.'
Join Intrepid on an incredible women-only adventure or explore our full range of Morocco trips.
Feeling inspired?