Disorientation is normal when visiting Morocco – especially for the first time. As you wander maze-like alleys of ancient medinas, each town's defensive design becomes more clear as your sense of direction becomes less so.
Traveling around the country, you see camels amble along beaches and Bedouin tents blend into vast desert sands. You see sights so exotic that they verge on surreal. And the aroma of cardamon mingled with whiffs of transport mules might just tip your senses into overload…
When the beauty and complexity become overwhelming – in my experience, usually around day three – your body and mind may long for recalibration. An ancient ritual that's as integral to Moroccan life as tagine and mint tea, visiting a hammam (public bath) offers respite, and a way to get a deeper understanding of the culture and people. A beloved practice that continues to thrive in modern Morocco, it provides locals and visitors alike an opportunity to rejuvenate, while getting really, really clean.
Here's everything you need to know about them, from their history to the ones that are truly worth your time:
Honoring a sacred tradition and social ritual
Public baths are believed to have originated during Roman times. With the introduction and spread of Islam, bathing rituals took on a spiritual aspect. The importance of purifying one's body before prayers and devoting time to quiet reflection, combined with practical realities like a lack of hot water in private homes, helped hammams flourish.
The rhythm has changed little over centuries. Bathers usually begin in a dry, heated zone to relax and open pores, before entering a steam room. Black olive-oil soap, known as savon beldi, is applied for an intense body scrub with a kessa loofah. Much rinsing and scrubbing follow, until you've shed a layer of skin, dirt, and stress. Once a week, as is often the custom, you emerge anew and refreshed.
For locals, visiting the hammam is a social occasion and an opportunity to spend time with friends away from work, kids and all other responsibilities Everyone has a go-to hammam and each one has a unique atmosphere. From communal facilities with separate days or hours for men and women, to private spa-oriented treatments in hotels, visitors can experience a spectrum.
VISIT A HAMMAM ON ONE OF INTREPID TRAVEL'S SMALL GROUP TOURS
Losing inhibitions, along with skin cells
Armed with precious little information, I was still determined to go to a hammam during my first Morocco trip. When I stumbled over language barriers to ask our Marrakech riad host if she could arrange a visit, she asked "She, too?," gesturing toward my husband (pronouns are tricky for everyone). I nodded and attempted to convey that we wished to visit individually. The idea of comparing separate experiences was exciting.
One afternoon, we were summoned (together) and led through a dizzying tangle of alleys creeping deeper into the medina. Abruptly we stopped in front of a signless door and our escort motioned to enter. As we ducked under a low wooden frame into a dark, airless passage, rejuvenation seemed far from near.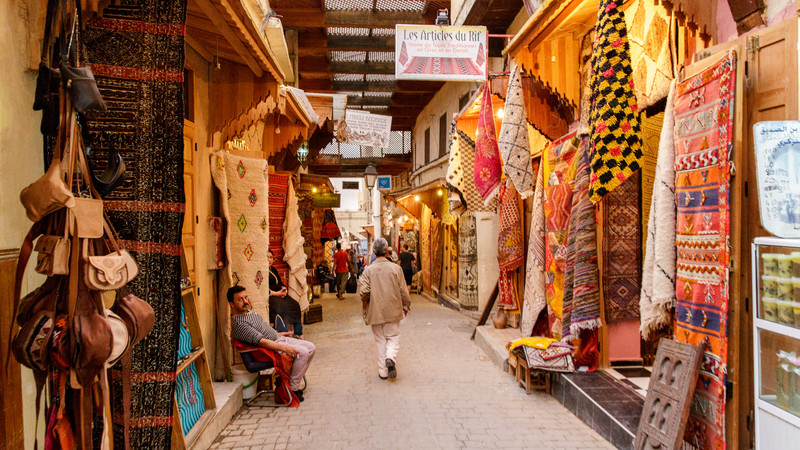 Without speaking, the host led us both into a small room, handed over gum-sized plastic packets, and motioned to remove our clothes. When the door closed, nervous giggles set in. What had we gotten ourselves into? As I fumbled with my packet, realizing it contained underwear, I worried we were breaking a taboo by being together.
READ MORE: 10 EXPERIENCES EVERY TRAVELER SHOULD HAVE IN MOROCCO
Wearing disposable underwear and loaned flip-flops, we followed an attendant into a hot, steamy room, where we were left, nervously side-by-side on a bench, for what felt like an eternity (likely, 10 minutes)…
Then a younger attendant, wearing only underwear, entered the room with a bucket and slathered us with soap. She was soon armed with a loofah and intention of stripping layers. We dared not make eye contact as she engaged in full-body-contact-scrubbing. The only time she stopped scouring was to heave water from another bucket over a body part. By the time she got to my hair, I realized an over-head water event was in the making. But my apprehension had washed away with the skin cells.
The whole process lasted 45 minutes and somehow, in that short time, anxiety was replaced with a sensation of cleansing and relaxation.
We stretched out on that warm bench, with not an ounce of awkwardness or concern. The transition from stress to bliss was mystifying and complete. As we ducked under the arch to leave, nothing had changed in the medina, yet everything looked different. Somehow, the world around us seemed refreshed.
SUBSCRIBE TO INTREPID'S NEWSLETTER FOR TRAVEL TIPS, COMPETITIONS, GIVEAWAYS & MORE
Since that time, we've experienced a range of hammams and always emerge feeling renewed, in body and spirit. Once, while sipping tea in a bath's relaxation room, I noticed a piece of artwork beautifully embodying the layers and surprise wrapped within the hammam experience. The photograph shows a man in a traditional djellabas. A pair of red high heels can be seen, just barely, peeking out underneath his robe.
What to know before you go
Hammams, particularly the more communal ones, can be confusing for the uninitiated. Don't stress, simply follow the attendant's lead and go with the flow. There may be a lower price for DIY scrubbing, but opt for a pro! And, be mindful of your water usage – it's a scarce resource.
READ MORE: WHAT IT'S REALLY LIKE ON A SMALL GROUP TOUR IN MOROCCO
Be sure to ask what to bring. In traditional facilities, bathers bring towels, slippers, soap, toiletries and a loofah (items can be purchased on-site or in the souks). Most importantly, bring a sense of humor and curiosity. You may feel awkward – you may even get giggles – but participating in this revered tradition reveals aspects of the culture you didn't know existed. Plus, your skin will glow in ways you never thought possible.
A hammam in every city, for every mood
Craving pampering for an individual or couple? Make a reservation at one of the following:
Les Bains de Marrakech, where the pool and relaxation zones are a serene dream.
In Fes, Spa Laaroussa offers a traditional hammam experience with a sweet mineral clay face mask. Meanwhile, Nausikaa Wellness Centre features seaweed treatments.
Kasbah-esque Spa du Jardin des Douars, in the hills overlooking Essaouira, delivers luxury combined with stunning countryside.
Aiming for communal experience? Take cash and remember that most public baths have separate hours for men and women. There's no reservation necessary for these:
Marrakech's Hammam Dar el Bacha offers immersion in Moorish architecture. You'll feel aglow while bathing under the traditional dome and star cutouts.
When in Chefchaouen, find the mosque Jama'a Kabir, and the popular public hammam (often referred to by the same name) is across the square.
—
Ready to experience everything Morocco has to offer? Check out Intrepid's range of small group adventures there.
—
(Image credits from top to bottom: Intrepid Travel x2, iStock/hansslegers, Intrepid Travel x2, Jessica Simpson, Intrepid Travel.)
Feeling inspired?