Imagine a city that seems to have everything going for it: rich culture, warm people, great food, coastal location…lots to do, but few tourists. 
Well, you don't have to imagine, because that's Essaouira in a nutshell. It's one of Morocco's most laid-back, unassuming destinations, and we can only assume that's because it's so quietly confident it doesn't need to steal the limelight.
Though just two or three hours from Marrakech, it might as well be worlds apart. It simply doesn't have the same visitor numbers or quite the same chaotic streets and souks. What it does have is a charm that's hard to put your finger on. People are just more content here, they're not hustling. They're happy to talk to you, even if you adamantly refuse to buy that rug. Maybe its the seaside vibes, or maybe it's the cultural influence (Portuguese, Berber, Jewish, Dutch and French), but it's as chilled as it is unique.
It's also full of places to wander – diverse, intriguing, not necessarily polished ones. Start exploring at the port, which teems with atmosphere as locals go about mending fishing nets and constructing traditional boats. (There's also fish shacks if you're looking for a fresh snack.) From here, you get a good view of the fortified city from afar, where stone walls surround the old town. Be sure to snap the classic Essaouira shots, but don't gawp without walking. A short(ish) stroll from the port, across the water's edge, takes you to the ramparts.
VISIT ESSAOUIRA ON OUR 15-DAY 'BEST OF MOROCCO' TRIP
These old city walls are quite the sight. It's where the medina meets the Atlantic, and the bronze canons they hold host to explain the city's fortification (built for defense against attacks from the sea). But the crash of the waves here, and the likely sunset you'll encounter if you linger long enough, are what you'll remember. Grab takeout from the friendly Italian just nearby (Pasta Baladin), eat it on the ramparts, and you can't help but feel at peace. Essaouira is enchanting, and really brings a certain calm to its visitors.
READ ALL ABOUT ANOTHER MOROCCAN GEM: THE BLUE CITY OF CHEFCHAOUEN
By now it's strange that we haven't mentioned the wind. The coastal wind really is your constant companion in Essaouira. If you're into windsurfing, it'll appeal immediately. After all, the city is known as the 'Wind City of Africa'. It makes sense, therefore, that kite-surfing and general surfing are big here too. You can take lessons, and make the most of peak windsurfing season – April and November.
But there's more to the wind's charm than sport. It acts as a deterrent for those simply wanting to sunbathe from visiting. If you want a Moroccan resort to really relax at, you go to Agadir, several hours down south. But if you're looking for therapeutic coastal walks after a half-day of exploring the medina's delights, Essaouira is for you.
For many, it's the city's distinctive hippy vibes that prove a draw. The expat scene is sizable, and a nice byproduct of this is the trendy renovated riads they rent out and the hip galleries they own. (Seriously, the art scene is big here – check out sculptures at Espace Othello and local paintings at La Petite Galerie.) But one of the best projects by expats is Dar Caravane, a stunning French-owned property with a pool, garden and restaurant that'll put most others in the city to shame. Just a short taxi from the city's old town, and you'll find yourself somewhere so tranquil, and well-designed, it's worth spending an afternoon chilling here just to unwind.
SUBSCRIBE TO INTREPID'S NEWSLETTER FOR TRAVEL INSPO, COMPETITIONS, GIVEAWAYS & MORE
But don't unwind too much. You don't want to miss out on the contemporary Moroccan craftsmanship this city excels at. If you thought the art was talented, wait till you see some of the following boutiques. There's Galerie Jama, for leather bags and Berber jewelry, Kifkif, for only the most colorful Moroccan accessories, and Boutique Mehdi, which'll fulfill all your glass jewelry and table linen needs. And that's not even scratching the surface.
But shopping takes energy, and to have energy you need food…Luckily, the restaurants in Essaouira tend to balance being both authentically Moroccan and intriguingly international. Case in point: La Clé de Voute, which offers both Moroccan and French eats, and Loft, which boasts Moroccan decor and what has to be the best monkfish (and crème brûlée) in town. Street eats are also worth checking out… particularly the aubergine fritters, crusty bread (that's baked in communal wood-fired ovens), and brochettes (skewered meat).
MORE ON SOUTH MOROCCO: A GUIDE TO TAGHAZOUT AND TAROUDANT
Last but not least, Essaouira's nightlife is worth a mention. Of course this is hardly the be all and end all, and not the thing you come to Morocco for, but it is a bonus that fits in with the city's Bohemian vibes.
Here, there are two very different places you might want to explore. Beach and Friends is a restaurant right on the beach, the most chilled out place you could spend the evening at, plush outdoor seating and all. For somewhere livelier, head to Taros. Overlooking Essaouira's main square, the rooftop restaurant boasts not just rosé, but live music too. Oh, and they give out ponchos to wear when chilly. That damn wind again…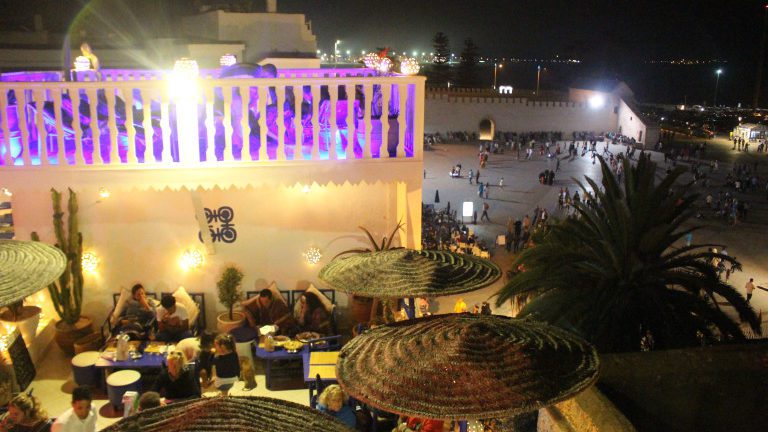 By now you've absorbed a lot of seemingly contradictory information. Essaouira is happening but peaceful; historic but hip; a place for a quiet wander, yet one for a lively drink too. And, really, that sums up the port city's charm. It's a calmly chaotic, authentically artsy whirlwind of a place. And, yes, we had to get that wind mention in one more time. But discover its charm for yourself and you'll see just how much more there is to this Moroccan gem.
Want to visit Essaouria, plus more of Morocco's delights? Check out our 15-day Best of Morocco tour.
Image Credits (top to bottom): Intrepid Travel, iStock, Intrepid Travel, iStock, Intrepid Travel, Rebecca Shapiro
Feeling inspired?